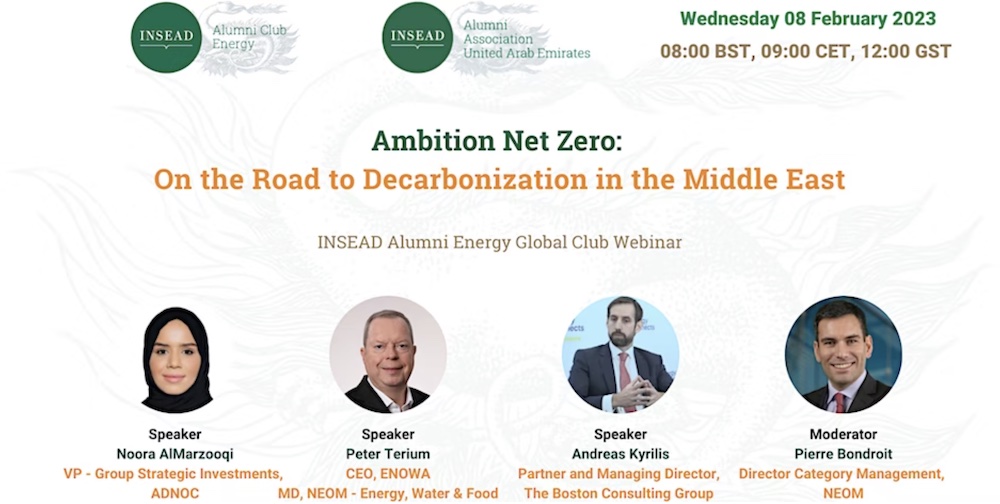 Ambition Net Zero: On the Road to Decarbonization in the Middle East
To most of us, "Middle East" rhymes with "oil and gas". The dizzying wealth and the extremely rapid development of many societies in the region were only possible because of their subsoil resources. It is therefore all the more impressive that, while only a few countries around the world have announced Net Zero targets between 2050 and 2060, the Middle East nations have already made strong commitments to transform their fossil fuel-based economies and move beyond hydrocarbons. This is a shift of historical proportion. "With IRENA forecasting that energy transition investments will have to increase by 30% over planned investment to a total of $131 trillion between now and 2050, the Middle East is committed to supporting this transition through domestic and foreign investment. "
With its very favourable natural geology and the abundance of low cost and low carbon resources in the area, there are many opportunities for the region to thrive in this era of the energy transition. Today's success is no longer just about safe and profitable operations, it is about delivering energy and operational efficiency, it is about demonstrating a commitment to ESG and about maximising in-country value and circularity. Even for the oil-rich states, policy considerations are also rapidly evolving as a result of climate change. While oil and natural gas remain the dominant fuels for power plants across the region, governments are taking significant steps to reduce their reliance on fossil fuels and promote renewable energy instead.
During this webinar we will explore the net-zero journeys of economies and businesses underway in some of the Middle east countries supported by major projects and initiatives that will contribute to enhancing decarbonisation. Among the topics we will cover, we will discuss green hydrogen, which is seen as a key opportunity for the Middle East and North Africa. The region has the potential to emerge as a global hydrogen hub.
#Joinus us for this exciting discussion with Peter Terium (CEO, ENOWA), Noora Ibrahim Al Marzooq (Vice President, Group Strategic Investments, ADNOC, GEMBA '21) and Andreas Kyrilis (Partner and Managing Director at The Boston Consulting Group (BCG)) moderated by Pierre Bondroit, (Director Category Management, NEOM, GEMBA '17).