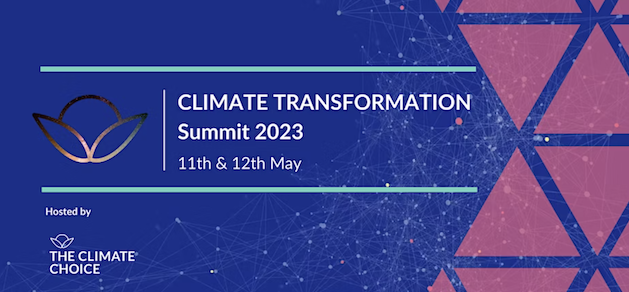 Climate Transformation Summit 2023
The decade for climate transformation is now!
We all know it: Our world is changing rapidly. And we also know: We hold in our hands the tools to turn this crisis into a positive climate transformation. If we focus on real CO₂ reduction, collaboration and intelligent business decisions, we can use the incredible opportunities today to drive the decarbonisation of whole systems and economies tomorrow.
What awaits you?
Together with scientists, politics and practitioners we are discussing meaningful climate actions to decarbonise companies and their supply chains. As collaborative CLIMATE Community, we share and gain insights into the climate transformation of companies, their measures for climate maturity as well as best practices to make CO₂ reduction possible along the value chain.
Through a mix of interactive panels, workshops and an online fair, you will experience inspiring conversations with world class innovators as well as hands-on working sessions to accelerate your own climate impact. The multi-channel format allows you to create your own agenda , to connect with other participants and to visit booths of climate leaders.
The whole summit takes place live and in English.
Who takes part?
Decision makers, procurement leaders and climate officers from companies that have embraced climate transformation and work on the decarbonisation of their company and supply chain. Check out all the speakers here: climatesummit.de.
How can I take part?
▲ You are driving the climate transformation in your company or along the supply chain and want to learn how to truly take climate actions to decarbonise your entire value chain? Awesome, we cannot wait for you to join! Get your ticket now.
– Our ticket categories are based on the size of your company and are sold on the basis of trust. The link to access the summit as well as further info material will be sent to your email address, some days before the summit.
– The summit is designed to empower company leaders, climate officers, purchasers and everyone implementing the climate transformation of its company from within – aiming to take smart, climate relevant business decisions.
– Each ticket helps cover the costs of the summit and supports selected climate projects.
▲ You are a leader from a climate pioneering company, aiming to share your challenges and learnings? Or you are an innovator, who empowers other companies to reduce emissions and to decarbonise their supply chain? We are excited to get to know you! Wirte as at: [email protected]
▲ You are a climate enthusiast or media rock star and you like to support the #CTS2023 as a partner? We are happy to work with you. Please contact us at: [email protected]
▲ THE CLIMATE CHOICE organises the #CTS2023, already the 4th edition of the ClimateSummit.de, as part of its mission to empower every company to become a climate champion. As ClimateTech company from Berlin we provide the SaaS platform for the decarbonisation of companies and their supply chains.