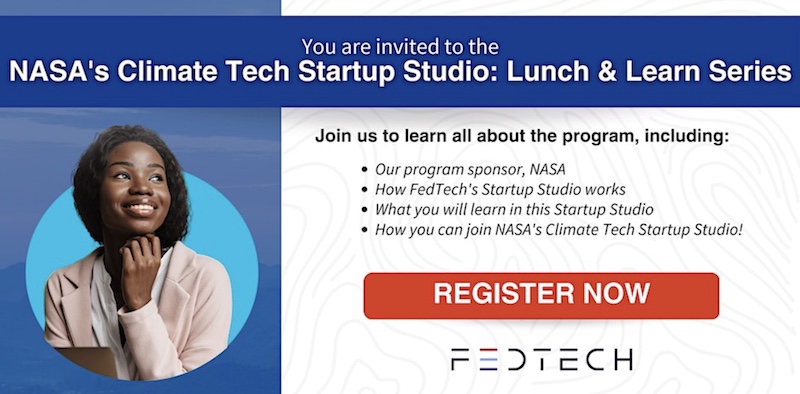 NASA Climate Tech Startup Studio Lunch and Learn
The National Aeronautics and Space Administration (NASA), in partnership with FedTech, is recruiting entrepreneurs to explore launching a new venture through NASA's Climate Tech Startup Studio 2023.
NASA's Climate Tech Startup Studio matches cutting-edge NASA technologies with teams of entrepreneurs during an intensive 14-week cohort. Entrepreneurs work closely with mentors, coaches, subject matter experts, and NASA to assess the market viability and commercialization potential of the technologies. Successful teams are given the tools to form new companies, license the technologies, and develop solutions that impact the space sector.
Attend the lunch and learn to ask questions about the studio and learn more about how you can launch a technology-focused venture by leveraging NASA's extensive portfolio of intellectual property creating climate impact.
If you're a highly driven individual, and the prospect of launching your own breakthrough startup focused around Deep Tech is something that excites you, then please join us during our lunch and learn session to learn whether or not this program is a right fit for you.
This meeting is virtual and will be held on Zoom; the Link will be shared upon registration.
Bring your lunch and come learn all about this great opportunity!