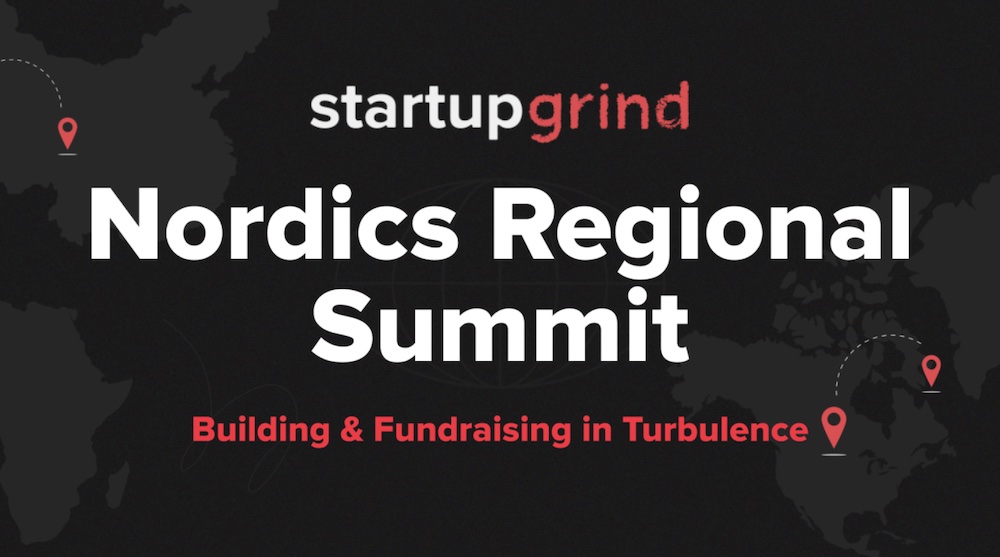 Startup Grind Nordics | Regional Summit | March 2023
Welcome to Startup Grind Nordics inaugural Regional Startup Summit for Entrepreneurs, Investors and Startup Ecosystem Builders.
In this All-Day (digital) Regional Summit we connect you with the Nordic and Global startup ecosystems for best practices in startup building and raising funding as the global economy and VC funding pass through unprecedented turbulent times.
Join and experience the energy of building fast-paced tech-driven lean ventures to solve the big problems in social, business and environmental spaces.
AGENDA
– subject to change, all times in CET / Stockholm –
10:00 Welcome to the Nordic Regional Summit
10:10 Keynote Addresses by Leading Entrepreneurs, Investors & Ecosystem Builders
10:40 Global Updates & Trends from Startup Grind
10:50 Nordic Partners Spotlight
11:00 Stockholm Startup & Investors Panel
12:00 Helsinki Startup & Investors Panel
13:00 Nordic Region Insights from Copenhagen, Oslo, Tallinn and Reykjavik
14:00 Global Startup Ecosystem Insights: TBA
14:40 Summit Closing Addresses
PAST SPEAKERS
Some of our past speakers in the Nordic chapters include Magnus Grimeland (Antler), Pär Hedberg (Sting), Nora Bavey (Unconventional Ventures), Erik Engellau-Nilsson (Norrsken), Lars Jörnow (EQT Ventures), Anna Wikland (Google), Anders Hammarbäck (Antler), Hélène Barnekow (ex-Microsoft), Emmet King (J12 Ventures), Adeo Ressi (Founder Institute & VC Lab), Caroline Walerud (Volumental), and Anna König Jerlmyr (ex-Mayor of Stockholm).
JOIN US!
– Building a startup? Join and learn best practices & make connections.
– Working with or investing in startups? Join and find founders to support on our live chat.
– Want to share your startup building & fundraising experience? Get in touch to speak.