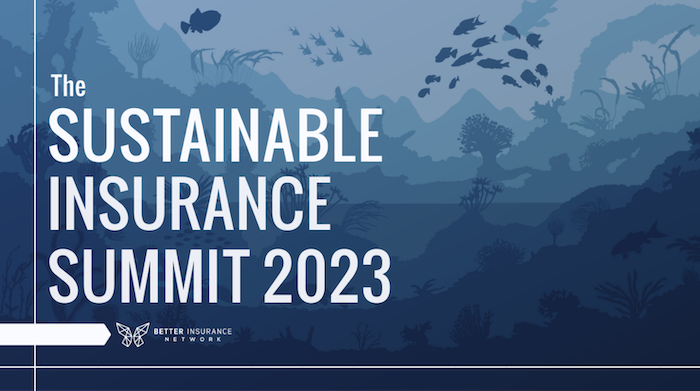 The Sustainable Insurance Summit 2023
Join practitioners from 200+ insurance companies at the only event dedicated to insurance sustainability.
Insurers recognise the need to build sustainability into everything they do, and stakeholder, customer and regulators expectations are rising. Yet with so many initiatives going on in this space – and so much work still to do – it can be hard to know where to start.
– How do we move our portfolio to Net Zero without damaging our bottom line?
– What ESG data should we be measuring and how do we implement it into the underwriting process?
– How does ESG affect our financial performance?
– How do we seize on opportunities in the green revolution?
– What new disclosure frameworks should we be aware of?
The Sustainable Insurance Summit provides a unique opportunity to set learn, network and exchange ideas with industry-leading speakers and practitioners from hundreds of firms who face similar challenges.
Registration is now open for this essential event, set over two days:
7 Feb (12pm – 3.30pm UK)
-Net Zero transition
Metrics – update on NZIA, PCAF & ISSB standards
Setting targets and measuring progress to Net Zero
Client engagement & transition pathways
Scope 3/supply chain visibility
-ESG data & sustainability strategy
Linking the 'E, S & G' in a coherent approach
Mapping materiality of ESG factors to the business
Embedding ESG data into U/W and investment processes
ESG data best practices – quality, quantity, consistency
Update on industry data standardisation initiatives
-Steering consumers to more sustainable behaviours
Greener product design
Sustainable claims management
Harnessing tech & IoT for risk mitigation & resilience
8 Feb (12.30pm – 3.30pm UK)
-Opportunities in the new sustainable economy
Identifying emerging ESG-related risks & insurance opportunities
Scaling up the insurance of renewables
Challenges and opportunities in emerging green technologies
Risk mitigation, modelling & other service opportunities
-Climate risk/exposure management
Scenario testing
Exposure management
Integration into u/w processes
-Nature-based risks & solutions
Mapping, measuring & materiality of nature risks
Setting science-based targets
Overcoming data blind spots & challenges
Case studies
Confirmed speakers include:
Ben Howarth, CSO, Assoc. of British Insurers
Alex Hindson, CRO & CSO, Argo Group
Suzanne Scatcliffe, Global Sustainability Director, AXA XL
Juan Duan, Head of Financial Climate Risk, Beazley
Olivia Brindle, Head of Sustainability, Fidelis
Denise Delaney, Head of Responsible Business, Liberty Specialty Markets
Tom Clifton, Head of Power & Renewable Energy, Liberty Specialty Markets
Amy Barnes, Head of Sustainability & Climate Change Strategy, Marsh
Rob Bailey, Partner, Climate & Sustainability, Oliver Wyman
Cathal Carr, SVP U/W, Global Head, Climate & Sustainability Strategy, Renaissance Re
Nora Ernst, Sustainability Manager, Swiss Re