Every week, we feature 5 incredible climate tech startups, companies, or projects that are leading the fight against the climate crisis. Now at the end of this month of March 2023, we provide a recap of the startups to watch in climate tech. 
These startups have covered a range of fast-growing industries such as AI, GHG Capture and monitoring, Energy production and storage, Fintech, Foodtech, Agtech, and much, much more.
The list below is a recap of all the startups we have featured over March with some insight into the innovative work they and their teams are doing. 
We hope you find this resource useful and that you can refer back to it anytime you are looking for companies to support, invest in, work for, or collaborate with.
These startups are all added to our running list, which we have categorized based off of fuel emission sector from the most detailed, recent data SBC could identify from the World Resource Institute in 2016. 
These sectors are as follows:
Energy use in Industry and Buildings
We provide optimized and low-carbon concrete products for infrastructure projects and industrial grade applications.
Electric Air is building the Tesla of home heating and cooling, with a complete solution of modern heat pump technology, HEPA filtration and direct-to-homeowner purchase and install experience.
concrete.ai is unlocking the power of​ big data and machine learning ​to accelerate concrete design
Power to Hydrogen's AEM electrolyzer technology reduces the need for precious metals by 90% compared to existing technology, significantly reducing the cost of clean hydrogen.
Aurora Hydrogen is developing the next generation of hydrogen production technology.
Waste (water & landfills)
Advanced membranes and innovative filtration systems for the production of valuable minerals and clean water.
GHG Capture, Use and Storage
Find out more about each of these startups by reading the full articles below:
This initiative from Startup Basecamp aims to support founders by giving them access to networking and exposure opportunities that help them to scale and finance their climate tech solutions together with you.
GET ACCESS TO THE FULL RUNNING LIST DATABASE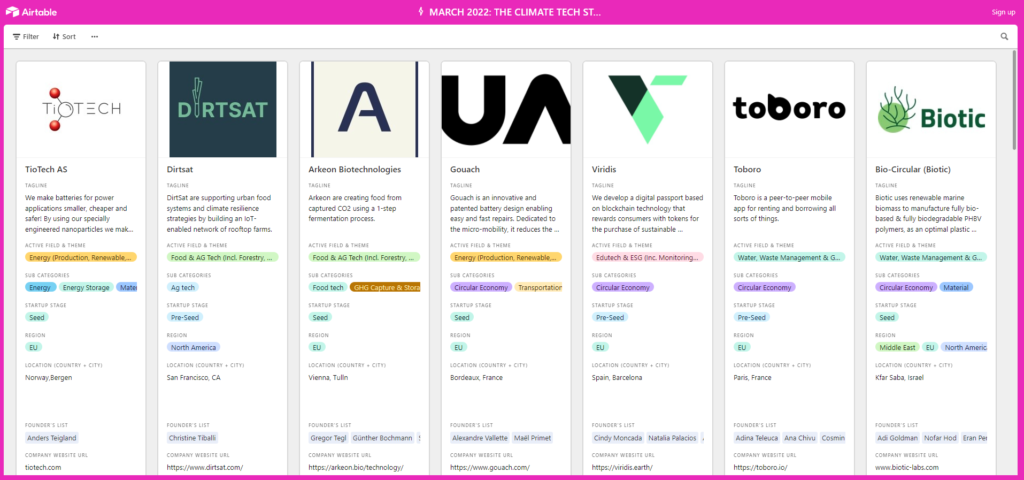 Do not hesitate to join our collective movement by requesting your membership. 
With care,
The Startup Basecamp Team