100 CLIMATE TECH STARTUPS TO WATCH IN 2021
"Building a sustainable, stable world should not be viewed only in terms of the things we must stop, but also the things we will gain… we will gain a new industrial revolution powered by millions of innovations".   
– Sir David Attenborough prior to COP26 2021
Combatting climate change has become the defining action of our generation, and is a collaborative effort we cannot waste time on if we want to avoid catastrophic impacts. This year, we have also seen that fighting climate change through climate technology is quickly becoming economically important as well. Reports showed that in 2021 investors globally closed as many climate-focused funds as were raised during the previous five years combined, indicating that climate concern is no longer limited to a select few, but general investors globally.
Why we have created this list
Every week for the last 5 months we have featured 5 incredible climate tech startups & companies that are leading the fight against the climate crisis. These startups have covered a range of fast-growing industries that are all using technology in innovative ways to solve some of the planet's biggest problems.
It has been an invaluable experience to look through these startups each week and learn more about the technology they are developing, but more than just sharing them with you, we want this resource to further their development, as well as the greater climate tech ecosystems.
This initiative from Startup Basecamp aims to not only provide investors with insight into potential financing opportunities but also give founders insight into what is developing in their field and what collaboration possibilities exist.
"Our mission is to impact 1 billion people by connecting the growing number of climate tech investors, with exciting climate tech startups that align with their goals & values. We work hard to accelerate founders' funding opportunities so that they are able to scale, and so that we may be part of their ability to fight the biggest problem of all time: Climate Change."
– Guillaume de Dorlodot CEO & Co-founder Startup Basecamp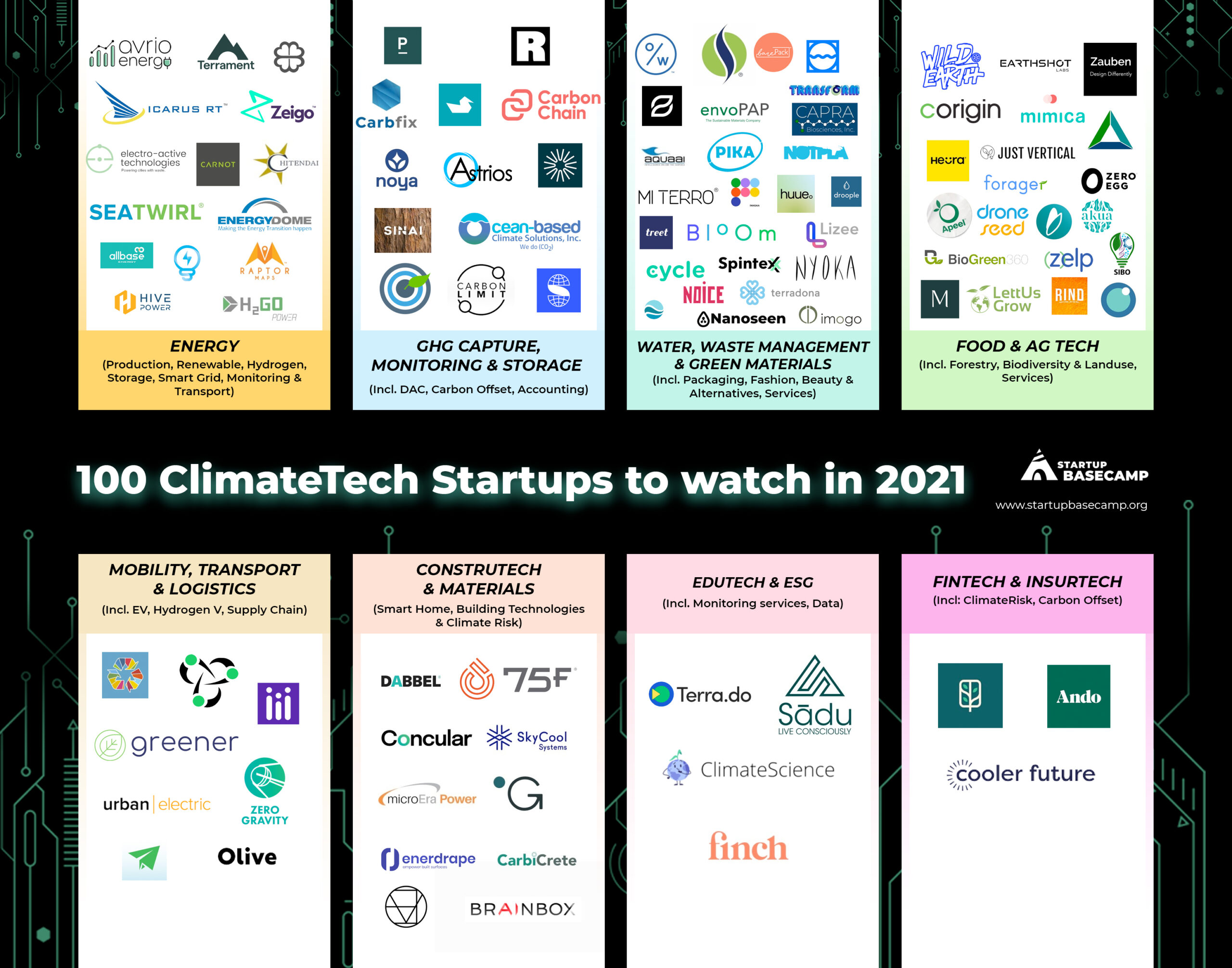 How we found & categorized the selected startups
The range of startups we have featured over the past 5 months has been extensive and has included everything from carbon capture, recycling schemes, and building technologies, to reusable packaging, clean pet food, and wooden bank cards. Because of this, we have categorized the startups according to 8 key industries/sectors in the economy that are addressing emissions, and/or are in need of management.

This list does not show what sectors are receiving the most investment, which sectors are growing the fastest, or the full spectrum of all startups active in these sectors at the moment, but rather the startups that we found organically in our network that were creating promising, impactful solutions and are in early growth stages.

Energy
Production, Renewable, Hydrogen, Storage, Smart Grid, Monitoring & Transport

GHG Capture, Monitoring & Storage
Incl. DAC, Carbon Offset, Accounting

Water, Waste Management & Green Materials
Incl. Packaging, Fashion, Beauty & Alternatives, Services

Food & AGtech
Incl. Forestry, Biodiversity & Landuse, Services

Mobility, Transport & Logistics
Incl. EV, Hydrogen V, Supply Chain

Edutech & ESG
Inc. Monitoring services, Data

Construtech & Materials
Smart Home & Building Technologies & Climate Risks

Fintech & Insurtech
Incl. ClimateRisk, Carbon Offset
We featured 100 startups from 18 countries, The countries represented the most in this list were the US, the UK, and Sweden. Of the 100 startups, 32 had female founders or females in CO roles, making up only 19.8%– a number we hope to see grow as we feature more female and BIPOC run startups in the future. If you are looking to see which female founders, in particular, we have been monitoring, take a look at our recent profile blog post of the 20 Women Driving the Future of Climate Tech.
The biggest industries in our list were Water, Waste Management & Green Materials startups (making up 26% of the list), followed by FoodTech, AgTech & Landuse startups (making up 21%), and lastly, Energy startups which made up 15%. Whilst this data does not reflect the industries receiving the most investment at the moment, it does tell us that these are categories that were active in the ecosystem and readily looking for growth.

In order to provide a better understanding of what companies are creating change, how many there are, and what fields they are working in, we hope to add to this list as our database grows. We encourage you to submit any founders & startups you know to our form below so that we can continuously add improved insights!
If you are an Investor looking to finance ambitious climate technology,  join our growing community of investors by submitting your details on the form below.
GET ACCESS TO THE FULL CLIMATETECH STARTUPS RUNNING LIST DATABASE