15 CLIMATE AND TECH VOICES TO ADD TO YOUR TWITTER FEED: PART 1
"Twitter is a growing space for founders, investors, scientists, and activists to get involved in the conversation around climate change and emerging technology solutions".
Are you looking to grow your Twitter Feed with important climate and tech information? Gain insight into the debates that are taking place between the journalists, scientists, founders and investors? Or stay up to date on the latest innovations that tackle the climate crisis? 
In our constant effort to bring value to the growing climate tech ecosystems, we have made a running list of the voices on Twitter we learn a lot from.  These individuals are giving us the information, resources, and opinions that help us curate great climate tech conversations for the community! 
 The idea with this list is to regularly release a new profile for you to follow in order to mobilize,  share and engage in important discussions with industry experts and the clean tech enthusiasts.

In the spirit of collaboration, we would love to have you contribute to this running list by sharing profiles  with us that we can add.
GET ACCESS TO THE FULL RUNNING LIST DATABASE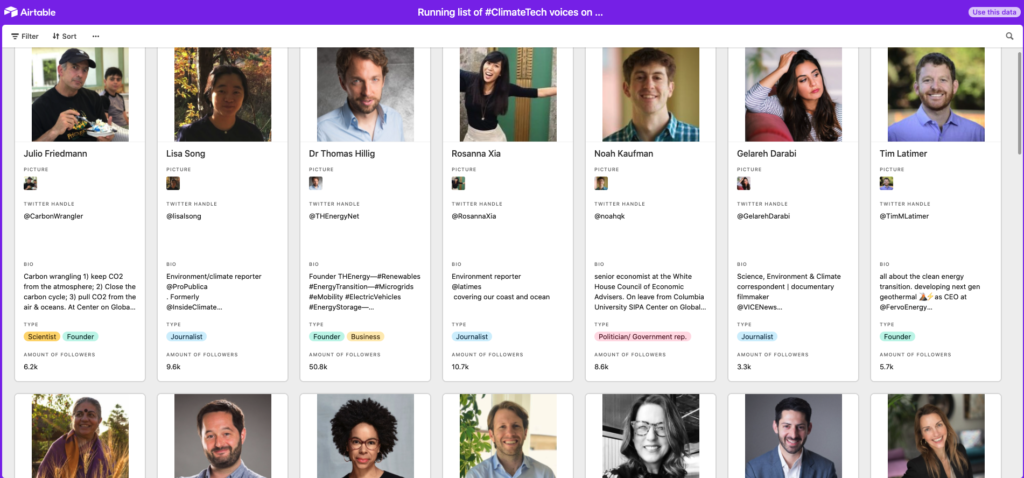 Contribute to the Climate & Tech Influencers Running List.
If you have a suggestion for a person to add to our Climate & Tech influencers running List? Please submit here and we will be in touch.