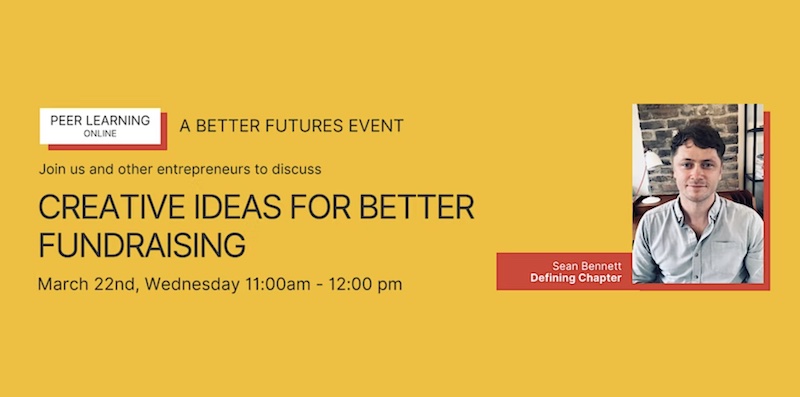 Creative Ideas for Better Fundraising
Please join us on Wednesday, 25th of January at 10:00 for an interactive Better Futures webinar on the topic of Partnerships and Networks in ClimateTech, led by Samira Gomes from Sustainable Ventures.
Fundraising is the perennial challenge for ethical start-ups, charities, small to medium-sized businesses, and really any purpose-led organization worldwide. Join Defining Chapter for this unique experience – learn how "Creative Communication" can help you innovate powerful fundraising strategies.
Have a go (in pairs) at generating ideas for your own fundraising strategy. Take a break from your regular work day to learn from others, peer to peer. Defining Chapter works exclusively for people who care about the planet and its inhabitants. Join us in our quest to spread the gift of creative communication to people who truly deserve it. We hope to see you there.
We look forward to seeing you there!
OBS: This event is specifically for ClimateTech and other Sustainability-focused companies only.
If you don't fit the description, please email us at [email protected] and we can redirect you to our Net Zero Readiness programmes, focused on supporting companies to become more sustainable.