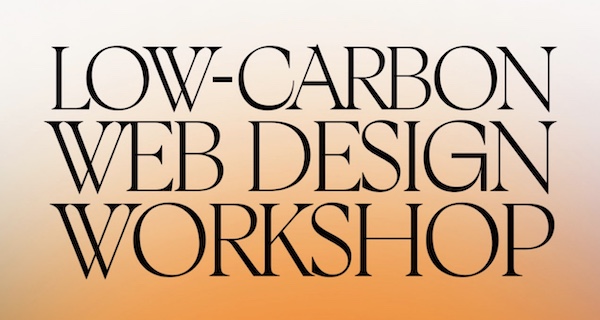 Low-Carbon Web Design Workshop
Are you a web designer looking to make a positive impact but not sure where to start?
Do you want to learn how digital impacts the environment and explore new ways of designing with sustainability in mind?
Would you like inspiration and tools to help you get started?
You've come to the right place!

In this 2 hours workshop, I'll share the insights and tools I've learned, explored, and implemented in my design studio, Hey Low.
Introduction to the environmental impact of the Internet and websites. We will explore the problems, challenges, potential solutions, the role of design, and why the transition to low-carbon practices is just one element in climate and social justice issues.
We'll see why both simplicity and beauty are important and how combining the two could be a solution.
I'll walk you through techniques and tools for designing low-carbon websites using examples from recent projects and how they can benefit not only the environment but also people and businesses.
We'll also find inspiration from lowww.directory, the directory of lightweight and beautiful websites.
Finally, we'll end with a Q&A session.
Join me on April 25th for this online workshop!
The base price is £120.00, with a 75% discount available on request for students and designers working within non-profit organizations. I am also in favor of purchase power parity and am happy to offer discounts to designers from countries with lower incomes.
The event will be hosted on kMeet, which is similar to Zoom or Google Meet but is provided by Infomaniak, a green hosting provider.
Can't attend the live workshop? No problem! The workshop will be recorded and published online for a reduced price.
10% of the profit of this event will be proceeded to:
ClimateActionTech (2%), mastodon.design (2%), the Linux distribution elementary OS (2%) and Vizinha, a regenerative farm in Ericeira, Portugal (4%)