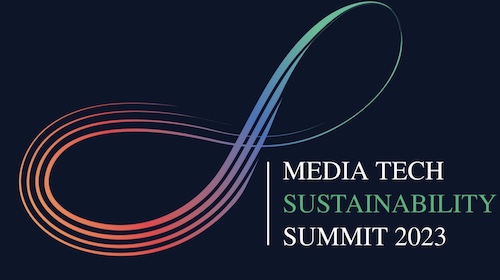 Media Tech Sustainability Summit 2023
An online event that addresses the who, what, where, and how of sustainability in Media Tech.
The Media Tech Sustainability Summit is the first dedicated event designed around sustainability issues within the broadcast, media, and entertainment industry.
The event is scheduled for 20-21st June and will take place online where we will address the who, what, where, and how of sustainability. We are also excited to announce our collaboration with Greening of Streaming, where we will stream their keynote sessions live from Brussels during day 2 of our event.
We will cover a variety of aspects of sustainability in media. Starting with an introduction of Sustainability in general, we will then move into what the broadcast, media & entertainment industry is doing today, and what more can be done. It is an opportunity to provide a baseline understanding of this complex topic while discussing best practices and suggesting ideas on how to tackle the key issues holding us back from creating a sustainable future.
It is time for the media tech sector to understand this important topic as we all embark on our sustainability journey – our aim is to empower organizations to make meaningful, actionable change towards more sustainable operations.
The Agenda
The agenda will be split into three 90-minute segments of content with 30 minute breaks in between. We encourage companies taking positive action with their sustainability agendas to get in touch to share their non-commercial case studies and working practices with our audience.
Audience
The event is designed for anyone working in the global Media Tech Industry, from technology vendors, broadcasters and studios, and facilities. Whether you are the leader of your organization, responsible for sustainability or just want to educate yourself so you can help create change there will be something on the agenda for everyone.
The event will be free to attend, though registration will be required.