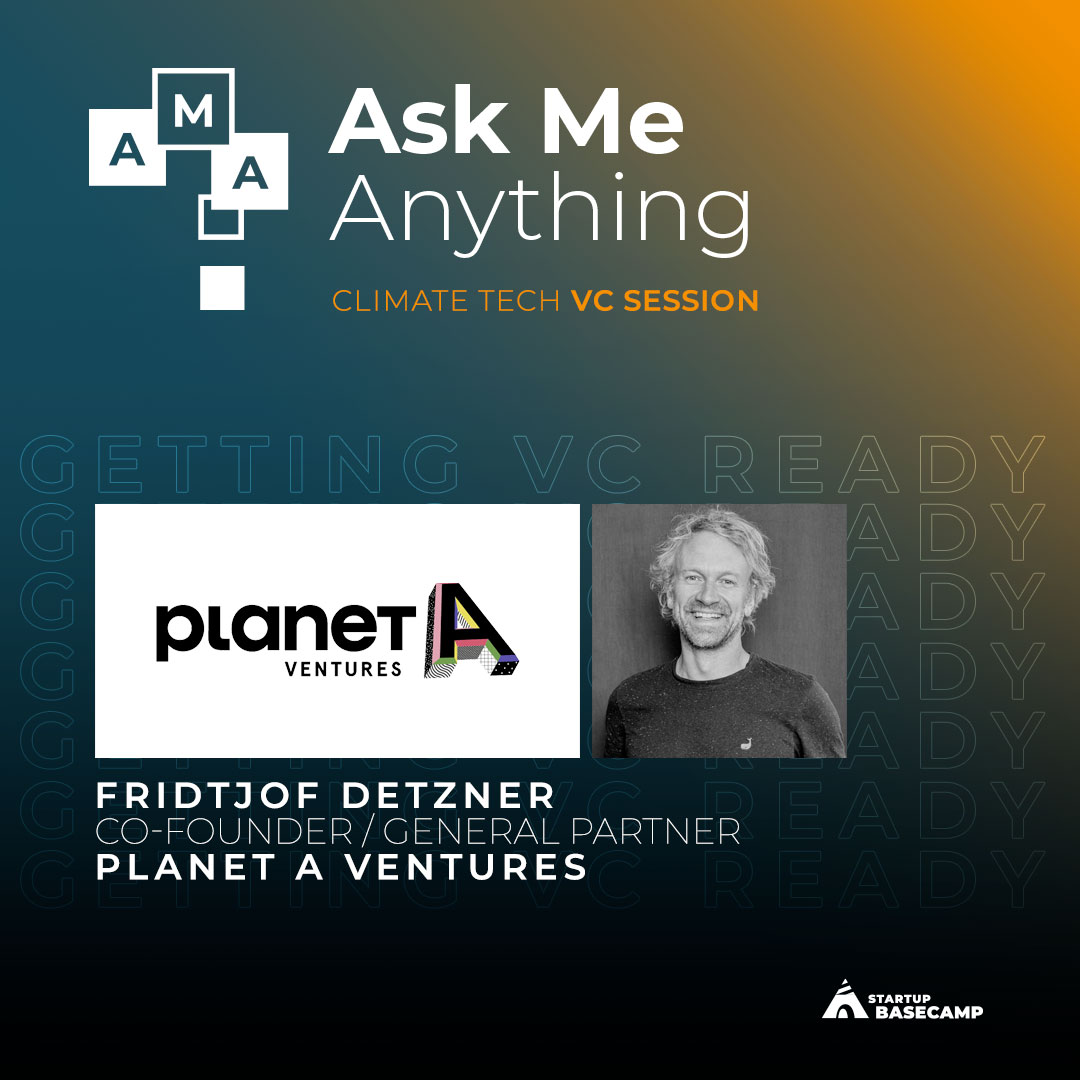 Members Only: Ask Me Anything Climate Tech VC Session with Planet A
🏆About the: "AMA Session"
Join our Startup Basecamp "Ask me Anything" live event over Zoom featuring Fridtjof Detzner, Partner at Planet A Ventures.
⏰ Schedule: 8 to 9 am (PST) / 5 to 6 pm (CET)
📋 How does it work? The investor introduces their fund, followed by questions about fundraising from the host. The session then opens up to questions from founders. 
🤚 Who's it for? For founders of all stages – pre-Seed, Seed, Series A who are actively fundraising.
🤔 Why should I attend? Learn about what investors want to hear, who they want to hear from, how to approach them, and how to pitch to them. Basically, you get to ask them all your burning questions
✍️ Where do I signup? Subscribe to Startup Basecamp's "Get VC-ready" membership plan and gain access to all startup events, our investor- matching application, and more.
==============================
🌎 About the Investors: 
Fridtjof Detzner, Co-Founder of Planet A Ventures, is a co-founder of the DIY website builder Jimdo. In 2017, he made a trip that changed his life. Since then, he has been using Planet A to focus on start-ups that contribute to achieving the UN sustainability goals.
👉About Planet A Ventures:
Tomorrow's economy is based on today's investment decisions. Planet A Ventures is an impact investment company targeting start-ups that have a measurable positive impact on our planet while building scalable businesses.

Planet A is an investment fund partnering with European green tech startups that significantly impact our planet while building scalable businesses globally. The venture capital firm's mission is to contribute to an economy within the planetary boundaries. Planet A supports innovation in four key areas: climate mitigation, waste reduction, resource savings, and biodiversity protection. As the first European VC, Planet A offers scientific life cycle assessments to support investment decisions and empower founders to manage and improve their impact. Investments include traceless materials (sustainable plastics), Ineratec (e-fuels), C1 (green methanol), GA Drilling (geothermal energy), 44.01 (carbon elimination) and Makersite (supply chain decarbonisation).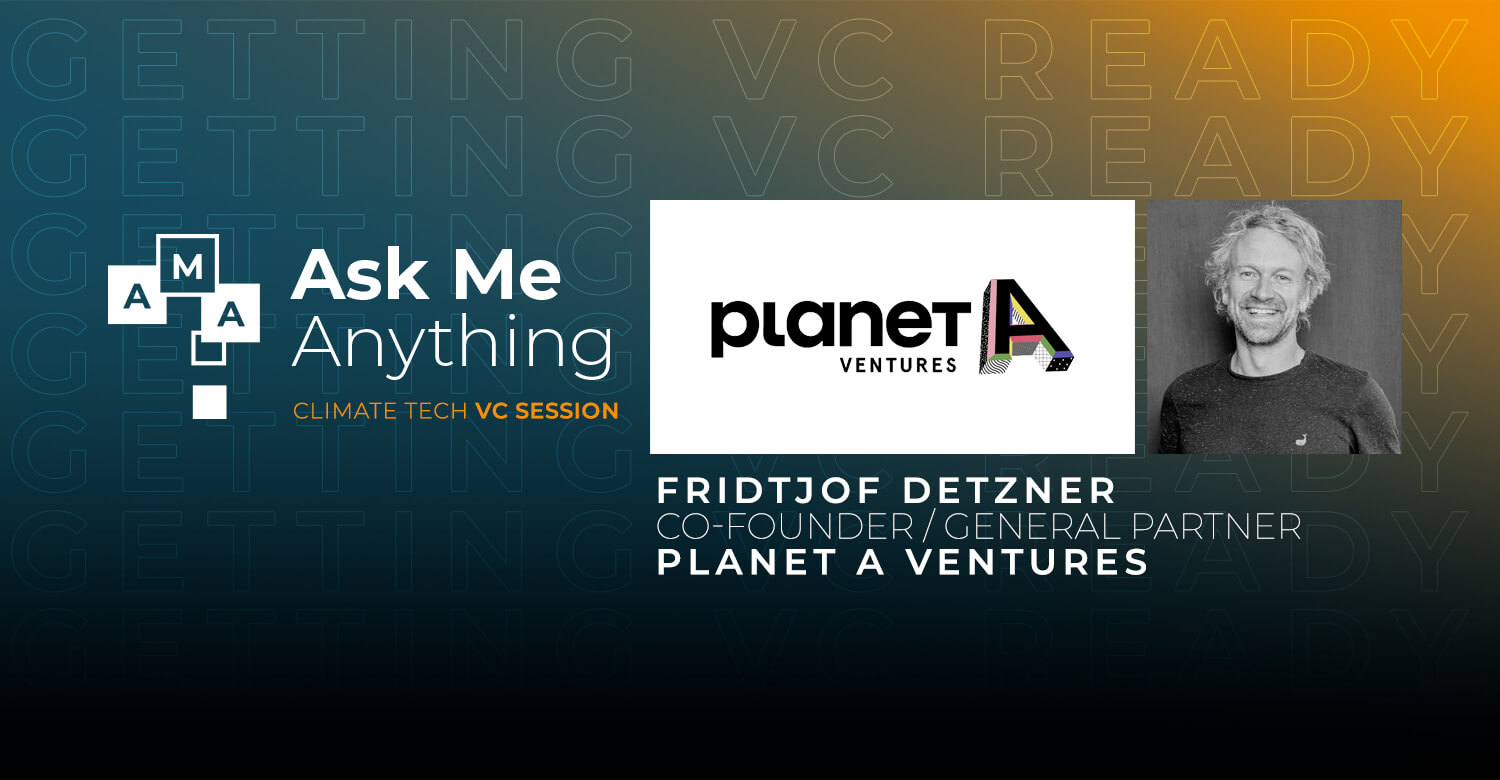 ==============================
🚀 IMPORTANT: Registration Details/Info :
The event is accessible to paid members only.
To become a member and get unlimited access to all the community events, apply as:
🌟=>FOUNDERS: Infos (here) & Application form (here)
💰=>INVESTORS: Infos (here) & Application form (here)
👑=> EXPERTS: Infos (here) & Application form (here)

We will email you login upon registration, so please check your email.
Don't see your sign-in link? Check your SPAM for an email from Startup Basecamp.
Still don't see it? Drop a line to [email protected]
================================
💚A note on Startup Basecamp Events:
Our events are open to all, whether you are already fundraising, in the early stages, have a startup idea, or just curious about climate tech.
Please review our Event Etiquette before attending an event.
Interested in what we're doing? Join Startup Basecamp.
Get your Startups membership to have unlimited access to all of community and Pitch events