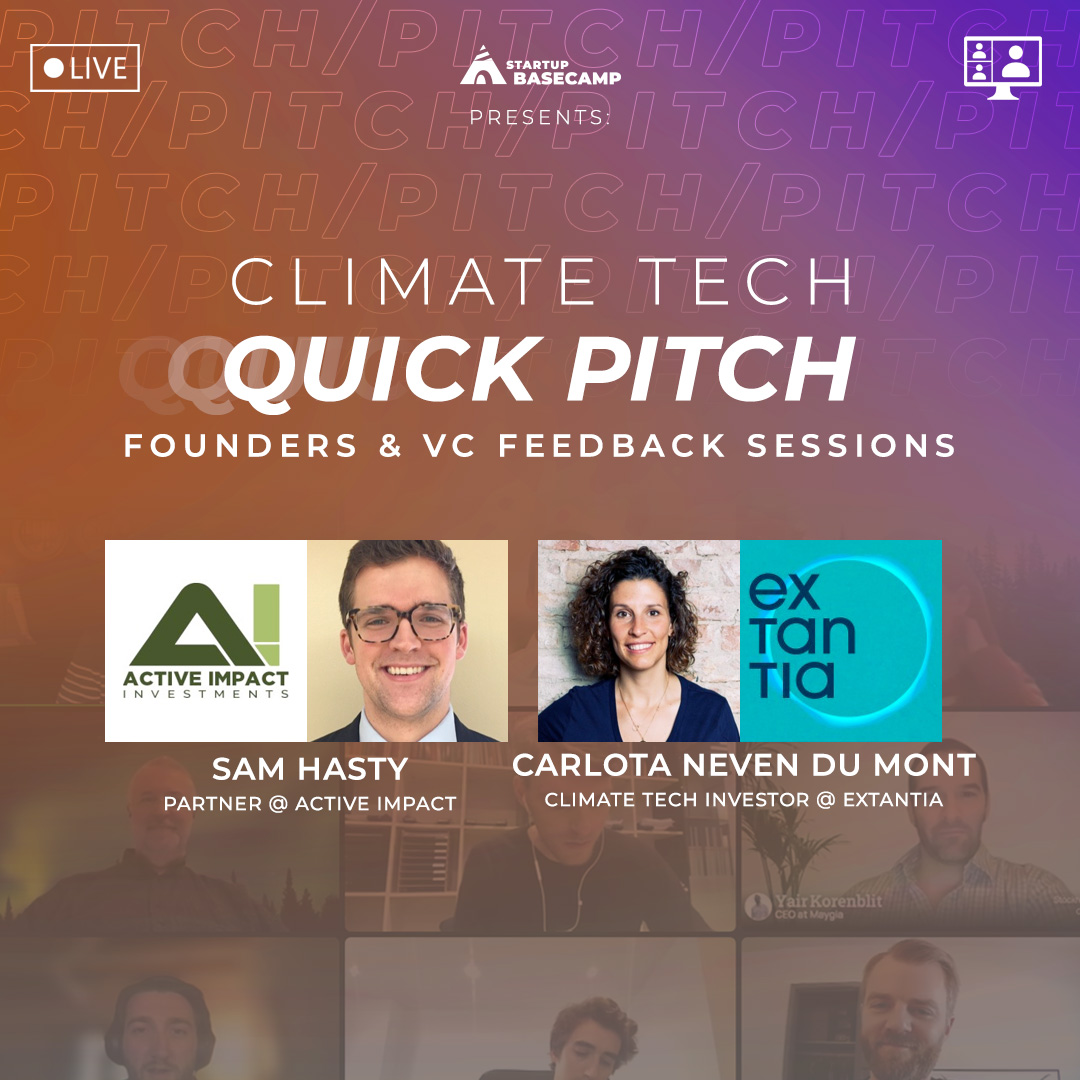 Members Only: Climate Tech Quick Pitch with Active Impact Investment & Extantia
🏆About the: "Climate Tech Quick Pitch Session"
Join us for a live Pitch session over Zoom with some of the best funds in the Climate Tech industry.
⏰ Schedule: 8 to 9 am (PST) / 5 to 6 pm (CET)
📋 How does it work? 4-5 selected founders will pitch for 3 minutes to each investor and receive live feedback/follow-up questions from the VC.
🤚 Who's it for? This event is tailored for founders across all stages – from pre-Seed to Seed and Series A – who are actively seeking fundraising opportunities.
🤔 Why should I attend? It always helps to practice your pitch and gain visibility with investors.
🤝 What if I'm not ready to pitch? Seeing what kind of questions investors ask and where they give feedback can be invaluable for your own startup journey.
✍️ Where do I signup? Subscribe to Startup Basecamp's "Get VC-ready" membership plan and gain access to all startup events, our investor-matching application, and more.
==============================
🌎 About the Investors
#1 Sam Hasty: Partner at Active Impact Investment 
Sam Hasty is a dedicated social entrepreneur with a profound passion for building pipelines to wealth through entrepreneurship development and strategic capital support. Sam is committed to driving positive impact in the world of finance and entrepreneurship.
👉About Active Impact Investments
Founded in 2018, Active Impact Investments is a Certified BCorp based in Vancouver, BC, whose mission is to support environmental sustainability through profitable investment. With two limited partnership funds with $70M in assets under management, we provide funds and talent to accelerate the growth of early-stage climate tech companies with $200K to $3M in revenue and significant growth potential. Active Impact's portfolio includes and is seeking some of the most successful startups in North America that are capable of achieving venture scale and becoming extremely profitable while solving the most urgent environmental issues.
#2 Carlota Ochoa Neven Du Mont: Principal at Extantia
Carlota is passionate about driving positive change in the climate tech space and is excited to be a part of Extantia Capital's mission to create a decarbonized world.
👉About Extantia
Extantia Capital is a climate-first venture capital firm accelerating the path to a decarbonised world. Extantia unites mission-driven entrepreneurs, scientists, investors, and business leaders to advance the transition. With over €100M in assets under management, Extantia has two investment strategies. Extantia Flagship backs scalable deep decarbonisation tech companies, while Extantia Allstars invests in climate venture capital funds.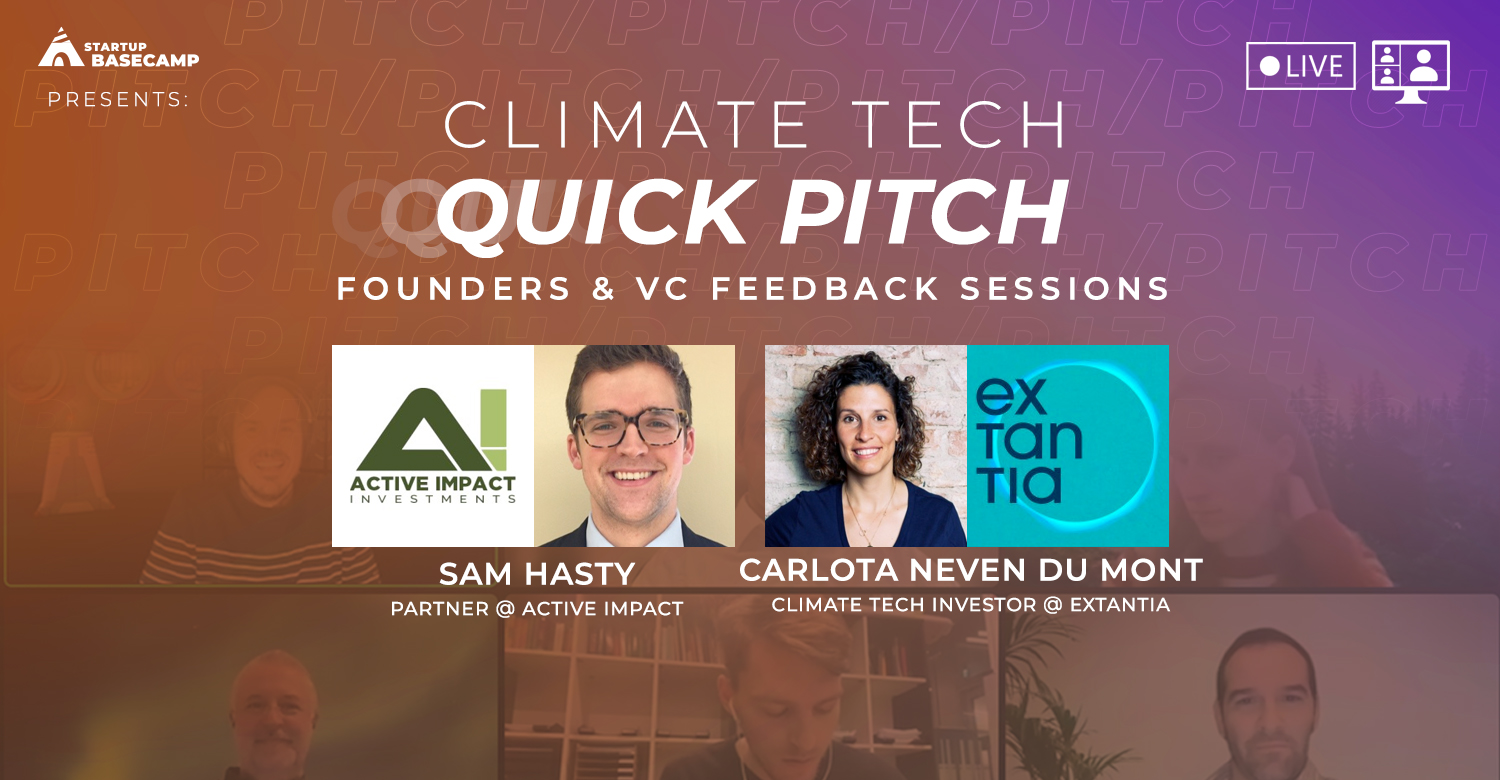 ==============================
🚀 IMPORTANT: Registration Details/Info :
The event is accessible to paid members only.
To become a member and get unlimited access to all the community events, apply as:
🌟=>FOUNDERS: Infos (here) & Application form (here)
💰=>INVESTORS: Infos (here) & Application form (here)
👑=> EXPERTS: Infos (here) & Application form (here)

We will email you login upon registration, so please check your email.
Don't see your sign-in link? Check your SPAM for an email from Startup Basecamp.
Still don't see it? Drop a line to [email protected]
================================
💚A note on Startup Basecamp Events:
Our events are open to all, whether you are already fundraising, in the early stages, have a startup idea, or just curious about climate tech.
Please review our Event Etiquette before attending an event.
Interested in what we're doing? Join Startup Basecamp.
Get your Startups membership to have unlimited access to all of community and Pitch events