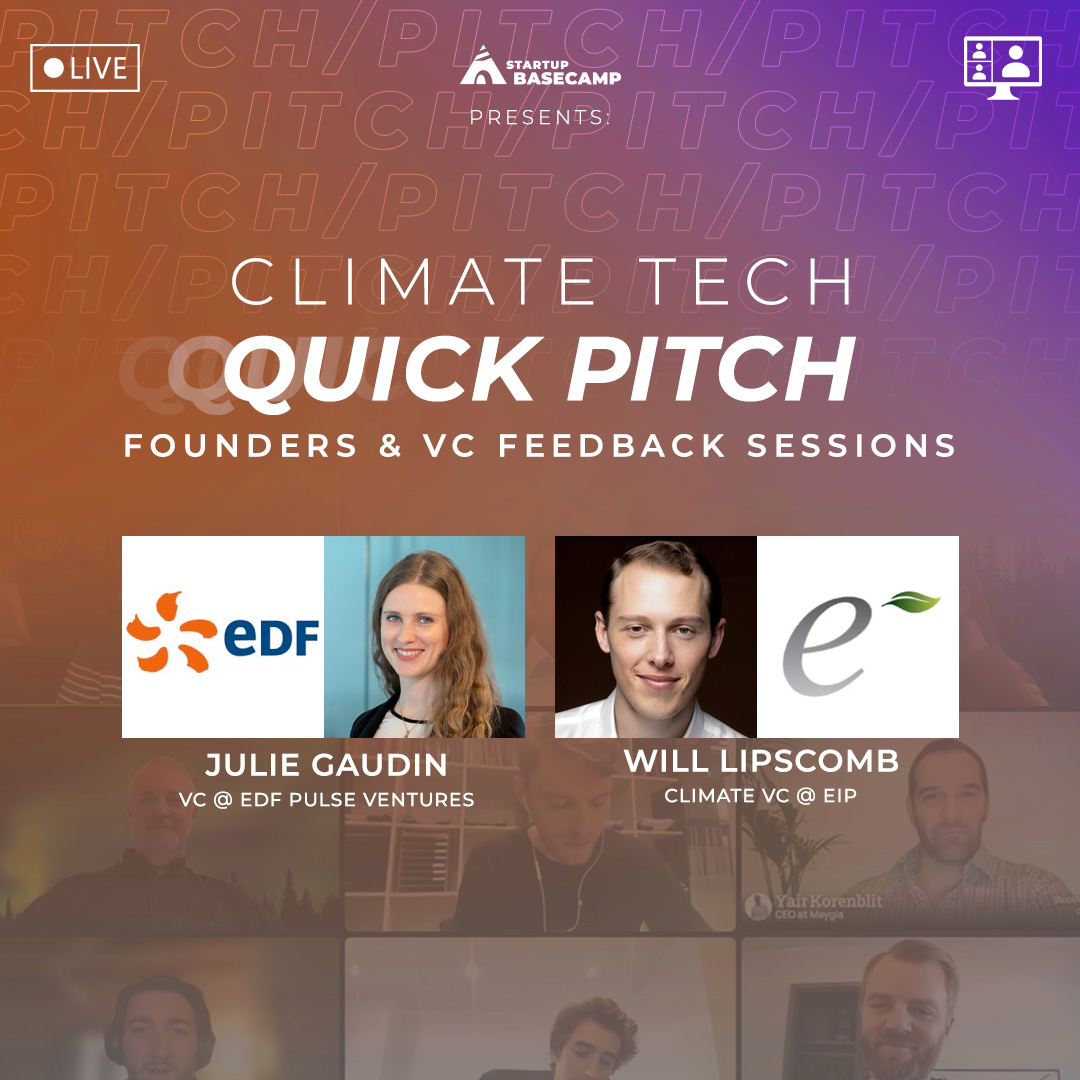 Members Only: Climate Tech Quick Pitch with EDF Pulse Ventures & EIP
🏆About the: "Climate Tech Quick Pitch Session"
Join us for a live Pitch session over Zoom with some of the best funds in the Climate Tech industry.
⏰ Schedule: 8 to 9 am (PST) / 5 to 6 pm (CET)
📋 How does it work? 4-5 selected founders will pitch for 3 minutes to each investor and receive live feedback/follow-up questions from the VC.
🤚 Who's it for? This event is tailored for founders across all stages – from pre-Seed to Seed and Series A – who are actively seeking fundraising opportunities.
🤔 Why should I attend? It always helps to practice your pitch and gain visibility with investors.
🤝 What if I'm not ready to pitch? Seeing what kind of questions investors ask and where they give feedback can be invaluable for your own startup journey.
✍️ Where do I signup? Subscribe to Startup Basecamp's "Get VC-ready" membership plan and gain access to all startup events, our investor-matching application, and more.
==============================
🌎 About the Investors
#1 Julie Gaudin: VC at EDF Pulse Ventures
Julie is a dedicated Investment Associate at EDF Pulse Ventures. She is passionate about driving sustainable change in the world of energy and technology. EDF Pulse Ventures is on a mission to revolutionize the energy landscape by investing in series A and B startups that are paving the way toward a decarbonized society.
👉About EDF Pulse Ventures
EDF Pulse Ventures (EPV) is the corporate venture arm of EDF. It fosters innovation by supporting incubation projects and directly investing in cleantech and industry startups. As a strategic investor, EPV strives to address our customers' current and future needs by combining the Group's expertise with startups' flexibility in order to develop new activities. EPV supports 20+ startups and invested over EUR270M since 2017.
#2 Will Lipscomb: Climate VC at EIP
Will is a Climate Venture Capitalist at EIP, focused on investing in startups with revolutionary technology that can scale to solve massive greenhouse gas (GHG) problems. With a keen eye for innovation and a commitment to addressing the pressing climate challenges of our time, Will is dedicated to supporting companies that can make a substantial impact on reducing GHG emissions.
👉About Energy Impact Partners LP (EIP)
Energy Impact Partners LP (EIP) is a global venture capital firm leading the transition to a sustainable future. EIP brings together entrepreneurs and the world's most forward-looking energy and industrial companies to advance innovation. With over $2.5 billion in assets under management, EIP invests globally across venture, growth, credit, and infrastructure – and has a team of over 70 professionals based in its offices in New York, San Francisco, Palm Beach, London, Washington D.C., Cologne, and Oslo.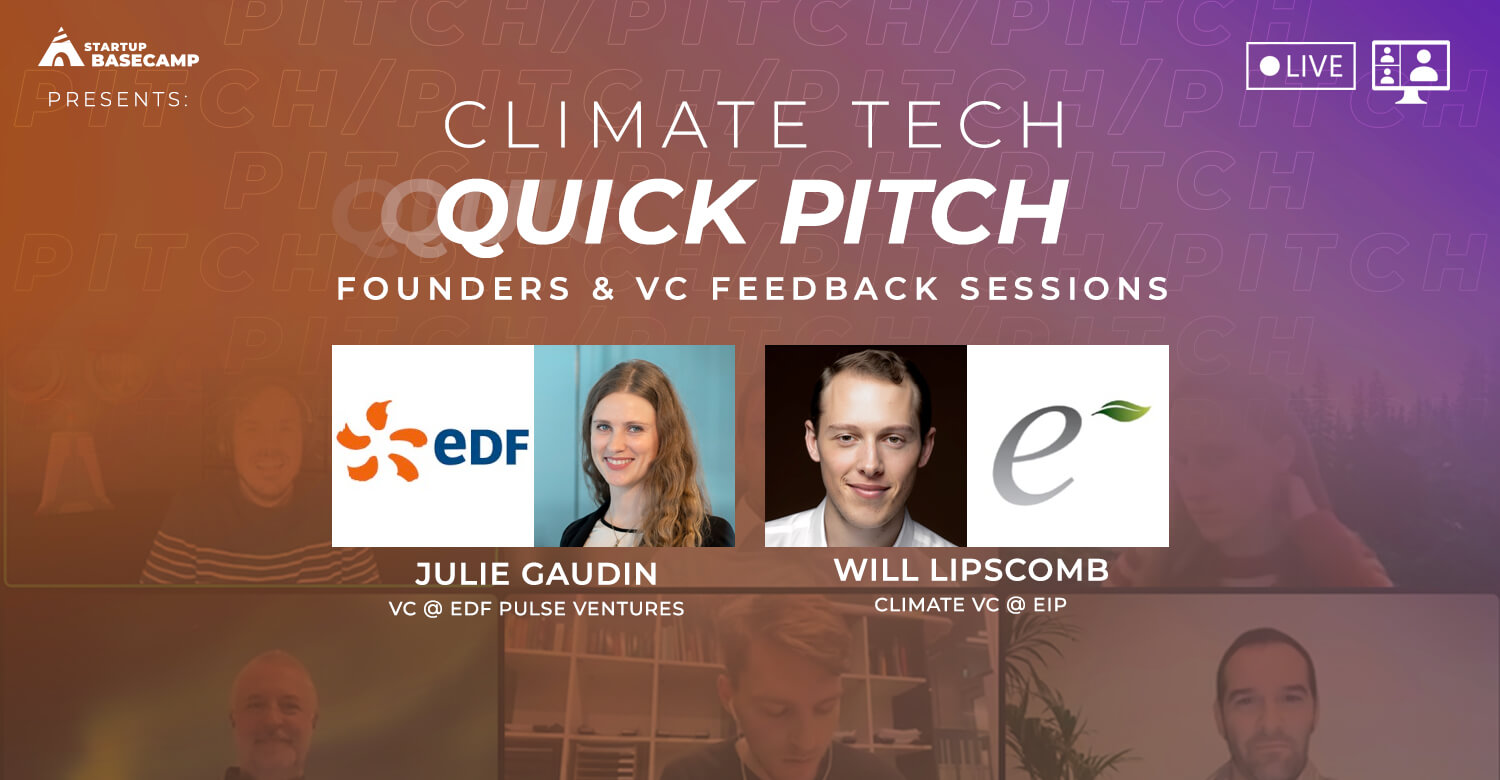 ==============================
🚀 IMPORTANT: Registration Details/Info :
The event is accessible to paid members only.
To become a member and get unlimited access to all the community events, apply as:
🌟=>FOUNDERS: Infos (here) & Application form (here)
💰=>INVESTORS: Infos (here) & Application form (here)
👑=> EXPERTS: Infos (here) & Application form (here)

We will email you login upon registration, so please check your email.
Don't see your sign-in link? Check your SPAM for an email from Startup Basecamp.
Still don't see it? Drop a line to [email protected]
================================
💚A note on Startup Basecamp Events:
Our events are open to all, whether you are already fundraising, in the early stages, have a startup idea, or just curious about climate tech.
Please review our Event Etiquette before attending an event.
Interested in what we're doing? Join Startup Basecamp.
Get your Startups membership to have unlimited access to all of community and Pitch events