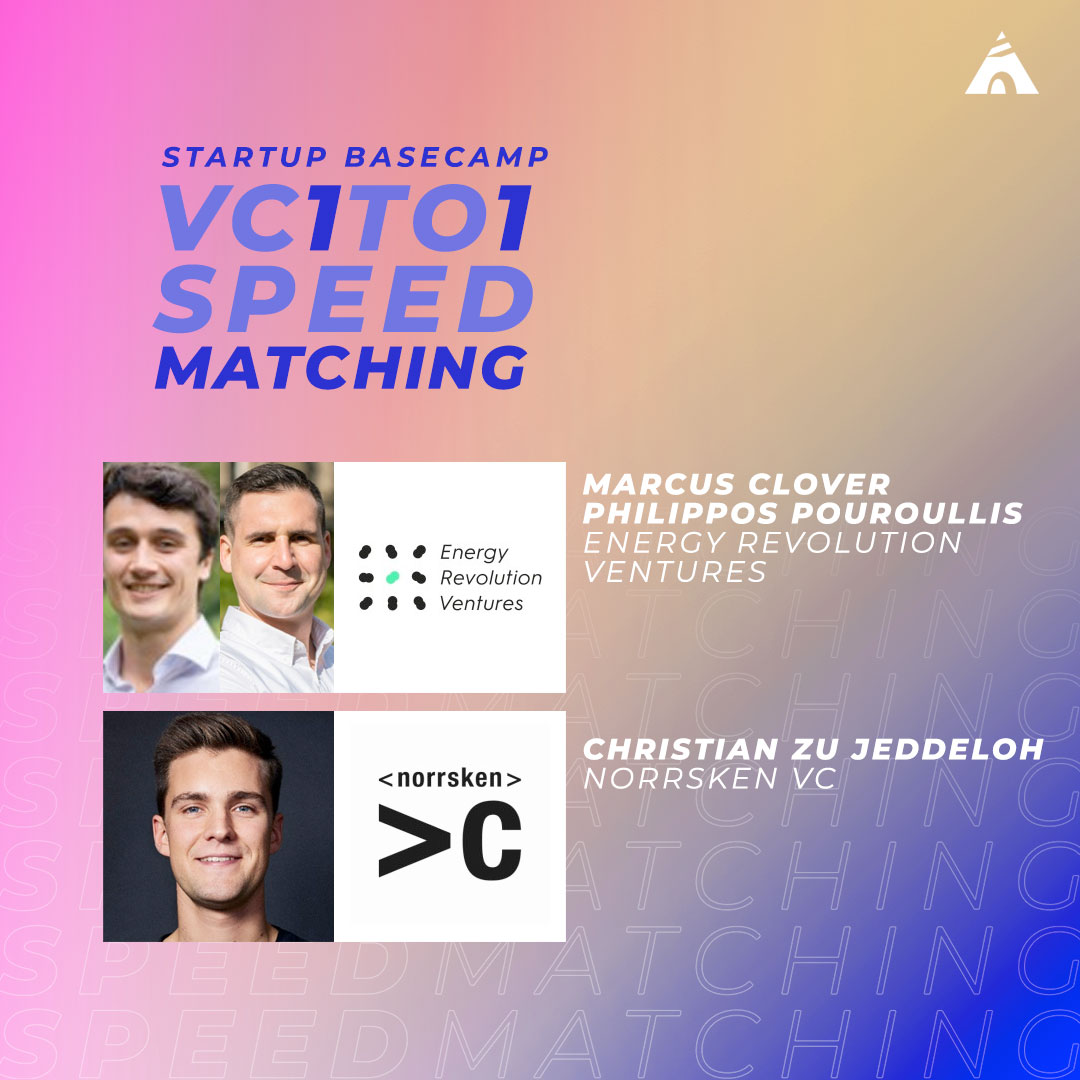 Members Only: VC 1 TO 1 Speed Matching with Norrsken VC & ERV.
🏆About the: "VC 1 to 1 Speed Matching Session"
Every two weeks, join us for a live Pitch session over Zoom with some of the best funds in the Climate Tech industry.
⏰ Schedule: 8 to 9 am (PST) / 5 to 6 pm (CET)
📋 How does it work? 4-5 selected founders will pitch for 3 minutes to each investor and receive live feedback/follow-up questions from the VC.
🤚 Who's it for? This event is tailored for founders across all stages – from pre-Seed to Seed and Series A – who are actively seeking fundraising opportunities.
🤔 Why should I attend? Participating in the "1 to 1 VC Speed Matching" event offers a unique chance to practice your pitch and gain insights into the specific expectations of investors. Essentially, you'll have the opportunity to directly showcase your startup and address all the pressing questions you have in mind.
✍️ Where do I signup? Subscribe to Startup Basecamp's "Get VC-ready" membership plan and gain access to all startup events, our investor-matching application, and more.
==============================
🌎 About the Investors: 
#1 Marcus Clover: Co-Founder at Energy Revolution Ventures
Marcus is an expert in hydrogen technology innovation and co-founded Energy Revolution Ventures, an early-stage energy tech venture capital firm focusing on clean energy technologies. Also, he is General Manager at Prosemino, a tech incubator lowering the barriers to entry for battery and hydrogen entrepreneurs.
#2 Philippos Pouroullis: Associate at Energy Revolution Ventures
Philippos focuses on early stage clean technologies that lower the barriers to entry for battery and hydrogen solutions through venture capital. Leveraging his experience in management and enhancing performance, Philippos is well placed to have an impact at the intersection of people, business, and technology.
👉About Energy Revolution Ventures:
Energy Revolution Ventures is one of the premier venture capital investors in pre-Seed, Seed & Series A+ start-ups, developing scalable technologies within the electrochemical ecosystem. ERV leverages years of experience of its shareholders turning energy and battery technologies into successful, publicly traded businesses. ERV has a deep understanding of the fundamental technology behind innovations as well as risks to scale and commercialisation. ERV is an active investor, supporting founders and innovators functionally and at the board level.
==================
#3 Christian Zu Jeddeloh:  Impact Venture Capital Investor at Norrsken VC
Christian is an Impact Venture Capital Investor with an unwavering commitment to addressing some of the world's most pressing challenges while fostering the growth of groundbreaking businesses.
👉About Norrsken VC:
Norrsken VC is one of Europe's leading and largest impact focused early-stage VC funds. They were born out of Norrsken Foundation – a non-profit founded in 2016 by Niklas Adalberth, co-founder of Klarna, with the belief that entrepreneurs building rapidly scalable businesses are our best bet to solving the hardest and biggest problems of our time. 
‍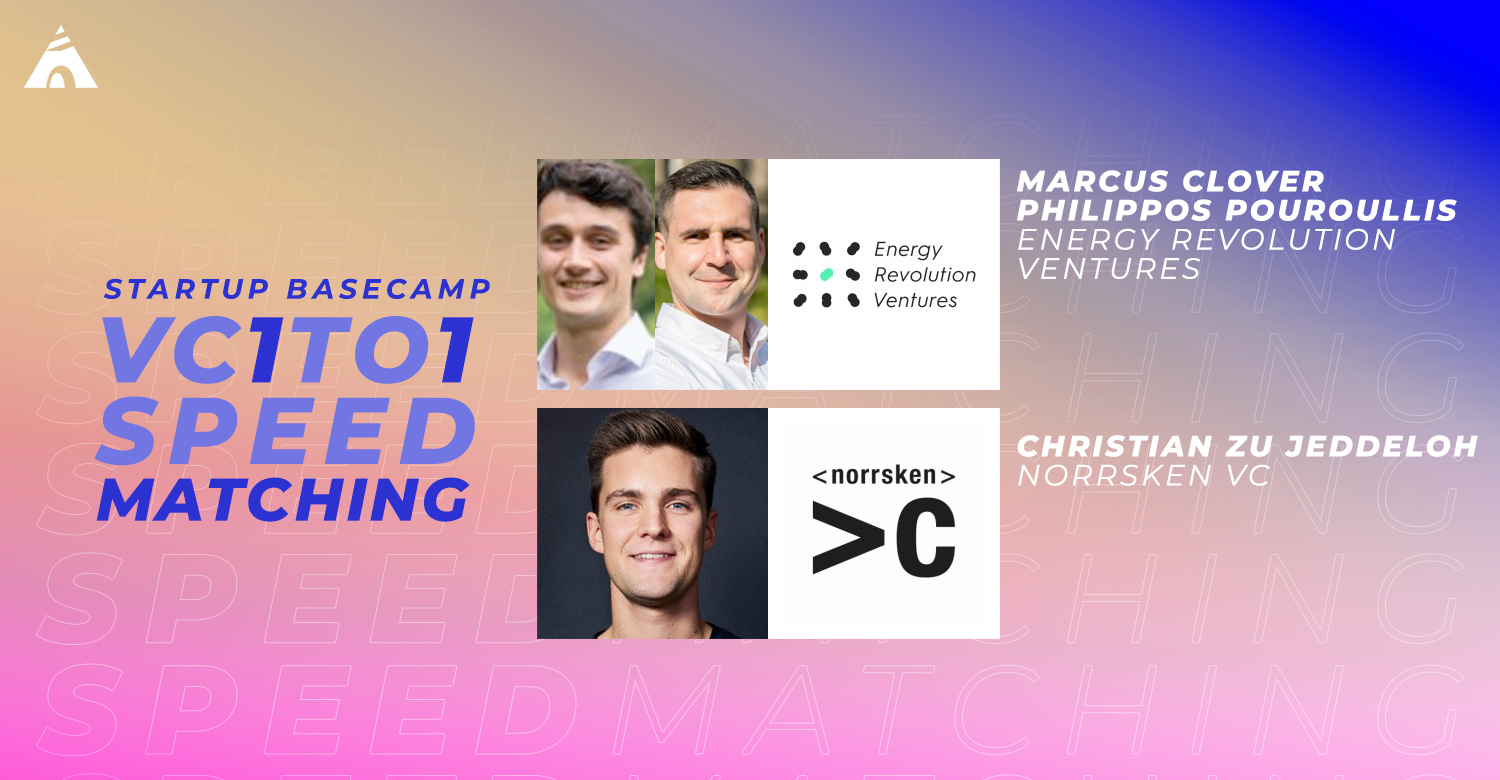 ==============================
🚀 IMPORTANT: Registration Details/Info :
The event is accessible to paid members only.
To become a member and get unlimited access to all the community events, apply as:
🌟=>FOUNDERS: Infos (here) & Application form (here)
💰=>INVESTORS: Infos (here) & Application form (here)
👑=> EXPERTS: Infos (here) & Application form (here)

We will email you login upon registration, so please check your email.
Don't see your sign-in link? Check your SPAM for an email from Startup Basecamp.
Still don't see it? Drop a line to [email protected]
================================
💚A note on Startup Basecamp Events:
Our events are open to all, whether you are already fundraising, in the early stages, have a startup idea, or just curious about climate tech.
Please review our Event Etiquette before attending an event.
Interested in what we're doing? Join Startup Basecamp.
Get your Startups membership to have unlimited access to all of community and Pitch events