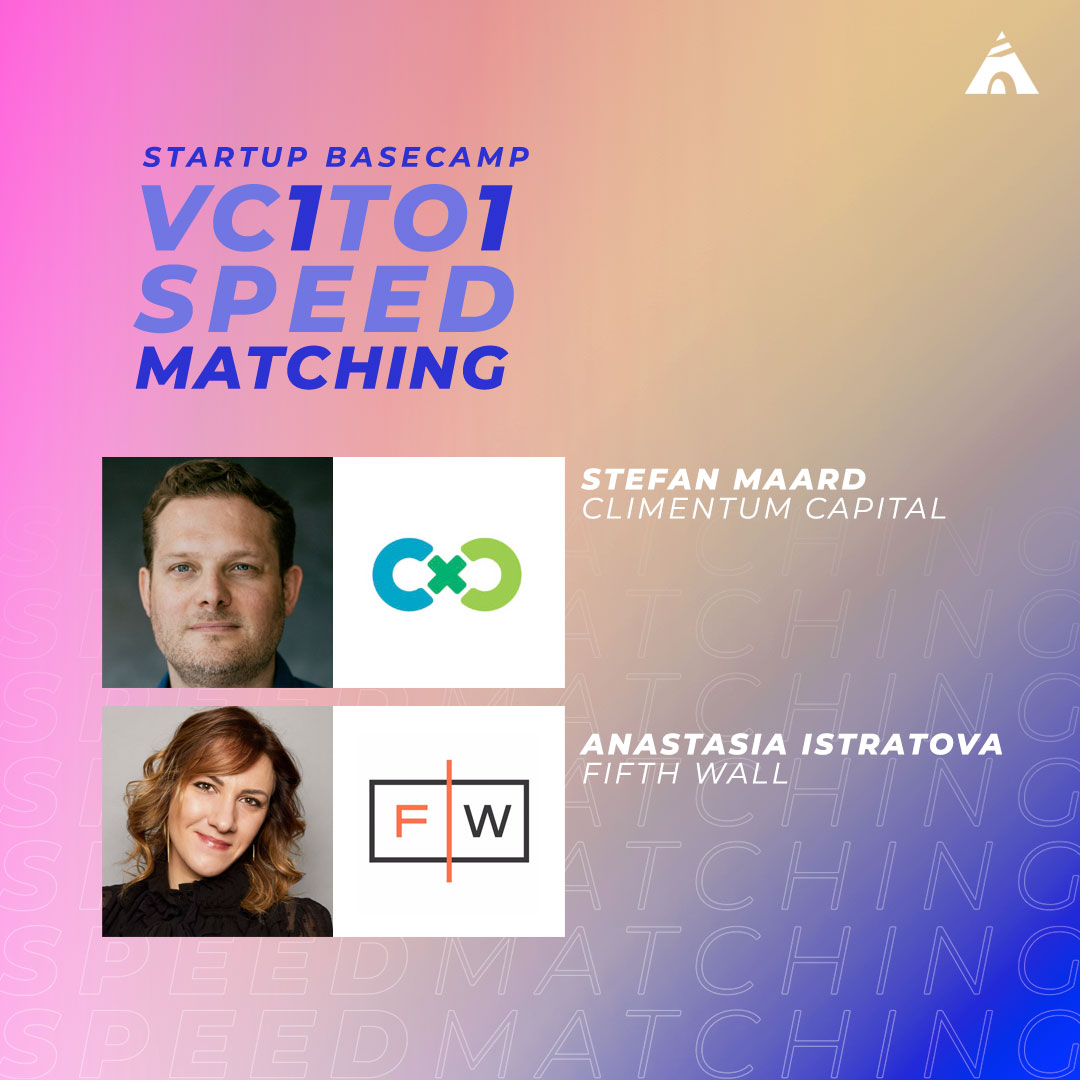 Members Only: VC 1 TO 1 Speed Matching with Fifth Wall & Climentum Capital
🏆About the: "VC 1 to 1 Speed Matching Session"
Every two weeks, join us for a live Pitch session over Zoom with some of the best funds in the Climate Tech industry.
⏰ Schedule: 8 to 9 am (PST) / 5 to 6 pm (CET)
📋 How does it work? 4-5 selected founders will pitch for 3 minutes to each investor and receive live feedback/follow-up questions from the VC.
🤚 Who's it for? This event is tailored for founders across all stages – from pre-Seed to Seed and Series A – who are actively seeking fundraising opportunities.
🤔 Why should I attend? Participating in the '1 to 1 VC Speed Matching' event offers a unique chance to practice your pitch and gain insights into the specific expectations of investors. Essentially, you'll have the opportunity to directly showcase your startup and address all the pressing questions you have in mind.
✍️ Where do I signup? Subscribe to Startup Basecamp's "Get VC-ready" membership plan and gain access to all startup events, our investor-matching application, and more.
==============================
🌎 About the Investors
#1 Stephan Maard: General Partner at Climentum Capital
Stefan Maard is a visionary investor and the General Partner at Climentum Capital, an innovative investment fund with a strong commitment to driving positive environmental change.
👉About Climentum Capital
Climentum Capital is an investment fund based in Copenhagen, Berlin, and Stockholm. We invest in European climate tech companies solving critical sustainability problems for industries. Our fund provides catalytic capital to companies in late Seed and Series A rounds, enabling them to pass key inflection points and scale rapidly. As one of the first funds with a dual carry structure (with both financial and impact targets), Climentum Capital is dedicated to only investing in companies that can deliver true greenhouse gas emissions reductions.
#2 Anastasia Istratova: Principal Climate Tech at Fifth Wall
Anastasia Istratova is a visionary leader in the intersection of technology, sustainability, and real estate, currently serving as the Principal Climate Tech at Fifth Wall.
👉About Fifth Wall
Founded in 2016, Fifth Wall, a Certified B Corporation, is the largest venture capital firm focused on technology for the global real estate industry. With approximately $3.2 billion in commitments and capital under management, Fifth Wall connects many of the world's largest owners and operators of real estate with the entrepreneurs who are redefining the future of the Built World.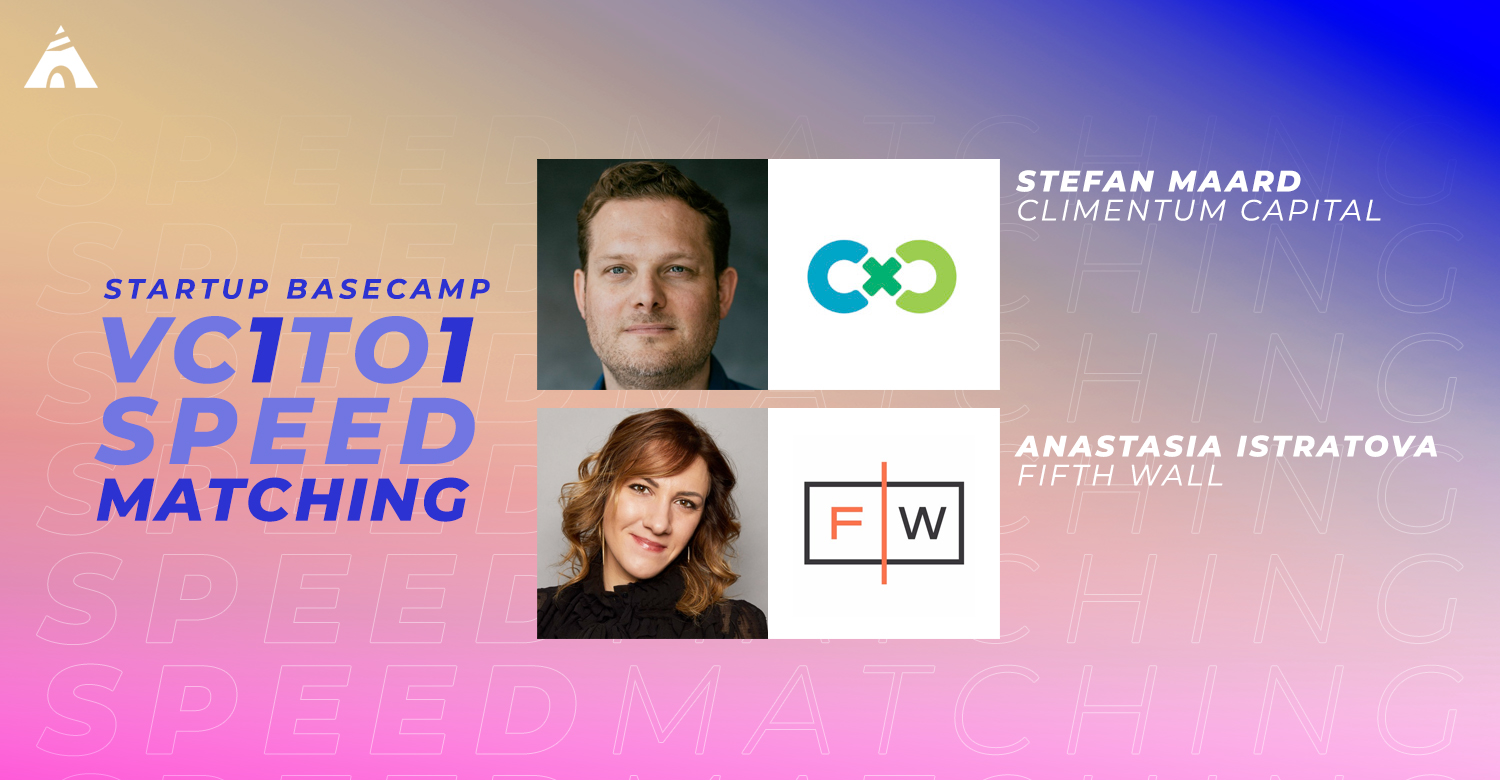 ==============================
🚀 IMPORTANT: Registration Details/Info :
The event is accessible to paid members only.
To become a member and get unlimited access to all the community events, apply as:
🌟=>FOUNDERS: Infos (here) & Application form (here)
💰=>INVESTORS: Infos (here) & Application form (here)
👑=> EXPERTS: Infos (here) & Application form (here)

We will email you login upon registration, so please check your email.
Don't see your sign-in link? Check your SPAM for an email from Startup Basecamp.
Still don't see it? Drop a line to [email protected]
================================
💚A note on Startup Basecamp Events:
Our events are open to all, whether you are already fundraising, in the early stages, have a startup idea, or just curious about climate tech.
Please review our Event Etiquette before attending an event.
Interested in what we're doing? Join Startup Basecamp.
Get your Startups membership to have unlimited access to all of community and Pitch events