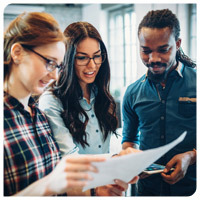 VentureWell Aspire Application Deadline
Startups Prepare for Investment and Strategic Partnerships with ASPIRE
ASPIRE is a five-week intensive program that prepares startups for the investments and partnerships necessary to launch their venture.  Mentors-in-residence work one-on-one with startups to simulate due diligence conversations and integrate feedback into deal room materials in real-time.
Spend one-on-one time with investors
You will work with high-caliber mentors throughout the program that have experience investing or partnering with startups like yours.
Vet your fundraising strategy
Startups will leave with a clear articulation of their investment needs, including the investment ask and planned milestones for the round. Take part in a mock board meeting to prepare yourself for fundraising and investor conversations.
Due Diligence Deal Room
Spend time creating and refining deal room materials to use during the fundraising process. Invest your time and energy into a work product for a deal room discussion, not a demo day pitch.
Stress-test your startup
Work through real-world disaster scenarios with your team to discover how to best prepare for the unexpected.
Collaborate and network
Connect with fellow founders and leverage the VentureWell investor network after the program ends.