Every week, we feature 5 incredible climate tech startups, companies, or projects that are leading the fight against the climate crisis. Now at the end of this month of February 2023, we provide a recap of the startups to watch in climate tech. 
These startups have covered a range of fast-growing industries such as AI, GHG Capture and monitoring, Energy production and storage, Fintech, Foodtech, Agtech, and much, much more.
The list below is a recap of all the startups we have featured over February with some insight into the innovative work they and their teams are doing. 
We hope you find this resource useful and that you can refer back to it anytime you are looking for companies to support, invest in, work for, or collaborate with.
These startups are all added to our running list, which we have categorized based off of fuel emission sector from the most detailed, recent data SBC could identify from the World Resource Institute in 2016. 
These sectors are as follows:
Energy use in Industry and Buildings
Creating the nation's lowest cost, highest GHG-abating, most flexible energy storage network by re-purposing oil & gas infrastructure
Kraftblock's energy storage systems enable industry players to switch from fossil fuels to renewable energies in their industrial processes and to recycle waste heat.
Terraform Industries is scaling technology to produce cheap natural gas with sunlight and air. 
Cut battery costs and waste in half with the future of smart battery management. Double energy density in select battery applications.
Orbio has built a software platform that utilises satellite data to monitor methane emissions from the energy industry.
Mars Materials (Mars) aims to sequester captured carbon dioxide into everyday products such as affordable carbon fiber, an advanced material used in hundreds of products — from textiles to electronics.
Our AI designs and optimizes concrete mixtures for your special use cases. Through our discoveries, you can develop better mixtures – fast and simple.
Agriculture, Forestry and Land Use
Waste (water & landfills)
We will secure a sustainable supply chain of carbon materials by giving the unwanted waste product CO₂ a green purpose.
Maya Climate provides direct access to upfront financing for your natural capital project pipeline.
GHG Capture, Use and Storage
Concrete4Change is developing an array of novel technologies for carbon sequestration into concrete, helping concrete manufacturers and the construction industry achieve net-zero.
Clairity Technology is developing novel direct air capture (DAC) plants to remove carbon dioxide from the atmosphere and combat climate change.
We make carbon-negative chemicals and carbon-neutral e-fuels from CO2 using fermentation.
Find out more about each of these startups by reading the full articles below:
This initiative from Startup Basecamp aims to support founders by giving them access to networking and exposure opportunities that help them to scale and finance their climate tech solutions together with you.
GET ACCESS TO THE FULL RUNNING LIST DATABASE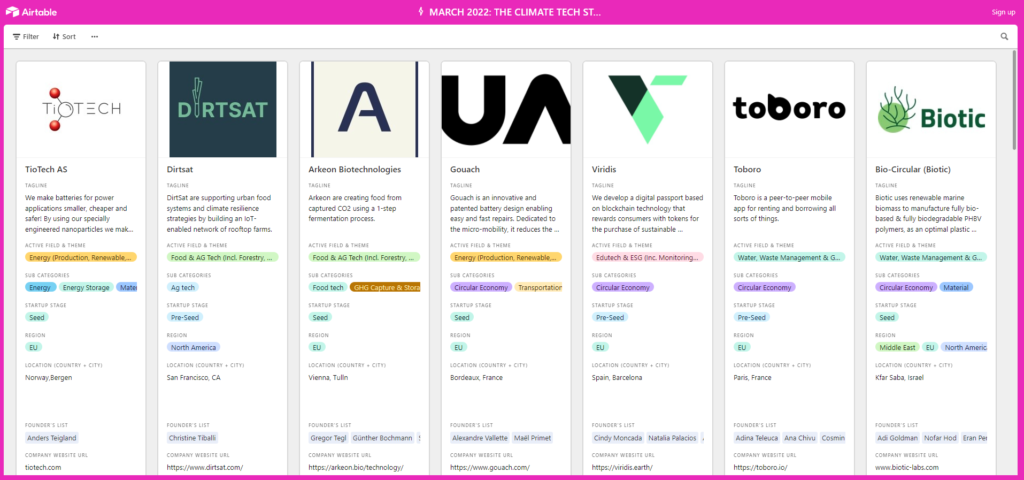 Do not hesitate to join our collective movement by requesting your membership. 
With care,
The Startup Basecamp Team