Every week, we feature 5 incredible climate tech startups, companies, or projects that are leading the fight against the climate crisis. Now at the end of this month of January 2023, we provide a recap of the startups to watch in climate tech. 
These startups have covered a range of fast-growing industries such as AI, GHG Capture and monitoring, Energy production and storage, Fintech, Foodtech, Agtech, and much, much more.
The list below is a recap of all the startups we have featured over January with some insight into the innovative work they and their teams are doing. 
We hope you find this resource useful and that you can refer back to it anytime you are looking for companies to support, invest in, work for, or collaborate with.
These startups are all added to our running list, which we have categorized based off of fuel emission sector from the most detailed, recent data SBC could identify from the World Resource Institute in 2016. 
These sectors are as follows:
Energy use in Industry and Buildings
Dovetail Electric Aviation is leading the regional and general aviation industry into an exciting new, sustainable era by enabling aviation operators to fly commercially viable regional routes in nil emission, electric powered aircraft.
Waste (water & landfills)
Our mission is to bring clean air, energy and molecules to future generations by solving the world's waste problem
CarbonCloud is a research-based food-tech startup with a disruptive web-based SaaS.
GHG Capture, Use and Storage
We enable the capture of carbon emissions in urban environments before they have a chance to enter the atmosphere and wreak havoc.
We reduce the amount of CO2 in the atmosphere FAST through validated and innovative projects.
Carbon Upcycling is a waste and carbon utilization company unlocking a new frontier of circular materials.
We remove atmospheric carbon for a fraction of the cost while increasing crop yields.
Find out more about each of these startups by reading the full articles below:
This initiative from Startup Basecamp aims to support founders by giving them access to networking and exposure opportunities that help them to scale and finance their climate tech solutions together with you.
GET ACCESS TO THE FULL RUNNING LIST DATABASE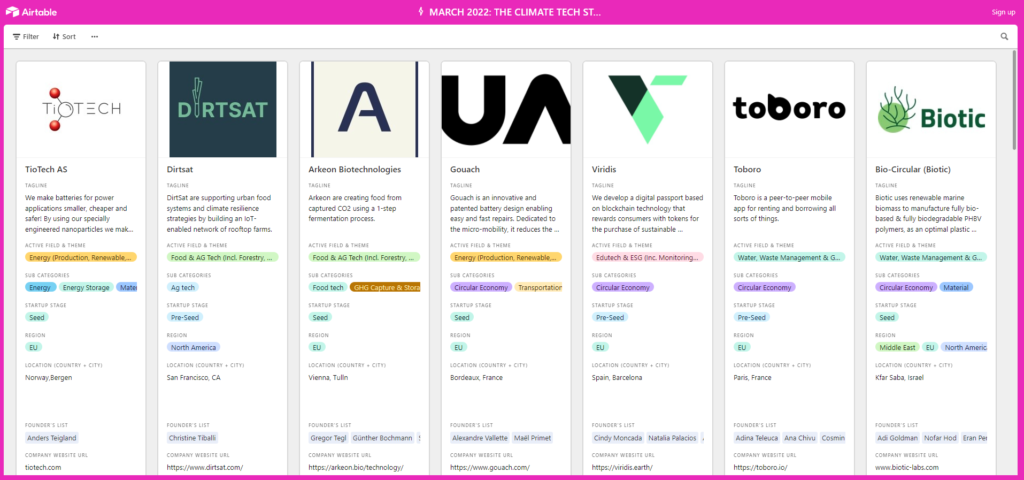 Do not hesitate to join our collective movement by requesting your membership. 
With care,
The Startup Basecamp Team