Every week for the last year we have featured 5 incredible climate tech Startups, companies, or projects that are leading the fight against the climate crisis. Now at the end of this month of September 2022, we provide a recap of the startups to watch in climate tech. 
These startups have covered a range of fast-growing industries such as AI, GHG Capture and monitoring, Energy production and storage, Fintech, Foodtech, Agtech, and much, much more.
The list below is a recap of all the startups we have featured over September with some insight into the innovative work they and their teams are doing. 
We hope you find this resource useful and that you can refer back to it anytime you are looking for companies to support, invest in, work for, or collaborate with.
These startups are all added to our running list, which we have categorized based off of fuel emission sector from the most detailed, recent data SBC could identify from the World Resource Institute in 2016. 
These sectors are as follows:
Energy use in Industry and Buildings
Our climate solution is to replace fossil-based biodiesel with nature-based drop-in biofuels.
A network of 3D printed sustainable skyscrapers to help solve the housing and climate crisis for young families in need of affordable housing
We are developing technology to make low-carbon cement. Our process uses ambient temperature electrochemistry instead of combustion-driven kilns.
Agriculture, Forestry and Land Use
Our goal is to contribute to restoration of damaged marine ecosystems through sustainable concrete structures for the marine industry. Our products are inspired by nature and emulate a healthy base for nature to return.
Waste (water & landfills)
Our mission is to end waste, and our first product is the world's most affordable, high-performing, and space-efficient AI-powered robot for sorting recycling
We deliver sustainable forest waste disposal by up-cycling forest waste into carbon negative products and energy. Our goal is to #EndCatastrophicWildfire in California.
The carbon removal industry needs consumer funding to hit the 10 gigatonnes of carbon that need to be removed annually. Hazel makes it fun and rewarding for consumers to fund carbon removal by providing NFT-based rewards in a fun, web3 mobile app.
Open Climate Fix is a non-profit research and development lab, totally focused on reducing greenhouse gas emissions as rapidly as possible. Every part of the organisation is designed to maximise climate impact, such as our open and collaborative approach, our rapid prototyping, and our attention on finding scalable & practical solutions.
Simplifying satellite data for mining offering data solutions you can implement now to reduce operational costs, mitigate risks, and optimize mining processes
Find out more about each of these startups by reading the full articles below:
This initiative from Startup Basecamp aims to support founders by giving them access to networking and exposure opportunities that help them to scale and finance their climate tech solutions together with you.
How do these startups fit in with all the others we have looked at?
Check out our running list of the 350+ climate tech startups to watch we have featured. 
GET ACCESS TO THE FULL RUNNING LIST DATABASE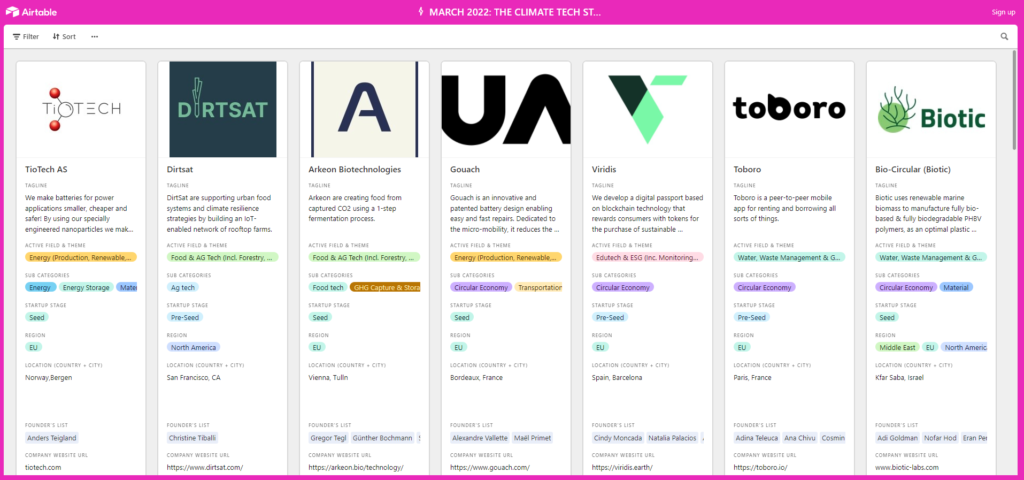 Do not hesitate to join our collective movement by requesting your membership. 
With care,
The Startup Basecamp Team