This event marked the last of our pitch events for 2021 and the end of an incredible year connecting, learning, and growing with climate tech professionals.  We were incredibly grateful to end off the year with one last opportunity for founders to gain visibility and recognition for their tireless efforts over the last year. 
The event saw a new batch of global applicants, representing 15 different countries, and covering a range of key climate areas such as Fintech, AGtech Foodtech, Materials, Energy and more.
Two days prior to the event PwC launched their latest State of Climate Tech report, which indicated that US $222bn had been invested into climate tech between 2013 and H1 2021, and that just 25% of funding is going to solutions responsible for  81% of the emissions reduction potential.
This news came as a stark reminder that climate tech solutions are not only a growing investment space, but we need to continue ramping up funding in high emissions reduction potential companies as much as possible. This competition, alongside our newly launched investor matching service, is one of the ways we are trying to support early founders and investors working in this space, thank you to everyone who is part of it!
Meet the jury & hear their position in the climate tech ecosystem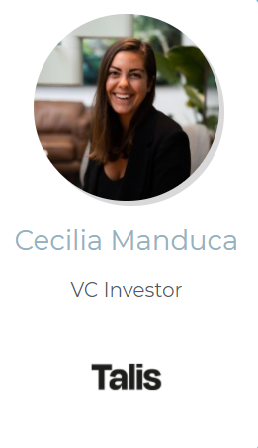 "I strongly believe that climate change is a physical problem that needs a physical solution. We really want to invest in companies that are rethinking how we make everything around us and we strongly believe that the next wave of trillion dollar companies wont create new markets (like Uber & Airbnb have done) but instead will tap into existing markets and make better, more sustainable alternatives"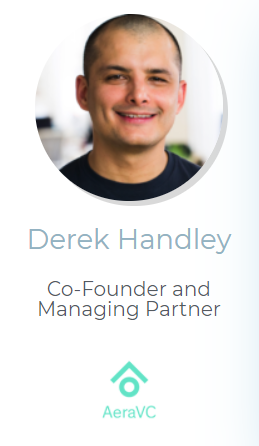 "We're now looking back to our roots, at deep material science/ deep tech, how you make the world. Our first company was decarbonizing the chemicals industry. We're looking at companies like that, and I'm, similarly to Cecilia, looking at FinTech. I'm interested in things like the neobanks and the platforms and infrastructure that are gonna enable the carbon markets…. It's like an explosion, there's stuff emerging everywhere on the deep tech side"
"I think the sector that is behind that is requiring more explosion is in the built world, in the built environment. And it's interesting because how that intersects with the venture capital model is going to be interesting because a lot of that requires real infrastructure scale up."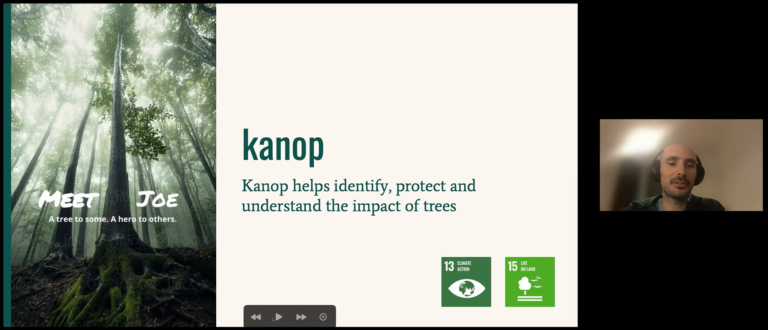 Elevator Pitch: Kanop empower forest managers and carbon offset project developers with data to better measure and value the impact of their actions.
Stage: Pre-Seed
Climate Area: Forestry
Their Solution: Kanop leverage remote sensing images, ground data sets and state-of-the-art AI models to produce KPI's that can be shared through the value chain to investors or buyers. Their model provides carbon estimates and other analytics at tree level in order to provide a solution with measurements that are reliable and accessible.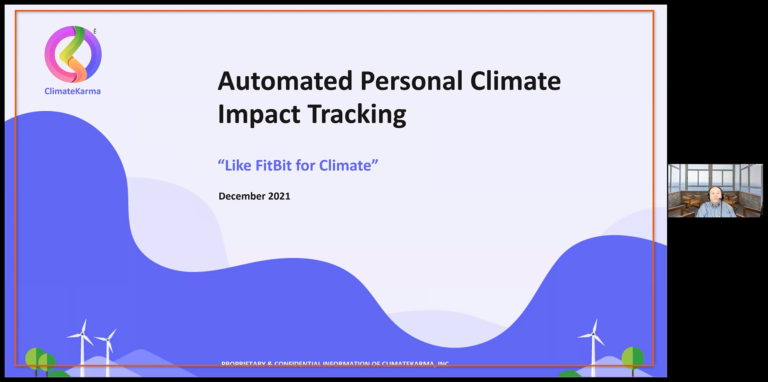 Elevator Pitch: ClimateKarma is the "FitBit of Climate". Their technology automatically calculates your specific personal climate footprint based on API integrations so that you can view, share, compare, compete, and reduce your personal climate impact.
Stage: Early Stage
Climate Area: Edutech
Their Solution: ClimateKarma are using gamification to make climate action fun and modify behaviour. Their Climate Rewards solution gives points, awards and recognition to members for choosing low carbon transport and consumption options. ClimateKarma connect with their partner APIs or let users scan receipts so that their members behavior can earn recognition.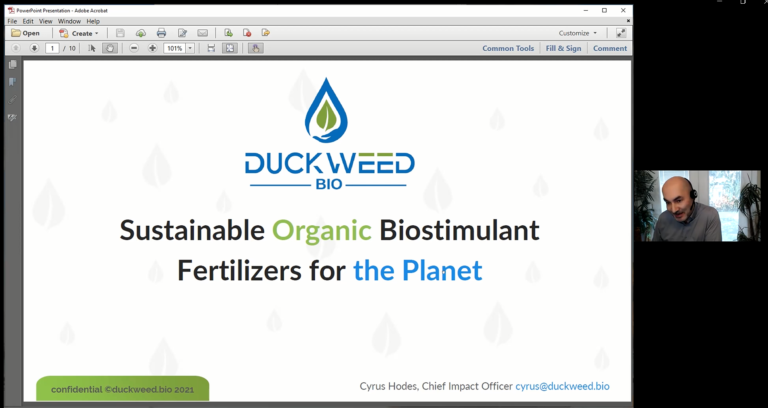 Elevator Pitch: Duckweed Bio is a Florida-based Agtech startup that has cracked how to sustainably produce, at scale, organic (biostimulant) fertilizers to answer a fast-growing global demand. 
Stage: Seed
Climate Area: Agtech
Their Solution: Duckweeds process is a highly profitable, water positive and carbon negative solution that has the capacity to remove 48 metric tons of carbon per hectare per year. Their biostimulant will greatly help soil remediation globally and counter the negative effects of agricultural runoffs into waters, while enhancing crop yields.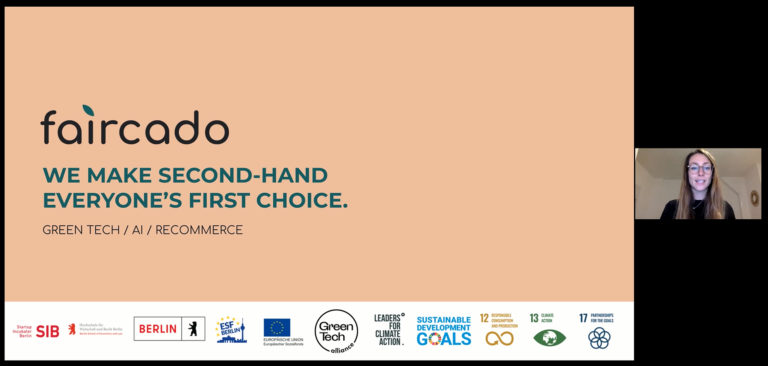 Elevator Pitch:
Faircado is the first AI-powered search and comparison platform for second-hand shopping. By making second hand shopping as easy as buying new, Faircado are ensuring that the sustainable option of buying new can  be a consumers first choice.
Stage: Pre-Seed
Climate Area: Greentech/ Circular Economy
Their Solution: 
Faircado have identified that despite a growing desire to buy secondhand, many second hand online shopping platforms today are more time-consuming and less convenient for users. Faircado works with trusted partners and aggregates all the offers from the biggest marketplaces in one place. They then allow users to compare options based on price and environmental impact and make an empowered decision.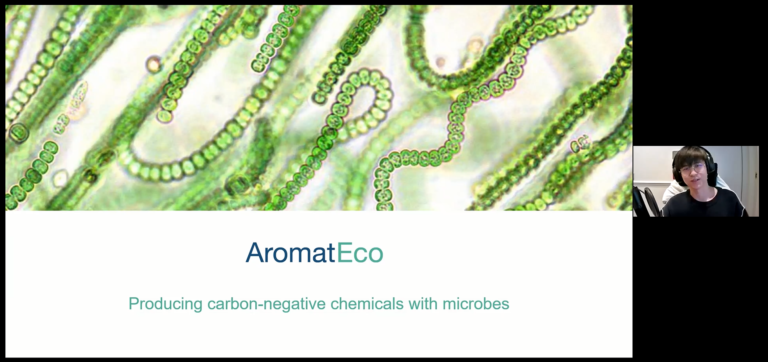 Elevator Pitch: AromatEco are decarbonizing the chemical industry by bioengineering microbes to produce carbon negative and affordable chemicals for use in natural products.
Stage: Pre–Seed
Climate Area: GHG emissions and chemicals
Their Solution: 
At the moment the majority of chemicals used in products are derived from tropical plants or fossil fuels, neither of which are sustainable long term resources. AromatEco's process and patented technology work together to remove CO2 and result in a chemical product that is purer, cheaper and has a stable supply.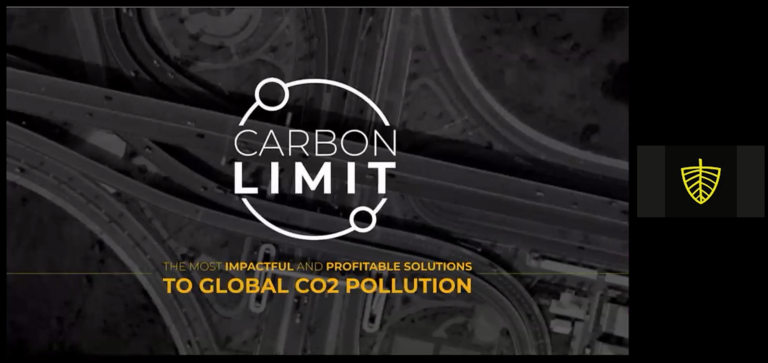 Elevator Pitch: Carbon Limit have created a proprietary nanotechnology that attracts and mineralizers CO2 pollution from surrounding air into concrete and stores it. 
Stage: Pre-Seed
Climate Area: Carbon Capture & Storage
Their Solution: Carbon Limit have created a nature based additive that is added in during concretes manufacturing process. Once the mix is cured the concrete has the ability to absorb and store CO2 from the atmosphere, with their lab  tests indicating that it has the ability to reduce 78% of concretes carbon footprint. This technology can help ESG goals, reduce carbon footprints and generate valuable carbon credits. 
Thank you to Everyone who took part!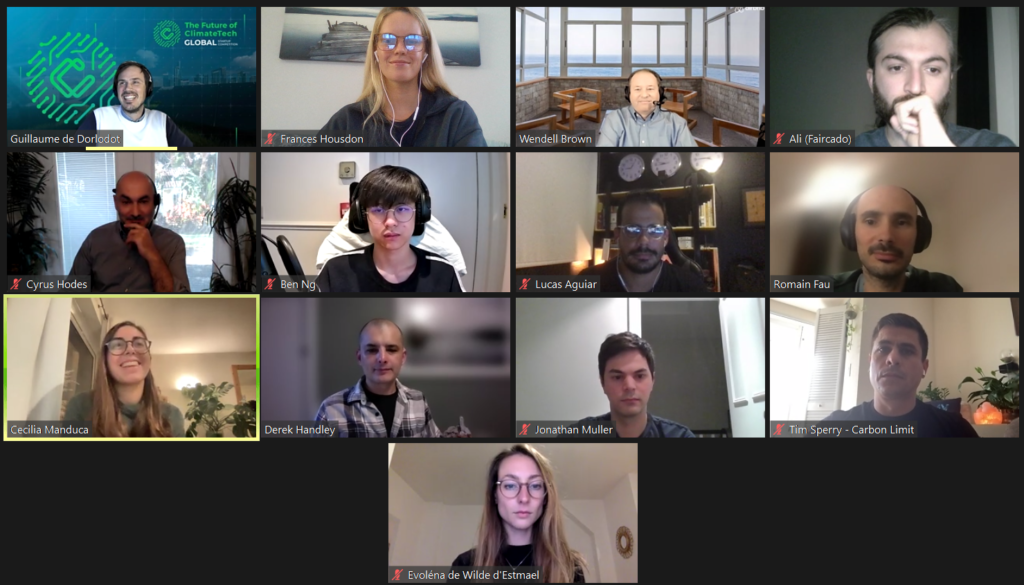 This event would not be possible without all the brilliant founders who applied and continue to create climate combatting technology. It was also supported by an active network of community ambassadors that shared this opportunity worldwide, enabling the diverse range in applications. Lastly we have to thank the leading investors, Cecilia and Derek, who gave their time and invaluable feedback to each team. 
Despite having 6 strong pitches, we could only have one winner.
Which for this event was
AromatEco

!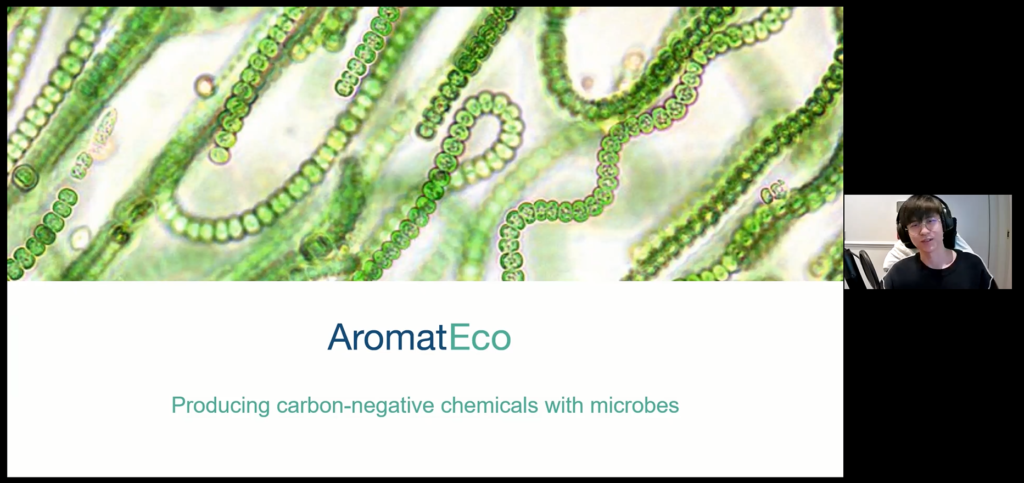 Whilst nothing beats pitching in person, Startup Basecamp's aim with these initiatives is to provide founders with a platform to showcase their ideas to leading investors, gain feedback and accelerate their capital raising efforts. 
We want to wish every startup that presented the best of luck with their venture and on their journey to combat the climate crisis!
Interested in pitching at the next event?
Pre-applications for our next event are open!
Our Next pitch event takes place on March 24th. If you have an early-stage climate tech company you'd like to pitch, submit an application today!
Thank you to all of our ambassadors and supporters