As our first event for 2022 were thrilled to receive over 40 applications from 19 different countries, all covering a range of key climate  sectors such as Constructech, Materials, Energy, Transport and more. 
In the wake of the IPCC second working groups latest assessment, it was inspiring to see so many founders working on the solutions that will save us from what some scientists have described as an "atlas of human suffering". These solutions are developed with unique insights from founders who have identified areas they believe are critical, scalable and will help drive us towards a cleaner future.
We cant wait to follow these teams grow their technology with the help of such a committed and eager climate community!
Meet the jury & hear their position in the climate tech ecosystem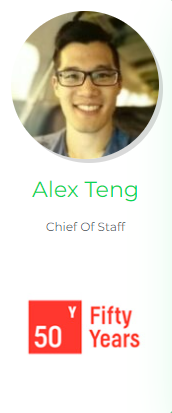 "What I'm most excited about in the future is that climate change provides us an opportunity to upgrade civilization. There's obviously a great refactoring that's going on when you realize that the main inputs to the fundamental economy, like oil, and a lot of the resources we use now need to go sustainable.
And I think one of the things I note is that's going to touch everything in the economy. What I'm super excited about are the, the un-sexy businesses that now all of a sudden are in play and need to get re optimized for carbon emission and resilience. "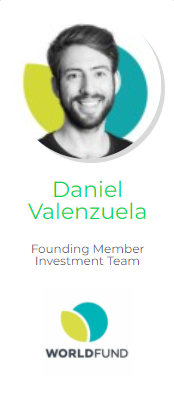 "One thing that I'm excited about right now is that the ability to decarbonize for a company will become a core value enabler of our economy and therefore companies that really focus on delivering decarbonizing solutions and services will actually also financially do really well.
And I think right now we're actually exactly there, we're starting to see that major companies are pushing their net zero targets closer, and the ones that don't we've seen since entering courtrooms, successful lawsuits against de-carbonization plans of companies like shell,  but also the, the German government."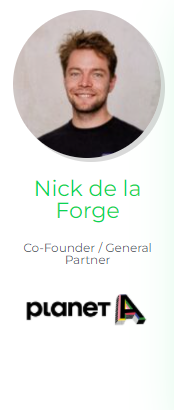 "If you were to ask me what I'm especially excited about, then I think I could quote for our entire team, but maybe also from the verticals I pay the most attention to at the moment, which is energy and heat, where battery storage is an upcoming topic, as well as alternatives to primary energy sources and the transportation sector." 
The above quotes have been extracted and edited for the purpose of this recap
Elevator Pitch: AC Biode are a material science, chemistry and electronics startup currently working on four projects. Their third project, Circulite, is an upcycled ash technology that aims to clean soil, oil spills and capture carbon. 
Stage: Series A
Climate Area: Carbon Capture & Storage
Their Solution: ACBiode recycle coal ash, biomass ash, sewer sludge ash, or mining waste into adsorbent or antibacterial materials. These solutions can be used in areas such as agricultural contamination, industry contamination and nuclear contamination.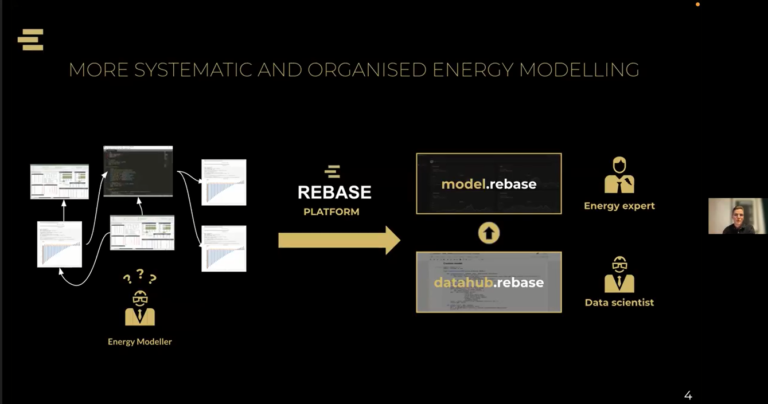 Elevator Pitch: Rebase.energy enables energy service providers and energy companies with data and AI-based tools to plan and optimize distributed energy resources.
Stage: Seed
Climate Area: Energy Services
Their Solution: Rebase aim to bring a more systematic and organized approach to energy modeling. Their solution creates production-ready energy AI-forecasts that allow users to develop fully customizable models and are suitable for a range of energy market professionals.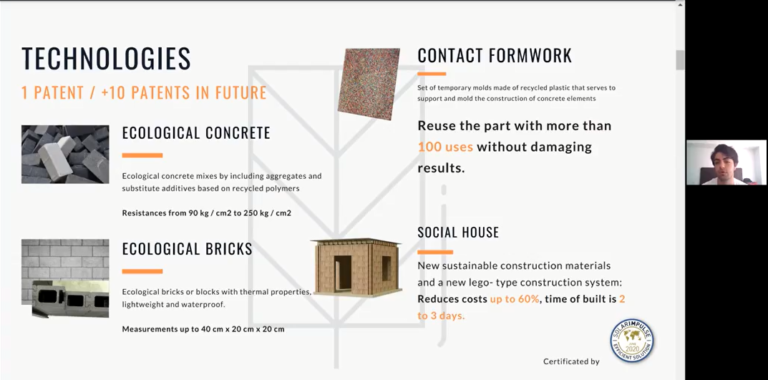 Elevator Pitch:
Was Co. transform plastic waste to create new polymer compounds with high properties and characteristics adapted to structural and non-structural building materials, to be able to build from social housing, schools, clinics, to soccer stadiums.
Stage: Seed
Climate Area: Construtech
Their Solution: Was Co. has developed a range of constructech solutions which include ecological concrete, ecological bricks and contact formworks. Their products are all developed from collected waste and, at the end of use by clients, are recollected and repurposed again, thus facilitating in promoting a more circular economy.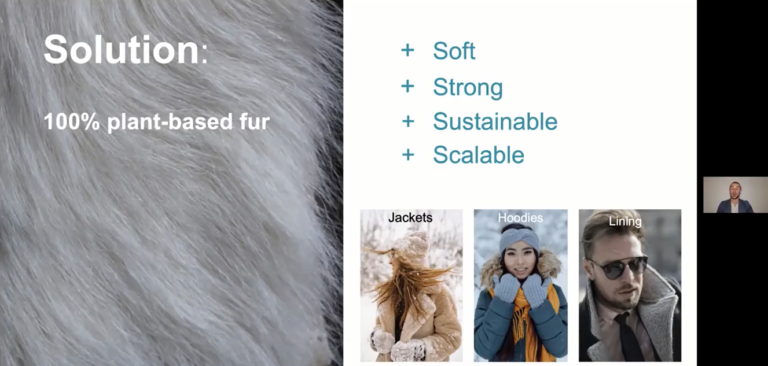 Elevator Pitch:
Biofluff is producing 100% plant-based fur to replace animal and plastic fur.
Stage: Pre-Seed
Climate Area: Material
Their Solution: 
BioFluff's enzymatic fiber pre-treatment process in combination with modified standard industry equipment for faux-fur production will lead to a scalable production process for plant-based fur. They don't require any R&D intense steps such as tissue culture or fermentation which are difficult to scale. They are combining two industries (enzymatic fiber treatment and faux fur knitting technology), to solve the pressing need for sustainable and cruelty-free fur.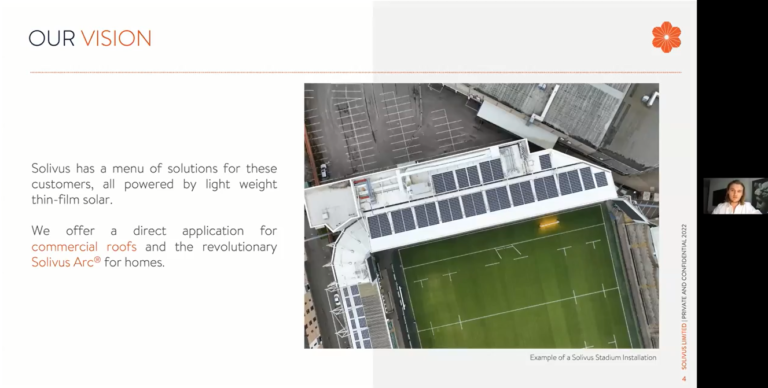 Elevator Pitch:
Solivus is on a mission to power mega-buildings and homes with clean energy generated on-site using new thin-film solar, overcoming weight and aesthetic challenges.
Stage: Seed
Climate Area: Energy production
Their Solution: 
Solar Panels traditionally heavy build and static mount have acted as 2 issues preventing their adoption by those looking to install on commercial buildings or on short term properties. Solivus have developed 3 solutions, thin-film mounting systems, the Solivus Arc, and the transportable Solivus Spider, all of which aim to make solar more adaptable to a variety of environments.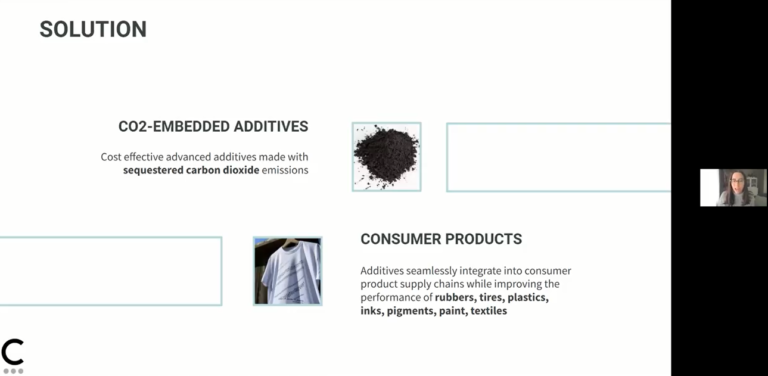 Elevator Pitch: Oco offers low carbon material solutions to consumer products brands which allows them to take the first steps towards reaching their ambitious climate goals. 
Stage: Early-Stage
Climate Area: Materials
Their Solution: Oco was born from  carbon utilization company Carbon Upcycling Technologies  and use their technology to offer partners material decarbonization solutions. So far, Oco has developed over 300 carbon dioxide-enhanced materials and developed over 25 unique products.
Pitch 7: Carbon Analytics with Shravane Balabasqer
Elevator Pitch: Carbon Analytics is the first of its kind granular emissions tracking and intelligence platform for decarbonization.
Stage: Seed
Climate Area: Emissions Tracking and Insight
Their Solution: Carbon Analytics help companies connect, analyze and reduce GHG emissions & carbon footprint at an asset level. Their solution provides visibility across organizational carbon footprint, insight and analysis across companies Scope 1, 2 and 3 data,  support of companies decarbonization roadmap and, carbon component cost tracking.
Thank you to Everyone who took part!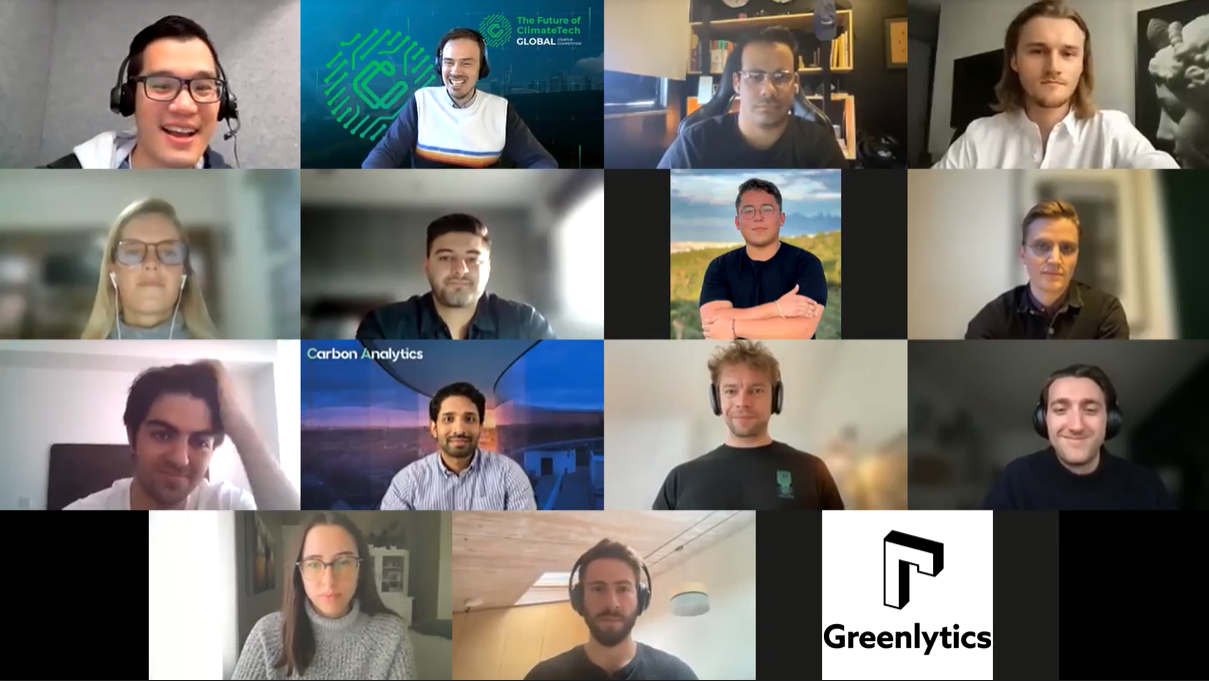 This event would not be possible without all the committed founders who applied, the ambassadors that shared this opportunity worldwide in newsletters, Slack channels, email threads and social posts, and of course the leading investors, Alex, Daniel and Nick, who gave their time and insight.
Despite having 7 strong pitches, we could only have one winner, which for this event was
Rebase Energy

!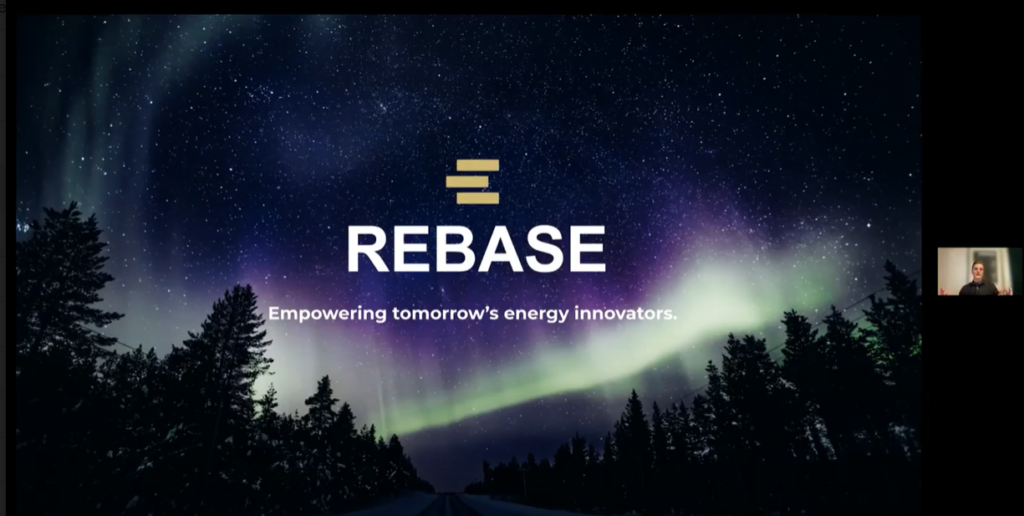 We were thrilled to have so many strong applicants who made choosing a winner so difficult and wish each of them the  best of luck on their journey to combat the climate crisis!
Interested in pitching at the next event?
Pre-applications for our next event are open!
Our next pitch event takes place on June 15th. If you have an early-stage climate tech company you'd like to pitch, submit an application today!
Thank you to all of our ambassadors and supporters