On Thursday the 16th of June we celebrated the 6th edition of our Future of Climate Tech Global Online Pitch Competition!
With the competition over and the winner crowned, here is a brief recap of the seventh global climate tech pitch competition, with a look at the investors who judged, the founders who pitched, and the ultimate winner of the competition. 
We were thrilled to have received almost 60 applications from 26 different countries, all covering a range of key climate  sectors such as Constructech, Materials, Energy, Transport, Smart Cities, FoodTech and more. 
Between 2020 and 2021, US VC investment in climate tech increased 80%. According to the
Silicon Valley Bank
, "climate tech has rebounded from its poor performance in the mid-to-late 2000s. VC fundraising increased nearly 3x and VC investment increased more than 5x over the last six years, reaching $56 billion in the US." There is clearly a big interest and motivation to fund climate tech as the climate crisis becomes ever more apparent and challenging. Climate tech offers powerful, scalable, and innovative solutions to this challenge. These solutions are developed with unique insights from founders who have identified areas they believe are critical, scalable and will help drive us towards a cleaner future.
We can't wait to follow these teams grow their technology with the help of such a committed and eager climate community!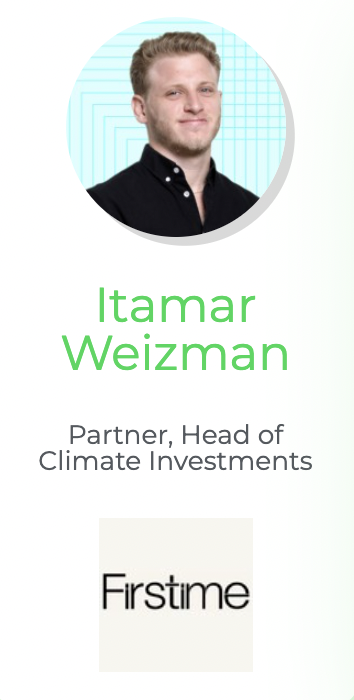 What is exciting you? Where do you see growth?
"Israel, where I am based, is a global leader in Foodtech and alternative proteins and has built several large companies. However, right now, I am mostly looking into direct air capture, which is a very risky space and a bit of a moon-shot effort to build the large scale gigaton unicorns that we are looking for. 
I am also looking for companies that can build interesting, large scale businesses. I am not looking into specific solutions, but currently have a very wide range. Right now, I am looking at the circular economy and spending my time learning about specific companies that are trying to turn waste into energy and materials. This space is one I am really interested in and I think it can be a huge gain for emission reduction and for creating new materials for industry."
What is exciting you? Where do you see growth?
"Everything has been so broad within the climate tech umbrella but there are a few themes I have seen in the last few months: 
The first is around waste management, circular economies, and traceability software. I have seen a lot of companies that are working on ESG reporting and startups in that space that are tackling waste and traceability using blockchain among many other things.
Within Agtech, synbio is huge, with so many different alternative protein companies and something creative in that space that I think is pertinent in this environment is creative partnerships and clever ways to avoid CapEx. I am seeing a lot of partnerships with large incumbents that have infrastructure. An example of this trend within Ag Tech would be precision fermentation and AB inventive partners."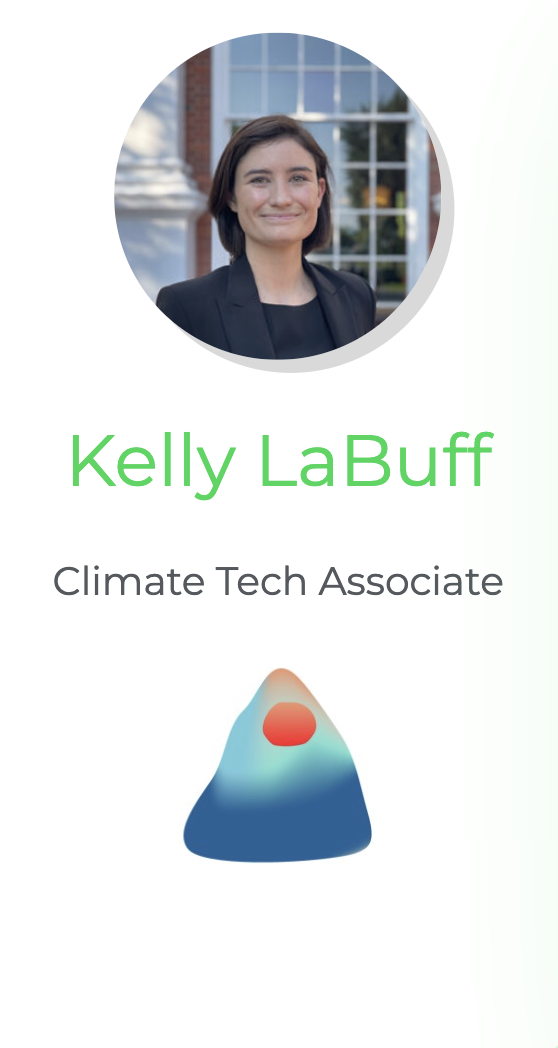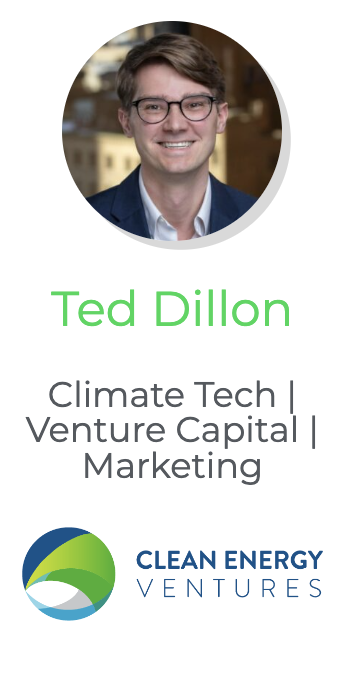 What is exciting you? Where do you see growth?
"Within Climate Tech specifically, we are very interested in hardware and the industrial players, where companies can have a very big impact from a comparatively low customer volume. For example, we recently invested in a company that does C02 capture and sequestration while at the same time producing sulfuric acid.  This idea shows a trend across a lot of our portfolio companies:  finding a way that allows good economics and carbon capture to go hand in hand, turning carbon into a meaningful commodity that can be used in heavy industry.
We are also quite interested in are companies that look at how to make sure that we are able to meet our demands for critical minerals, specifically lithium ions for batteries and recycle them, particularly as we look toward the EV boom. 
A third area of interest is green hydrogen. We invested in a company that makes electrolyser specifically for the industrial space. What we really like about that technology is that it can piggy back on the existing industrial infrastructure, such as process and waste heat and steam to lower the overall cost of green hydrogen production. Industrial hydrogen accounts for about 90% of hydrogen use so it's one of those opportunities to take a technology, deploy it at a B2B scale, and see the impacts on carbon emissions overall. " 
The above quotes have been extracted and edited for the purpose of this recap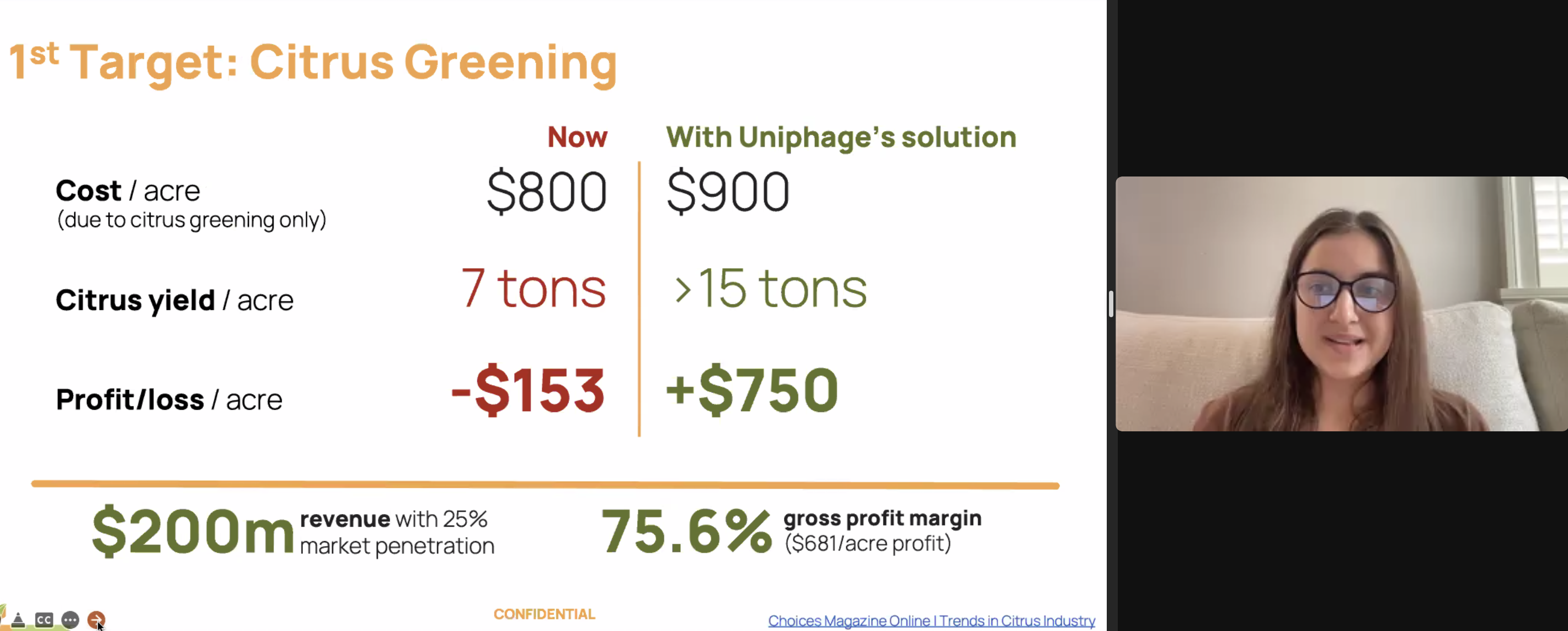 Elevator Pitch: Uniphage aims to replace the toxic and ineffective crop bactericides and pesticides with safe and significantly more efficient biological alternatives to save crops from microbial diseases and preserve our health by reducing dangerous pesticide intake. 
Stage: Seed
Climate Area: AgTech
Their Solution:  Huanglongbing, also known as citrus greening, is a devastating and incurable disease of citruses that is destroying the US citrus industry. We're developing a safe, precise, and organic bacteriophage-based solution to cure citrus greening.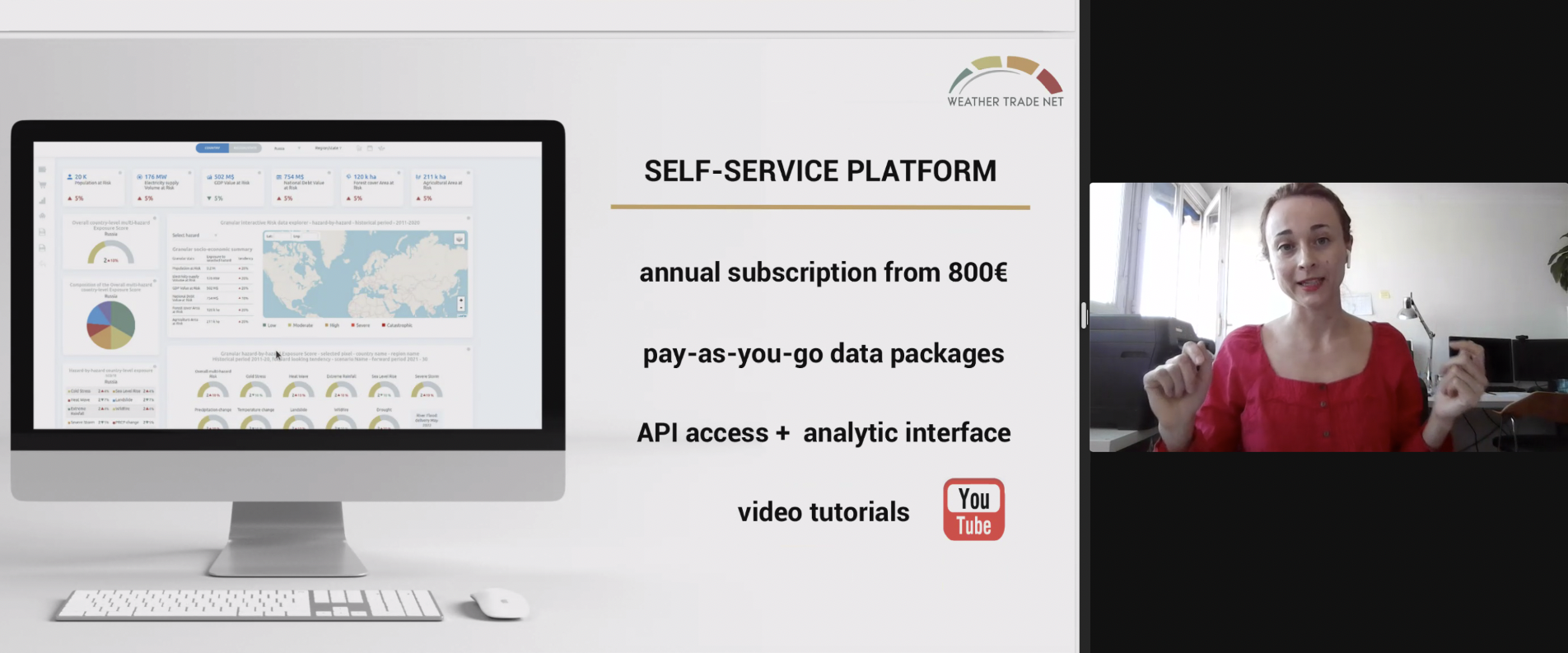 Elevator Pitch: We are first on the market, self-service, physical climate risk data and reporting platform. In just 5 seconds you can get assets evaluation on 10 climate risks with global coverage.
Stage: Seed
Climate Area: Fintech
Their Solution: As the impacts of climate change become increasingly apparent, there is growing concern among investors as to the implications of climate change on the pricing of financial assets and on the allocation of their investment portfolios. Weather Trade Net aims to bridge the gap between the fast-emerging climate policy, corporate finance, and climate data science.

Elevator Pitch: Become climate positive through your spending and investments and take a stand against climate change.
Stage: Seed
Climate Area: Fintech
Their Solution: Yayzy links to your bank account to automatically calculate the carbon footprint of your purchases. The connection is safe, secure & encrypted with bank level security. You then get an itemised overview of how your spending influences your carbon footprint and shift to low carbon options. From there, starting from just £3 a month, you can offset through a selection of our certified climate projects.


Elevator Pitch: We make innovative products and ingredients out of food waste. Our first product is an avocado seed brew, a gut healthy drink made from avocado seeds.
Stage: Seed
Climate Area: FoodTech
Their Solution: Our mission is to create beautiful, environmentally safe, and socially responsible upcycled products by discovering the hidden value in the food people would normally call trash. Our hope is to reduce food waste, continue to create and support sustainable systems for sustainable living, and inspire everyone to discover the hidden gems in the world around us. 

Elevator Pitch: Innovia GEO is decarbonizing our buildings and homes by developing innovative technologies to make clean and renewable geothermal HVAC systems more affordable.
Stage: Pre-Seed
Climate Area: Construtech
Their Solution:  In North America, nearly 80% of the energy used in our buildings and homes is for heating and cooling. Most of this energy is provided by the direct combustion of fossil fuels for heat and the use of power hungry air conditioners that are at their least efficient on the hottest days when we need them the most. Efficient renewable energy solutions are needed if we are ever going to decarbonize the building sector.

Elevator Pitch: Gazelle are developing floating wind platforms that are lighter, smaller and more agile than current designs.
Stage: Seed
Climate Area: Energy Production
Their Solution:Gazelle has developed a design that responds to waves through the action of a central counterweight connected to tripodal arms anchored to the seabed. This geometry allows the platform to minimize tilting and when compared to conventional platforms, it uses 70% less steel, is 1/3 of the weight, and offers a large cost reduction given that is is simpler to build, deploy, and maintain.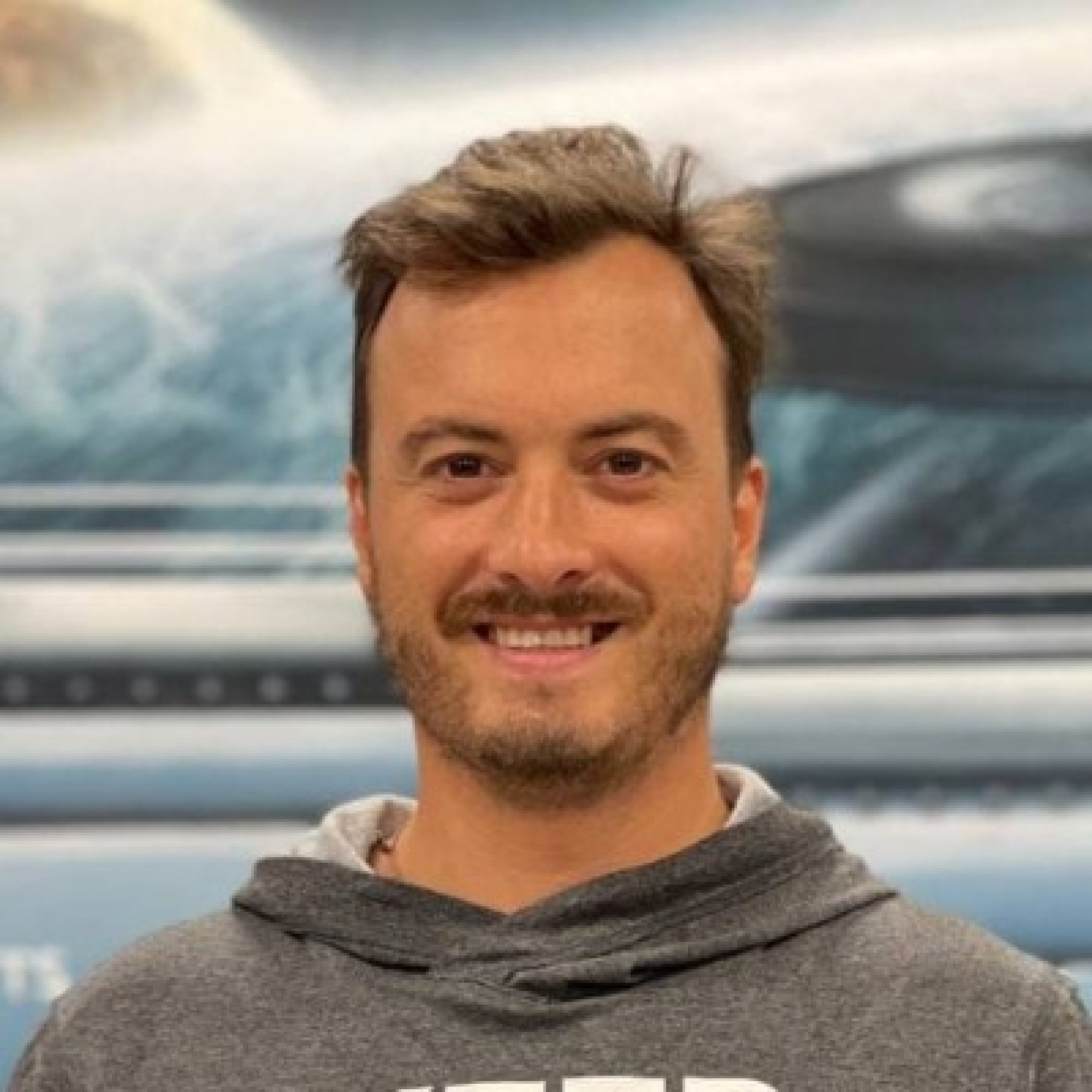 Elevator Pitch: Carbon Analytics is the first of its kind granular emissions tracking and intelligence platform for decarbonization.
Stage: Seed
Climate Area: Emissions Tracking and Insight
Their Solution: Carbon Analytics help companies connect, analyze and reduce GHG emissions & carbon footprint at an asset level. Their solution provides visibility across organizational carbon footprint, insight and analysis across companies Scope 1, 2 and 3 data,  support of companies decarbonization roadmap and, carbon component cost tracking.
Thank you to everyone who took part!
This event would not be possible without all the committed founders who applied, the ambassadors that shared this opportunity worldwide in newsletters, Slack channels, email threads and social posts, and of course the leading investors, Alex, Daniel and Nick, who gave their time and insight.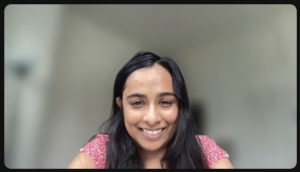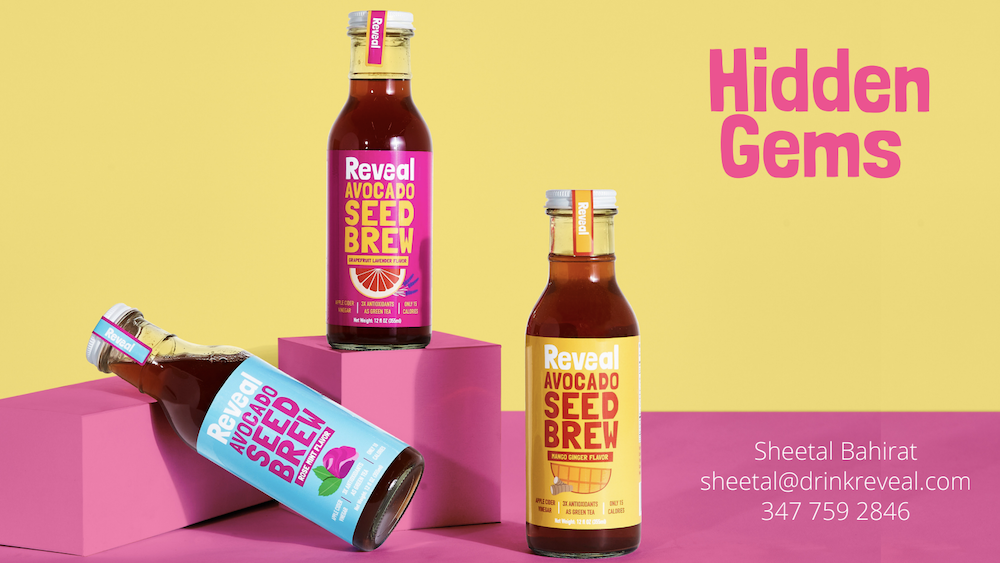 Congratulations to Sheetal Bahirat from Hidden Gems and her excellent work turning food waste into consumable products.
We were thrilled to have so many strong applicants who made choosing a winner so difficult and wish each of them the best of luck on their journey to combat the climate crisis!
Interested in pitching at the next event?
Pre-applications for our next event are open!
Our next pitch event takes place on September 22nd. If you have an early-stage climate tech company you'd like to pitch, submit an application today!
Thank you to all of our ambassadors and supporters