Climate tech in India is on the up, but what is behind the growth of climate tech in the region? Who are the main actors? Where are they based? What are their main challenges and opportunities?
For a country with the second-largest population in the world, developing venture solutions to address the climate crisis is of utmost importance. Currently, India is the world's fourth-largest emitter of carbon emissions after China, the US, and the EU. Similar to the rest of the world, in India global warming is also leading to an increase in temperature and the frequency of extreme events such as floods. In addition, the mismanagement of urban waste and poor air quality is having severe health impacts on the lives of India with increasing malnutrition and child stunting. Also, the changing health and rain patterns in India due to climate change are impacting the sectors such as agriculture, increasing poverty and displacement through flooding, higher cost of living, and lack of availability of food and land.
With the help of global policy shifts and regulatory tailwinds, both businesses and consumers are now becoming increasingly proactive about the need for an energy transition away from carbon-intensive fossil fuels. However, the definition of climate has now become broader than clean fuels and renewable alternatives to power generation. It includes all solutions aimed at decarbonizing the planet, specifically electric transportation, real estate, sustainable agriculture, waste management, circular economy, water conservation, sustainable FMCG products, and forestry management.  Climate tech also includes innovative efforts to curb emissions such as carbon capture and storage, and the enablement of carbon management through transparent accounting.
Where does India stand in climate tech? 
India currently stands at the seventh position in the Global Climate Risk Index 2021 and ranks at the ninth position in the climate tech VC funding globally. At the COP26 conference in 2021, India pledged to achieve net zero on carbon emissions by 2070. This includes: 
a 50% commitment towards renewable power generation by 2030;
reaching a non-fossil fuel energy capacity of 500 GW by 2030;
reducing CO2 emissions by 1 million tons by 2030;
reducing carbon intensity below 45% by 2030.
What advantages does India have compared to the other countries?
There is an abundant wealth of natural resources in India which can be harnessed into assets when developing business solutions to address the climate crisis. For example, India has an arable land area of 159.7 million hectares (394.6 million acres) which is the second largest in the world, after the United States, and nearly 25% of India's land is under forest cover. Nature-based project solutions can be widely implemented in India to focus on protecting, managing, and restoring forests, wetlands, oceans, and other ecosystems. Because such projects soak up carbon from the atmosphere, they can also be channeled towards producing carbon credits for the voluntary carbon markets, which can then be sold to multinational companies looking to offset their emissions, hit net-zero emissions, and strengthen their environmental, social and governance commitments. 
India also has a thriving entrepreneurial ecosystem that has seen exponential growth in recent years, with Indian startups attracting $38.5 billion in funding in 2021 alone, with 44 companies reaching billion-dollar valuations this year. There is a large talent pool of exceptional founders with core skills in software development, deep science, and product innovation, and while climate tech is still a nascent sector in India, newly launched startups are looking to address the $3.1 trillion climate tech market opportunity by 2030. Technology advances in R&D, machine learning, artificial intelligence, and other deep-tech innovation have made it easier to develop scalable, asset-light, and venture-investible solutions to address the climate crisis, in partnership with large, resource-rich corporates, with regulatory tailwinds accelerating this shift.  Climate tech equity funding in India grew by 4X in 2021 from 1.87 billion in 2020 to 7 billion in 2021 and the total climate tech investment in India in 2021 is estimated to be around 20 billion. 
Below is the sectorial breakup of the climate tech investments in India in 2021
(Source : The State of Climate Finance in India 2022 )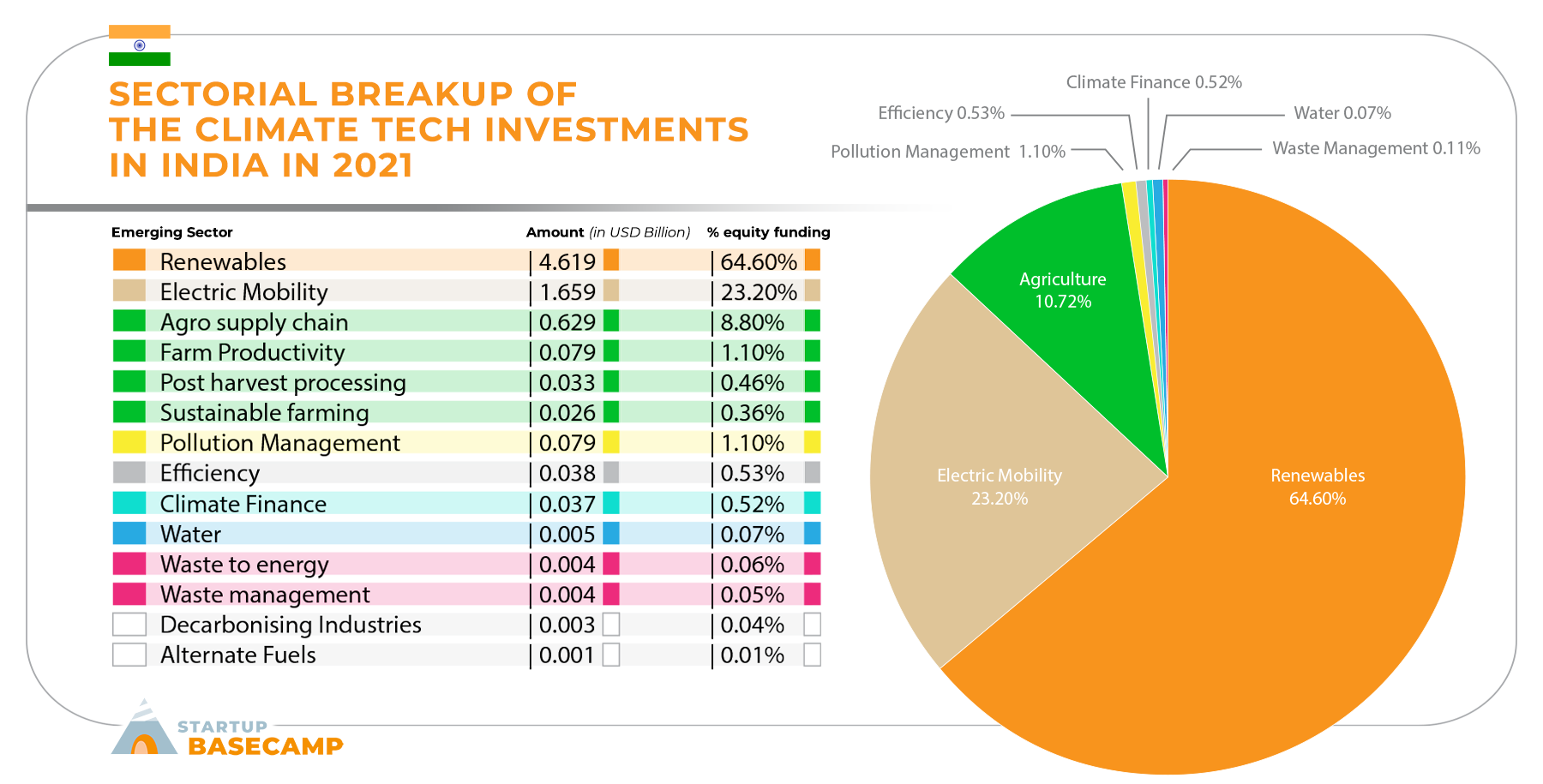 There has been rapid momentum in early stage deals and mainstream venture capital interest in the below core sectors: 
Electric Mobility
India represents the 4th largest automobile market in the world and the 2nd largest two wheeler market with ~20 million units.  India also maintains a large dependency on oil imports with 55% contribution to the automobile sector. The National Electric Mobility Mission Plan 2020 launched by the Indian Government and projects such as Faster Adoption and Manufacturing of Hybrid and Electric Vehicles (FAME) has kickstarted momentum in the startup space around electric vehicle (EV) manufacturing, charging infrastructure, battery tech, spurred by the commercial use case in fleets.  This has been accompanied by a spate of attractive incentives such as subsidies, lowering of taxes and increasing cost of operating a petrol vehicle due to rising oil prices.
Renewable Energy
As of January 2022, India's installed renewable energy capacity stood at 152.36 GW, representing 38.56% of the overall installed power capacity due to falling technology costs and proactive government policies. Innovative startups in this space are building enterprise SaaS interventions to help utility-scale and rooftop solar EPC providers with services such as data analytics, site security, equipment sensor monitoring, as well as data-driven decisions to which benefit from real-time updates and anytime-anywhere access.  Data forecasting helps avoid and predict changes in demand, overloads, and possible failures; efficient resource management helps prepare for demand in advance, dispatching resources better; and improved safety, efficiency, storage, and reliability helps to identify energy leakage and the health of the devices.  
Battery Technology
The push for distributed energy systems and electric mobility has led to significant demand in clean energy storage and the need for strong battery technology to fulfill this need. Although India's energy storage market is at a nascent stage, it is expected to grow upwards of 2 TWh by 2030. There are new deep tech innovations evolving in alternative battery chemistries in addition to lithium-ion cells, such as zinc, sodium, hydrogen, and polymer. Machine learning is being used to predict battery life, identify potential degradation and fix errors even before they arise, leading to high battery efficiency and operational reliability. EV battery manufacturers are leveraging IoT to derive health insights, and constantly monitor and improve life and performance through battery management systems (BMS) which are becoming more sophisticated and robust, gathering data on granular levels.
Energy Efficiency
The industrial manufacturing sector suffers from capital inefficiency as a result of poor maintenance coupled with age of the equipment. Moreover, in commercial establishments, where there is a large throughput of regular power flow, the balancing act of managing many generators becomes challenging especially because of the short response time requirements. Innovative startups are developing solutions to these problems and promote energy savings using Internet of Things (IoT) sensors which deliver both intelligence and operational insights, allowing companies to dynamically manage assets, decrease maintenance and transmission costs' and retrofit for energy-intensive systems like cooling, heating, compressed air, and steam in commercial and industrial facilities to monitor energy and process parameters.
India is the third largest consumer of oil, of which 80% is imported, the second largest generator of food wastage (68.8 million tonnes annually), and generates 500 million agro waste annually. With the focus on government push towards self-reliant India and an opportunity for startups to create value, there are new sectors where we expect to see exciting venture activity including green hydrogen; circular systems including waste management and traceability; the carbon credit market, and integration of Web 3 into these solutions; bio-material innovation for sustainable fashion, packaging, and construction; food waste upcycling to animal feed alternatives; smart protein and biotech; climate-smart agriculture including hydroponics and precision agriculture; and property tech solutions.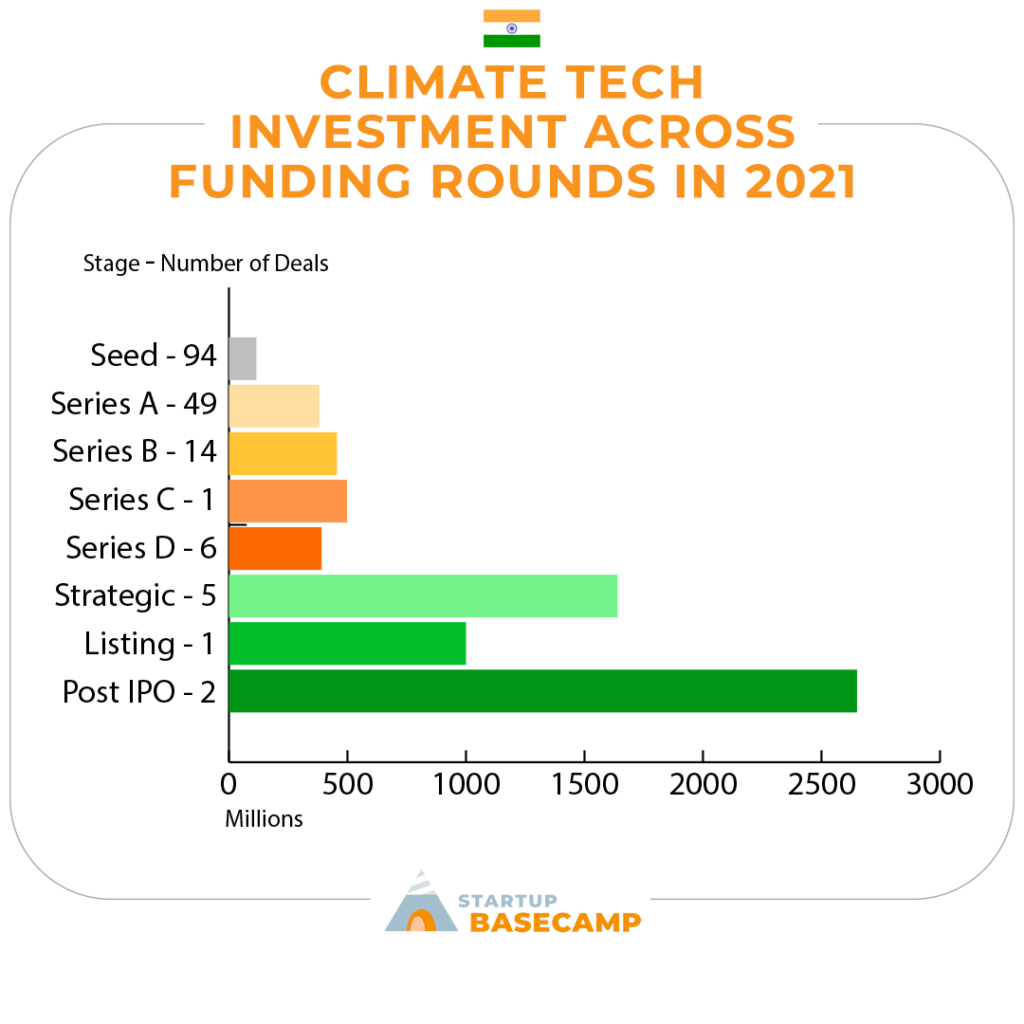 Who are the drivers behind the growth of climate tech in India?
In addition to the burgeoning entrepreneurial ecosystem; technology advancements through digitization and deep science; and the policy mandate to create an enabling environment for these innovative startups, large Indian corporates are increasingly making shifts towards incorporating sustainable practices into their daily operations. For example, 
Vehicle manufacturers such as

Hero and Mahindra

are now making strides in developing electric two and three-wheelers to supply to fleets
FMCG companies such as Hindustan Lever (HUL) commit to reducing virgin plastic by 50% by 2025 as part of their Extended Producer Responsibility (EPR).
What are the current challenges in India?
While corporates, startups, investors, and policymakers are making headway towards integrating sustainability into the next wave of growth, climate consciousness is still at an early stage at the retail consumer level in India, compared with developed markets such as the UK, US, or the EU. Prices for sustainable products are perceived to be higher, therefore there is less adoption of climate-friendly brands due to the 'green premium' that is applied, which tends to only see traction in population segments with higher disposable incomes. For sustainable products to be adopted by mass consumers in a price sensitive and supply chain-driven economy such as India there are a few steps that need to be taken such as 
the cost of production needs to be lower; 

awareness about climate change issues needs to be higher; 

smaller businesses also need to see the value of non-petroleum-based products such as plastic, polyester, and acrylic, so that climate action can gain faster traction in India's ambition to reach net zero emissions by 2070
Conclusion
India is very well positioned to become a climate leader because of the abundance of natural resources, the regulatory push from the government, the rising awareness among the people, innovations in companies and startups with more renewable and sustainable solutions, and the thriving ecosystem to support the innovation. With policies such as a blanket ban on single-use plastics, Renewable Power Obligation (RPO) mandate on states for 25% of their energy needs through renewable sources, Central and State governments' EV mandates and the National Hydrogen Mission government is trying to tackle the climate change and through the climate-focused venture ecosystem in India startups are looking climate change as a business opportunity similar to other mainstream sectors. 
While the ecosystem is thriving mainstreaming climate tech investments require concerted support from multiple stakeholders as climate tech as a sector is hardware intensive with deep science and therefore has a longer gestation period. Climate tech startups need patient capital, blended finance, and longer tenure funds to support them to achieve the product market fit and reach the market, especially at the early stage. Among all impact-oriented sectors, climate tech investments are only 9 percent of the total investment, and the movement from seed to series A is only 17 percent over the three-year horizon compared to the global market where the movement is 29 percent. However with the bulk of innovations in the new sectors, government regulations and push towards accelerator programs for the early stage startups and the global investors looking at India from an investment perspective the ecosystem can provide support across different stages of a startup lifecycle
About Theia Ventures
Theia Ventures is a climate tech and circular economy fund based out in India with a mandate to invest in early-stage companies that are working towards net zero emissions. Theia was launched in April 2021 and has since then made investments into four companies: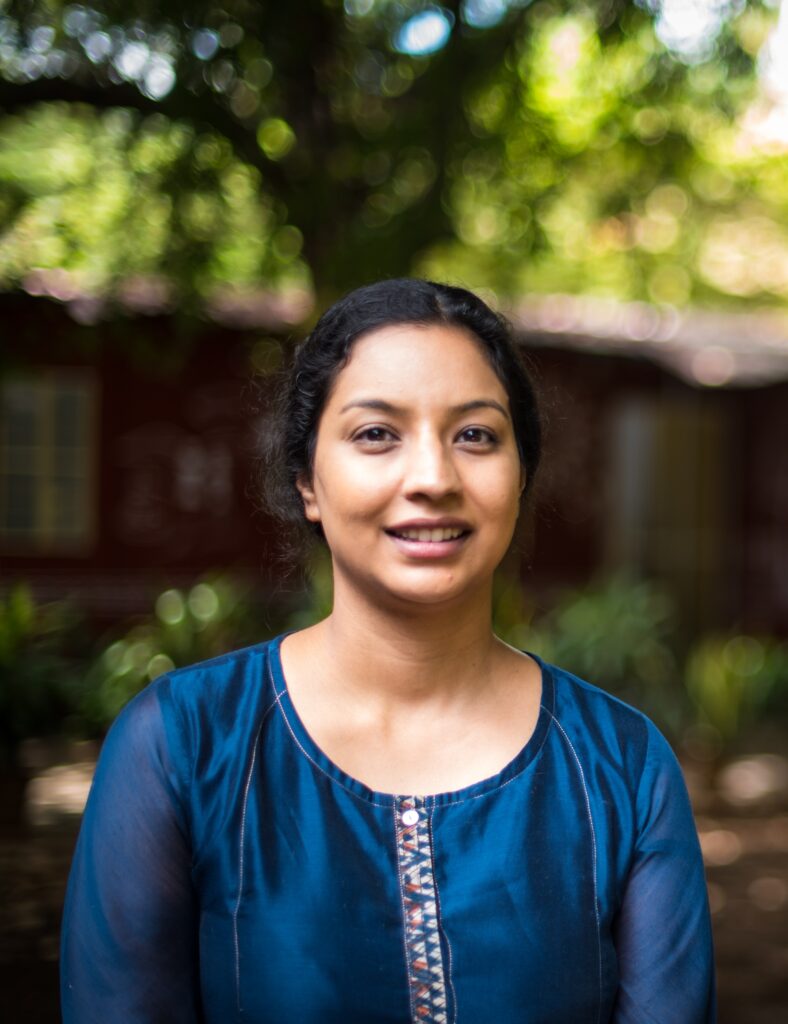 Priya Shah – Priya has spent 15 years working across the social impact, finance, and policy sectors in the US, UK, and Indian markets. Before Theia Ventures, she built the Indian Fund arm of Yunus Social Business (YSB) as part of the founding team, a global venture debt fund founded by Nobel Laureate Professor Muhammad Yunus. Prior to YSB, Priya spearheaded strategy, capital raising, and special projects at a clean-tech, venture-backed, growth-stage company, Simpa Networks. Priya started her career at Bloomberg LP in New York and later at Asia House in London. She has led independent consulting projects at impact start-ups and advisory firms, such as Acumen and CDC group. She holds an MBA from Cambridge Judge Business School and a BA in History from Brown University.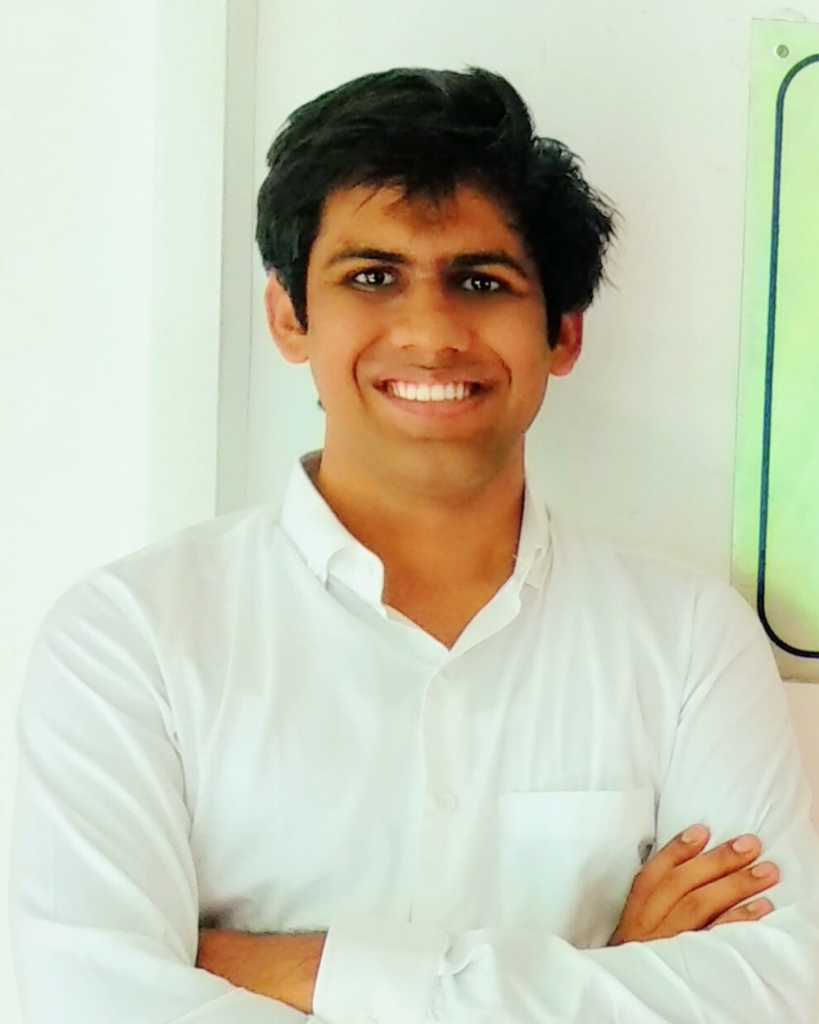 Himanshu Sharma: Himanshu has spent 4.5 years working across the social impact, finance, banking, management consulting, and policy sectors in India. Before Theia Ventures, he was a part of the core team of a management consulting startup leading their business development vertical for India and South East Asia along with working as a Senior Development Consultant. He is also a founding member of India Care Collective – A COVID-19 relief fund that supported over 5000 migrant worker families in India with a direct cash benefit of USD 1 million. Himanshu has also spent working with Delhi Government as a Public Policy Associate and with Hon'ble Union Minister Ashwini Vaishnav as Economic Research Associate. Himanshu started his career with JP Morgan and has led various technological-driven projects leading to cost optimization of USD 30 million for the firm along with setting up program governance for the team. Himanshu holds an undergraduate degree in Manufacturing Engineering from BITS Pilani, Pilani Campus along with minor degree certification in Finance
Stay tuned for part two…
Next week we will publish a list of 20 startups that are making a significant impact and working toward climate action across the sub-continent.
Do you know about other regions or verticals we should examine?
We are always looking to expand our reach and provide a better analysis of the climate tech sector. Can you provide expertise in a particular field, climate tech vertical, or region? We would love to hear about it.