Founder & Managing Partner @ Active Impact Investments​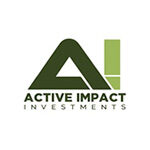 Can you be a certified B Corp VC fund? Yes!
In today's episode, we will speak with Mike Winterfield, Founder & Managing Partners @ Active Impact Investments. Founded in 2018, Active Impact Investments is a Certified BCorp based in Vancouver, BC, whose mission is to support environmental sustainability through profitable investment. With their fund TWO, they focus on providing funds and talent access to accelerate the growth of early-stage climate tech companies in North America that are capable of achieving venture scale while solving the most urgent environmental issues.
I was excited to have Mike on the show to learn more about his adventurous story and passion for getting "lost in nature", building high-performing teams, and creating impact at scale through investments & support of early stage climate startups. During his journey, Mike has worn many different hats; firstly as a successful executive in a large professional recruitment company, then as COO in a fast-growing SAAS company, and now as founder of a successful fund and board member in various fast-growing startups.
During the show, Mike will give greater detail into Active Impact Investments' early days, their investments thesis, and how they enable founders to make an impact in their growth journey. Then, we will cover the why behind their B Corp certification vs a traditional fund model and how their LP base sees it. Mike will also share his very interesting views on the climate tech ecosystem today and how you can join the movement.
Finally, he will highlight underdog areas in climate tech, in which he sees exciting potential for investments and growth.
In the second part of the show, Mike will share his secret sauce that you can use to increase your odds of fundraising successfully as well as some interesting tips on how to build high-performing teams. Lastly, you will hear his valuable tips for founders and investors on achieving work-life balance in this fast-paced world.
Exclusive content: Member's only!
When we reach 1000 subscribers we will plant 1000 trees with our partners. Help us to reach this 1st goal.
Share 1 episode with a friend.
Listen to our Spotify paylists