The 3rd Future of ClimateTech Global Online Pitch Event- The Teams, Investors, and Winners
On Thursday the 23rd of September we hosted our 3rd Future of Climate Tech Global Online Startup Competition!
We were thrilled to see a great number of applications from startups all over the world including Mauritius, Germany, Russia, Poland, South Africa, The Netherlands, Australia and more.  As ClimateTech continues to boom, it is an honor to support founders tackling important climate-issues with technology that can scale both locally and globally.
After the success of our first 2 events in February and June, we were delighted to welcome 3 new judges to help determine our winner, each of which has a unique insight into climate technology and investments into it.
Meet the jury & hear their position in the climate tech ecosystem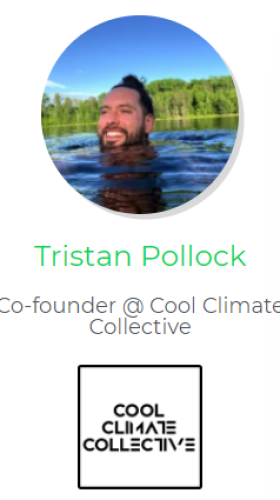 " We (Cool Climate Collective) are a community and Angels syndicate funding early stage climate startups with the mission of how to excel and get more startups proven to market and help them scale."
"I'm very excited about it because I think we can all agree that we want to keep this planet as pristine and healthy as possible… At the same time, we need a very collaborative approach, we can't just pull one solution here and ramp it up, or one solution there.
We need all the solutions to work very quickly and we need some new solutions that can scale, that's why we're very interested in the early stage startup side of things in the climate tech universe. "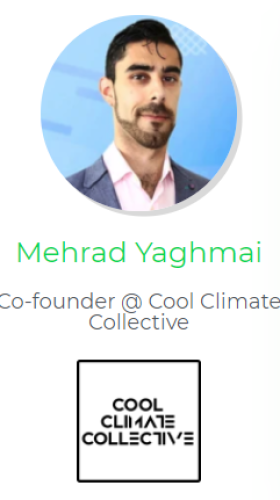 "When I moved back to California last year, the wildfires were happening and that was my wake-up call. I was always the industry agnostic, every deal I looked at was all over the place and not specific within climate. At the end last year, I completely shifted over.
I joined a few different communities and  started running a program with Susan Sue,  in Terra.Do, where we educate investors, angels, VC's and family offices to look at climate change, specifically climate tech."
"Through that I met Tristan, and we realized, there's an opportunity space for early stage. A lot of the big capital was coming in, but it was going towards later stage… there was a lot of solutions coming out of university tech transfer, or even just entrepreneurs coming up with great things that were under-capitalized and not getting the air to breathe – so we stepped aside to support them."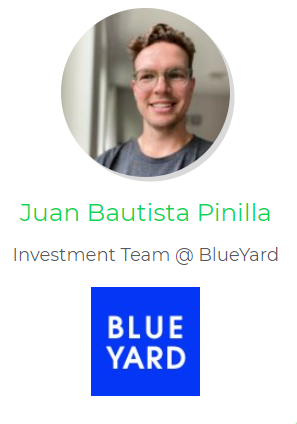 "Blue Yard is a Berlin based seed fund. We invest all across Europe, US & Latin America. We're right now investing out of a pool of $200 million. Typically, we work with companies in the first institutional round, where can invest anywhere between 1 to 5 million as a first investment. We brand ourselves as a more generalist fund but over the last few years, we want to work on making a positive impact on the world right now, and one of the biggest leavers that we think we can pull is 'how do we get more technology addressing climate change?'"
"We don't think of the world in terms of specific technologies. We like to work with founders who are pushing the boundaries of what we can do with science, engineering, even software, which is why, if you look at everything we've done, it ranges from software to crypto and blockchain, to life sciences and biotech."
"On the other side, we're kind of seeing what the new economic operating systems are that can help create the right incentives for people to change their behavior. We see a lot of power in crypto networks to do that, but also in overall communities and social platforms. So that's our broad approach to pretty much everything. I think it definitely fits in very well with climate and how we try to play our role in it."
Pitch 1: Ayden Galeh, Co-Founder - Paytogreen
Elevator Pitch: Paytogreen has developed a chrome extension that lets you fund green projects by shopping online. 
Stage: Early Stage
Climate area they address: FinTech
Their Solution: Paytogreen has amassed 4000+ partners which guarantee their users between 2-5% of the checkout amount into their paytogreen wallet. Customers can then fund any green project of their choice and see their immediate impact.
Elevator Pitch: GeoMetis is building a first-to-market CRM integration into a location intelligence GIS mapping interface. 
Stage: Pre-Seed
Climate issue they address: Land-Use & Clean Energy
Their Solution: Geometis explained that "We, as technologists, needed a product that did not exist. After months of searching for a solution we did what we do best; build one. GeoMetis is designed to streamline time-consuming and frustrating processes that are faced everyday by solar and other renewable energy developers"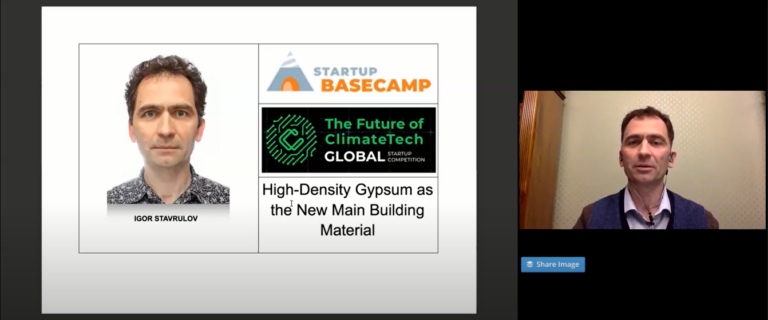 Elevator Pitch: AMATEC has developed a unique building technology made of  gypsum that allows houses to be built  faster, cheaper, better and greener. 
Stage: Pre-Seed
Climate area they address: Building Technology 
Their Solution: AMATEC's Gypsum solution is an environmentally friendly and ecological material that is  comparable in strength with concrete of the same density. This technology has a  CO2 footprint 3-5 times less than other technologies and provides effective heat, sound insulation, and is non-flammable and decorative.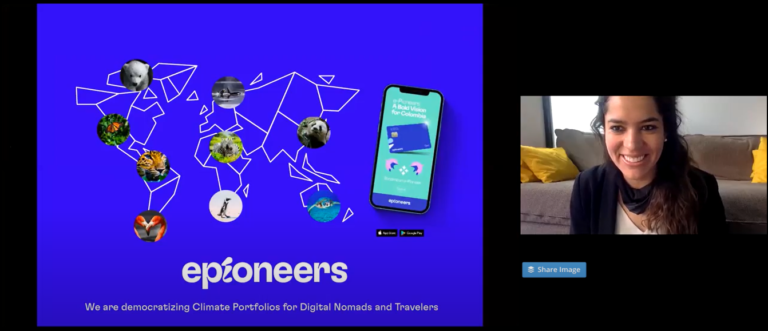 Elevator Pitch: ePioneers has developed a wallet that lets you accumulate NFT portfolios for nature restoration. 
Stage: Pre-Seed
Climate area they address: FinTech
Their Solution:  ePioneers has created Latin America's 1st digital nomads visa as well as a Climate Wallet that offsets your carbon footprint and accumulates climate tech portfolios from the most biodiverse regions in the world. Customers can accumulate NFT portfolios of animals under extinction or entire forests from the Amazon.

Elevator Pitch: SISYPHUS Global Systems are developing an XR user interface that uses AI to calculate GIS disaster risk and mitigation data structured within a climate justice and equity framework.
Stage: Seed
Climate issue they address: Climate Justice and Equity
Their Solution: SISYPHUS' solution aims to  understand the underlying social, economic, political, infrastructure and geographical disparities that they can then use to tailor the users journey for effective resilience planning. Shifts such as these will prevent the climate crisis from being felt the most vulnerable populations including those in the global south, and Indigenous, Brown, Black and low-income Americans.

Elevator Pitch: Just Vertical has developed a hydroponic system that allows anyone to easily grow herbs and produce from their home.
Stage: Seed
Climate issue they address: Foodtech, AgTech & Landuse
Their Solution: The Just Vertical Hydroponic systems are functional and elegant, with sleek designs such as The AEVA being able to grow up to 10 lbs of produce per month. Just Vertical calculates that if you were to focus entirely on dark green vegetables, it would translate to 120 lbs of food per year, more than enough to replace/ supplement the estimated annual family intake.
Thank you to Everyone who took part!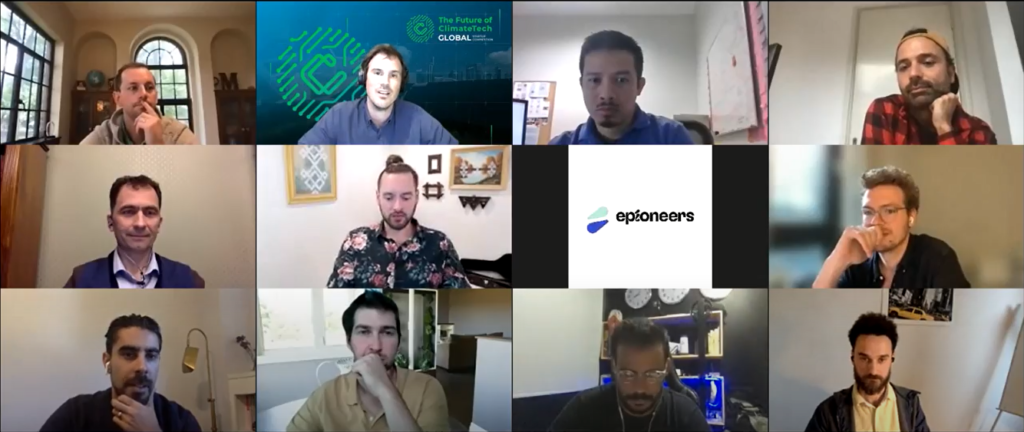 This event would not be possible without the community ambassadors who shared and supported it, the judges who ran it, and of course all the incredible Climate tech founders who applied, pitched and created technology that is solving the global climate crisis. 
The winner for the event was Just Vertical! Just Vertical are developing Furniture that Feed You, and we cant wait to watch their indoor gardens grow, scale and feed people in a stylish, water conscious approach.

It was an honor to be a part of the jury hearing from these teams and we cant thank each team enough for their time and commitment to our event as well as the planet.
With initiatives such as this, Startup Basecamp aims to give founders a platform to reach out to the investors invested in their industry, and help them scale. 
We want to wish every startup that presented the best of luck with their venture and on their journey to combat the climate crisis!