As we kick off Q4 in 2023, we're thrilled to unveil a comprehensive list of climate tech conferences, forums, and summits designed to gather both founders and investors. These events serve as dynamic platforms for networking, knowledge sharing, and collaborative innovation, bringing together visionaries and industry experts.
Not only do these gatherings foster invaluable connections, but they also provide a front-row seat to the latest developments in the sector. Some of these events might require you to act swiftly, as registration deadlines are approaching rapidly.
Stay tuned for updates and don't miss out on these key opportunities to make pivotal connections to drive you business. And, if there are any that we missed, please let us know! We are always seeking to improve our content and make it more valuable for our members. All of these events can also be found on our weekly curated list of events for members.
Europe's Leading Carbon Removal Summit: 300+ experts under one roof. This October, join and work alongside a diverse group of business pioneers, innovative scientists, and influential politicians striving for climate stability.
Cambridge, Massachusetts, USA
ClimateTech convenes the leaders funding, creating, and deploying climate technologies to accelerate the transition to a green economy. New public policies backed by new public funding are fueling innovations, but the clock is figuratively, and literally, burning. We must identify, innovate, and quickly scale the solutions that will have the greatest impact on achieving net-zero objectives before it's too late.
The conference is dedicated to accelerating the responsible development and deployment of Direct Air Capture (DAC) to help address climate change.  It aims to be a marquee annual event for knowledge-sharing and cross-sectoral discussions in this rapidly advancing field, bringing together global leaders and innovators from policy, finance, technology, civil society, and industry.
PLANETech World 2023 is the climate tech event that brings together thousands of people dedicated to growing the climate tech ecosystem. We are proud to welcome leaders from across the globe, startups developing disruptive climate technologies, investors investing in climate, policymakers, and academics – all joining forces to promote solutions to climate challenges.
Sustainable Brands is the global event for regenerative brands and leaders. Join us at SB'23 San Diego, Oct. 16-19 as we focus on Regenerating Local. Find a unique mix of inspiration, thought leadership, unparalleled community and connections.
The Showcase will feature 13 teams pitching their businesses and projects as part of the Recycling Supply Chains (RSC) and Intergovernmental Initiatives & Public Private Partnerships (I2P3) Accelerator Tracks. Teams will be presenting with their respective Accelerator Track.
With participation from various enthusiastic researchers including recycling specialists, environmental engineers, recycling experts, wastewater treatment researchers, climate experts, scientists, environmentalists, industry delegates and other related professionals from the field to attend this distinguished event which will be based on the theme "Recycle Today for A Better Tomorrow".
Take this opportunity to engage with leaders in sustainability to form the nexus between business and communities. Whether you are joining us as a community leader or a business leader, you'll walk away with the network of partners, the practical tools, and the creative fuel you need to keep on course with this rapidly evolving era.
The unprecedented challenges we face today present equally unprecedented opportunities to reimagine and redesign our world to be more prosperous, sustainable and resilient. The key programs that comprise VERGE 23: Buildings, Carbon, Energy, Food, Startups and Transport, focus on seizing these opportunities.
Urban Tech Forward returns with a mission to accelerate the development of net-zero cities. Designed to rethink spaces where people live and work – through the prism of decarbonisation and resilience – it brings together urban tech innovators, VCs, real estate developers, policy-makers and most prominent entrepreneurs to shift the way we build and make real progress on achieving a zero-carbon future.
The Net Zero Festival will bring together over 1,000 senior business executives, investors, entrepreneurs, policymakers, and campaigners over two days to explore how to navigate the defining economic, political, and technological trend of the age and work together to accelerate the net zero transition. 
Sustainable Foods London is the only dedicated conference and exhibition of its kind focused on tackling the key sustainability challenges that are affecting the Food and Drink (F&D) Industry. It is the only forum convening high-level government officials, C-level leaders, technology disruptors, leading investors, and many other senior figures. No other conference and exhibition is more focused on driving real change across global Food and Drink.
The Tech Tour Tomorrow.Blue Economy programme is designed to help start-ups based in EU or with EU deployment developing sustainable solutions in the broad Oceans & Climate and Maritime Supply Chain areas to boost their investment readiness and build relations with investors. Entrepreneurs get exposure to potential strategic partners and investors, networking opportunities with corporate investors and venture capitalists through participation in series of online and onsite activities.
Cleantech Forum Europe offers participants easy access to start-ups, scale-ups, investors, and multinationals from across the region and beyond. Not only will you meet the future of Europe's sustainable innovation ecosystem, but you'll also discover the global connections that will fuel your next opportunity.
This event brings together entrepreneurs, scientists, investors, customers and supporters to build the climate solutions the world needs. Discover the climate tech opportunity and experience why it is the top sector in startups. Learn about the innovative ways these founders are addressing our biggest challenge today, and how you can work with them to make it happen.
Dubai, United Arab Emirates
The Government of the United Arab Emirates (UAE) will host the 28th Conference of the Parties of the UNFCCC (COP 28), with a view to building on previous successes and paving the way for future ambition to effectively tackle the global challenge of climate change.
The meeting comprises the twenty-eighth session of the Conference of the Parties (COP 28), the eighteen session of the Conference of the Parties serving as the meeting of the Parties to the Kyoto Protocol (CMP 18), and the fifth session of the Conference of the Parties serving as the meeting of the Parties to the Paris Agreement (CMA 5).
The event will feature the top 30 presenting companies in the hydrogen transport industry and will bring together the most active sustainability investors, VCs, corporates, government and financial institutions during a 1-day onsite event preceded by a welcome dinner. 
Global Climate catastrophes are becoming very frequent and are expected to increase and create huge damage for human lives and the global economy. Continuing global reliance on fossil fuels increases climate change and create severe political and strategic crises around the world.
The Eilat Eilot conference was one of the first global clean energy events 16 years ago and we are excited to gather for the 10th time with the same goal – promoting the global shift to clean energy and low carbon economy by presenting innovative technologies, bold policies and impact partnerships.
LOOKING FORWARD INTO Q1 2024...
This Summit will focus on how the EU can step up its ambitions and become a global cleantech leader. Cleantech for Europe's annual summit brings together cleantech CEOs and policy leaders to bridge the gap between the cleantech innovation and policy communities to jointly ensure Europe tackles these challenges with speed, scale, and simplicity.
Discover our weekly climate tech events curated list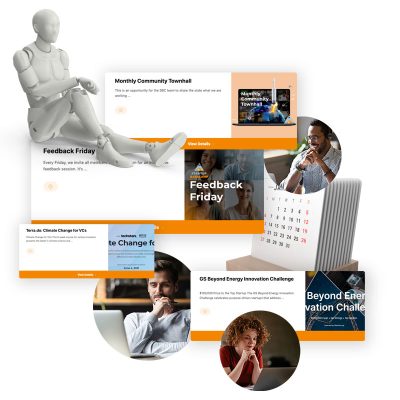 There are a lot more events to choose from
The above list is a comprehensive list of climate tech events/forums/and conferences. But there are many more webinars, talks, and courses out there! Every week we update our curated calendar of events and accelerator deadlines exclusively for members. 

Investors & Founders
Matching
Get weekly events straight to your inbox
Subscribe to our weekly
ecosystem newsletter