Every week, we feature 5 incredible climate tech startups, companies, or projects that are leading the fight against the climate crisis. Now at the end of this month of June 2023, we provide a recap of the startups to watch in climate tech. 
These startups have covered a range of fast-growing industries such as AI, GHG Capture and monitoring, Energy production and storage, Fintech, Foodtech, Agtech, and much, much more.
The list below is a recap of all the startups we have featured over June with some insight into the innovative work they and their teams are doing. 
We hope you find this resource useful and that you can refer back to it anytime you are looking for companies to support, invest in, work for, or collaborate with.
These startups are all added to our running list, which we have categorized based off of fuel emission sector from the most detailed, recent data SBC could identify from the World Resource Institute in 2016. 
These sectors are as follows:
Energy use in Industry and Buildings
Fervo Energy provides 24/7 carbon-free energy from next-gen geothermal power projects.
We are a European startup building the first generation of fusion power plants using QI stellarators.
Muon Vision gives you X-ray powers to increase mining safety, digitalization of assets and boost metal recovery.
Oort Energy is a manufacturer of green hydrogen systems for energy storage and clean fuel. We are innovators who have found the solutions to the major cost-barriers of green hydrogen. We offer an electrolyser system that is efficient, durable, scalable, and has class-leading cost-effectiveness.
We convert your fleet to electric to lower your organizations carbon footprint and reduce running costs.
The cleanest energy is the energy we never use.
Armada is currently developing the world's first 'passive air lubrication system.'
Agriculture, Forestry and Land Use
Developing the world's most efficient, fuel agnostic, net-zero powertrains.
We are developing superior technical functional ingredients from microbial biomass for the food industry. Non-GMO, sustainable, at price parity.
Portable, accurate & real-time soil data solution, enabling producers and agronomists to save time and money.
GHG Capture, Use and Storage
Building Nature's Bank. Nature delivers 140 trn USD worth of services every year – for free. She needs a better bank.
Find out more about each of these startups by reading the full articles below:
This initiative from Startup Basecamp aims to support founders by giving them access to networking and exposure opportunities that help them to scale and finance their climate tech solutions together with you.
GET ACCESS TO THE FULL RUNNING LIST DATABASE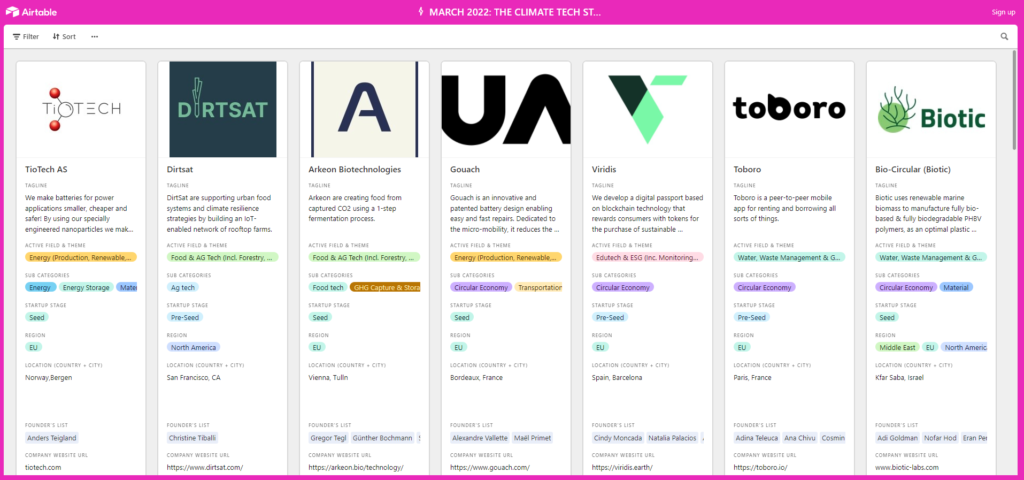 Do not hesitate to join our collective movement by requesting your membership. 
With care,
The Startup Basecamp Team