Every week, we feature 5 incredible climate tech startups, companies, or projects that are leading the fight against the climate crisis. Now at the end of this month of October 2023, we provide a recap of the startups to watch in climate tech. 
These startups have covered a range of fast-growing industries such as AI, GHG Capture and monitoring, Energy production and storage, Fintech, Foodtech, Agtech, and much, much more.
The list below is a recap of all the startups we have featured over October with some insight into the innovative work they and their teams are doing. 
We hope you find this resource useful and that you can refer back to it anytime you are looking for companies to support, invest in, work for, or collaborate with.
These startups are all added to our running list, which we have categorized based off of fuel emission sector from the most detailed, recent data SBC could identify from the World Resource Institute 2016. 
These sectors are as follows:
Energy Use in Industry and BuildingS
Hydrogen, not Carbon: Affordable green hydrogen enabled by boron based chemistry.
Waste (Water & Landfills)
AeroPowder creates sustainable materials from waste feathers. These materials can be used for various applications, including insulation for buildings and packaging materials.
They protect environmental & human health by engineering targeted materials to capture chemicals.
Agriculture, Forestry and Land Use
Spark e-Fuels is pioneering the future of sustainable aviation with their cutting-edge e-fuels technology.
GHG Capture, Use and Storage
AirMyne is building a scalable approach to Direct Air Capture. Using DAC to remove large quantities of carbon dioxide from the atmosphere will require pragmatic engineering with a laser-focus on designing processes that are energy-efficient, and can be built using existing supply chains and infrastructural partners.
Kita is a carbon insurance specialist. Their mission is to enable high-quality carbon projects to scale by offering a portfolio of insurance products that reduce carbon risk. Reduced risk in carbon credit transactions leads to greater flows of upfront capital and accelerates the pace of positive climate impact.
PuriFire Labs is leading the revolution in green hydrogen and carbon-neutral methanol production, leveraging proprietary technologies to decarbonize global shipping and the chemicals sector.
Airlich is redefining HVAC solutions with its groundbreaking technology. Drawing inspiration from natural atmospheric processes, their proprietary system not only purifies indoor air to boost health and productivity but also recirculates it, slashing energy costs and carbon footprints.
Find out more about each of these startups by reading the full articles below:
This initiative from Startup Basecamp aims to support founders by giving them access to networking and exposure opportunities that help them to scale and finance their climate tech solutions together with you.
GET ACCESS TO THE FULL RUNNING LIST DATABASE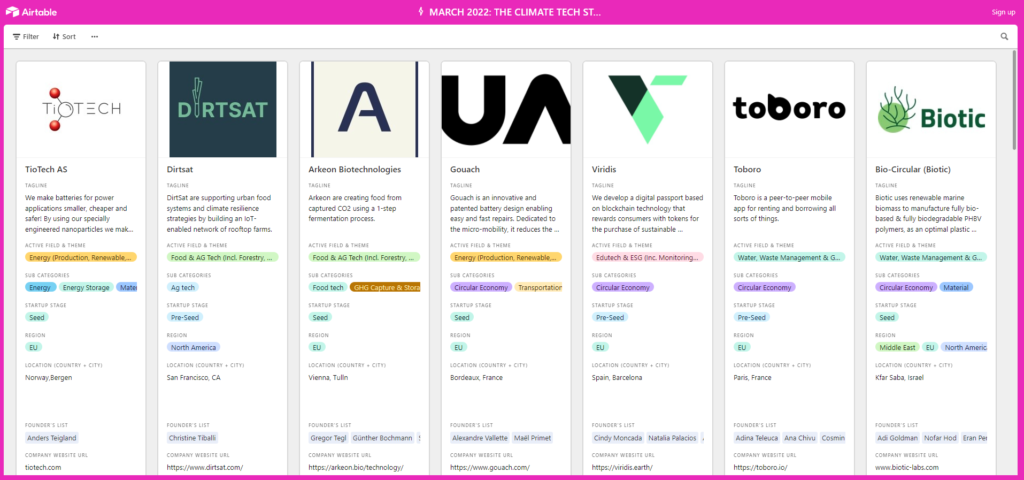 Do not hesitate to join our collective movement by requesting your membership. 
With care,
The Startup Basecamp Team