At Startup Basecamp, we are working to accelerate capital deployment toward climate tech, regardless of the race, gender, or creed of the founders. In an effort to support an underrepresented group within the sector, we present Part 7 of our quarterly series of 20 women in climate tech. 
To do our bit for the amazing climate tech VCs and startups, we have been highlighting women in leadership roles across the industry. In this ongoing series, we aim to highlight the female founders who are both creating the technology needed to address climate change and those helping drive and finance it. These role models inspire us to keep creating and supporting climate innovation and, in doing so, spur on the positive feedback cycle for other climate-focused women!
As this is our 7th installment, we now have
140 women driving the future of climate change
, so we invite you to check out our full
running list of all 140 women.
If you know of any female-led teams doing or funding climate-positive work, we hope you share it with us in this form.
Company Mission: Lowercarbon Capital backs kickass companies that make real money slashing CO2 emissions, sucking carbon out of the sky, and buying us time to unf**k the planet.
Company Mission: CrowdSolve helps you build and test climate innovations — from idea to business launch.
Company Mission: Our solution has the potential to be a truly ground-breaking contributor to the renewable energy industry. Using innovative concepts and designs, sound engineering principles and a collaborative approach, we are leading the research and development of our kinetic turbine devices.
Company Mission: Our vision is to enable transparent forest protection by utilising satellite data and artificial intelligence.
Company Mission: EIT Climate-KIC is the EU's climate innovation initiative, working to accelerate the transition to a zero-carbon and resilient world by enabling systems transformation. Headquartered in Amsterdam, it operates from 13 hubs across Europe and is active in 39 countries.
Company Mission: We engineer proteins to create light! Born out of Vancouver, British Columbia, our mission is to rid the world of toxic chemiluminescence, and replace all applications with our bio-based light.
Company Mission: WATS (Waste Administration Tracking Software) brings a digital dashboard full of waste-focused features to guide business operators, facilities managers, and sustainability teams in their new and ongoing engagement with waste reduction and the circular economy.
Company Mission: We invest in ambitious founders with groundbreaking visions for a regenerative and sustainable future.
Company Mission: In addition to calculating emissions, we are Sweden's first platform that connects companies with innovative, fast and validated ways to remove carbon dioxide from the atmosphere.
Company Mission: BunkerTrace is the only company in the shipping sector able to track and trace bunker fuels with 100% accuracy. We add non-invasive molecular markers to fuels to provide evidence of origin, authenticity, and quality and digitalise the bunker supply chain to give actionable insights for reporting and compliance.
Company Mission: Reneum is creating the first green marketplace to accelerate the energy transition. Focusing on the production of green energy rather than carbon drawdown, we offer a novel approach to environmental action. We use blockchain to fund renewable energy, leveraging the technology to verify every clean megawatt-hour produced and trace the journey of every single dollar spent.
Program Director,

Renewable Energy & Net-Zero, Sustainability

Firm: Startupbootcamp
Climate Action Area: Climate Tech
Company Mission: Our global family of 20+ industry-focused programs supports startups with direct access to an international network of the most relevant mentors, partners, and investors to help them scale.
Company Mission: Drivers can't transition to electric vehicles without affordable and convenient EV charging infrastructure. itselectric partners with city property owners to unlock access to untapped electricity supply while they earn passive income.
Company Mission: Alor was established for the purpose of developing and later producing sustainable aluminum batteries. The aluminum batteries will accelerate energy transitions in fisheries, agriculture, transport, and industry.
Company Mission: We develop scalable, fast and cost-effective technologies to increase the global CO2 absorption potential.
Company Mission: Blackhorn Ventures is an early-stage venture capital firm that invests in companies using breakthroughs in engineering and science, coupled with the infrastructure of the Information Revolution, to redefine resource productivity.
Company Mission: Our technology enables retail stores to donate their unsellable goods to nonprofits and schools nationwide while savings millions of dollars each year.
Company Mission: Aurora Hydrogen is developing a technology that uses efficient microwave energy to heat methane in the absence of oxygen and water (pyrolysis) to produce hydrogen and solid carbon with no direct CO2 emissions.
Company Mission: Our mission is to end waste, and our first product is the world's most affordable, high-performing, and space-efficient AI-powered robot for sorting recycling.
GET ACCESS TO THE FULL RUNNING LIST DATABASE OF AMAZING WOMEN IN CLIMATE TECH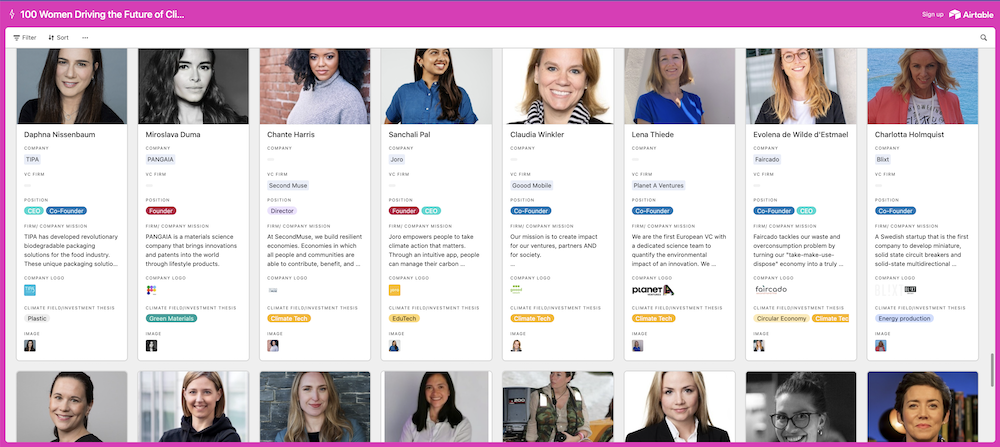 The database is accessible to the members of our community as part of other exclusive content we provide to them. We have also have databases of climate tech VCs, accelerators, startups and more. Learn more about the membership options here. 
Want to learn about more amazing women in Climate Tech?
Check out the previous posts in this series.
Contribute to the Women Driving Climate Tech Running List.
Have a suggestion for a person to add to our Women Driving Climate Tech running list? Please submit here and we will be in touch.