At Startup Basecamp, we are working to accelerate capital deployment toward climate tech, regardless of the race, gender, or creed of the founders. In an effort to support an underrepresented group within the sector, we present Part 8 of our quarterly series of 20 women in climate tech. 
With this newest installment, we celebrate the efforts made by women around the world in helping save our planet. But we are not only celebrating women founders and investors, we are celebrating the positive contributions women have in promoting sustainability. A study by the International Finance Corporation (IFC) found that companies with gender-diverse leadership teams in the energy sector were more likely to adopt innovative technologies and practices that reduce carbon emissions. This research was corroborated by the World Economic Forum which found that companies with higher levels of gender diversity were more likely to prioritize environmental sustainability and take action to reduce their carbon footprint. 
To do our bit for the amazing climate tech VCs and startups, we have been highlighting women in leadership roles across the industry, whether founders, investors, or community builders. In this ongoing series, we aim to highlight the female founders who are both creating the technology needed to address climate change and those helping drive and finance it. These role models inspire us to keep creating and supporting climate innovation and, in doing so, spur on the positive feedback cycle for other climate-focused women!
For more useful resources on female founders and investors in climate tech, we recommend taking a look at our first editions of Women Driving the Future of Climate Tech: Part 1, Part 2, Part 3, Part 4, Part 5, Part 6, and Part 7. As this is our 8th installment, we now have 160 women driving the future of climate change, so we invite you to check out our full running list of all 160 women.
If you know of any female-led teams doing or funding climate-positive work, we hope you share it with us in this form.
Company Mission: Aclarity's mission is to destroy PFAS forever. The current PFAS removal and disposal methods separate and concentrate PFAS, but do not sufficiently remove PFAS from our environment and therefore do not fully address the problem. The status quo management of PFAS is failing the public and cannot prevail. Our Aclarity electrochemical oxidation system destroys PFAS chemicals in water and liquid waste. We pass concentrated PFAS streams, like raw landfill leachate, through our system and destroy PFAS compounds to greater than 99%.
Co-founder, Head of Strategic Partnerships
Company: CHOOOSE
Climate Action Area: FinTech
Company Mission: CHOOOSE has built a range of digital tools that allow businesses of all sizes make climate action part of everyday life and business.
Company Mission: Overstory are providing large-scale, real-time vegetation intelligence that can be used to prevent wildfires and power outages.
Company Mission: We're on a mission to protect the planet from the cost of clothing. At Circ, we've created a technology system that returns clothes to the raw materials from which they were made. Again and again.
Company Mission: Floodbase is the leading flood mapping platform designed to protect the world's most climate-vulnerable communities. By harnessing global satellites, advanced science, and community intelligence, we monitor worldwide floods in near real-time and remotely analyze local flood exposure at a click of a button. Our mission is to ensure that all vulnerable governments finally access the high quality information they need to prepare for and respond to increasing catastrophes.
Company Mission: Pivot Bio is the leading nitrogen innovator providing farmers and the world with a better nitrogen for improved productivity and sustainability.
Company Mission: Mortar IO is on a mission to supercharge and de-risk retrofits. Mortar IO's breakthrough technology helps organisations understand how to achieve net zero for entire portfolios in minutes, rather than months.
Company Mission: We pool your capital to give you access to world-class private equity funds. Let their experts research, manage and do the investing work — while you build a diversified portfolio of climate startups and scaleups.
Company Mission: Loam works with 4.5 billion years of evolution to solve the climate crisis. Microbes have changed the composition of our atmosphere through earth's history. At Loam, we are ensuring these organisms can do it again. Through a better understanding of how microbes influence the carbon cycle, we can create new planetary-scale opportunities for carbon sequestration and improve agricultural productivity.
Company Mission: Prelude Ventures invests in companies that address the critical need for innovation across the global energy ecosystem. We back exceptional entrepreneurs and management teams addressing large market opportunities that reduce the global economy's carbon intensity.
Company Mission: Pale Blue Dot is a seed stage ClimateTech VC investing in reducing and reversing the effects of climate change and preparing for a new world. We invest with tickets of €200k – €2M, in pre-seed and seed-stage companies based in Europe and US.
Company Mission: Extantia Capital invests in exceptional technology innovators that slash carbon emissions at scale, cut the cost gap to clean alternatives, and turbocharge our path to Net Zero.
Company Mission: Theia Ventures invests in strong enterprises with committed founding teams, at the seed stage, with tailored financial instruments to support growth and sustainable operations. We deliver results-oriented technical support to our portfolio, building winners who can prove a strong customer value proposition and revenue model to future rounds of investors.
Company Mission: E44 ventures supports visionary innovators in building and financing great companies that tackle humankind's most critical climate challenges and improve life on our planet for generations. By partnering with us, researchers, entrepreneurs and corporations transform their brilliant ideas into commercial success.
Company Mission: Brinc is a different breed of venture capital and accelerator firm. Core to our business is our belief that some of the world's biggest challenges can be solved by entrepreneurs, who we like to call GAME CHANGERS. More game changers will make a positive impact on the world if they are given the right backing. And that's what we're here for. To support and mentor founders and their teams from across the world and provide investment to help them grow.
Company Mission: We develop scalable, fast and cost-effective technologies to increase the global CO2 absorption potential.
Company Mission: Cleantech Open is the oldest and largest cleantech startup accelerator program, with the mission to find, fund, and foster entrepreneurs with ideas to solve our greatest environmental and energy challenges. Through our annual business competition and accelerator program, we connect cleantech startups with the people and resources that will accelerate their success, and provide a national platform for public visibility.
Company Mission: Climate Vine is a climate membership community. Members come from diverse backgrounds, ranging from policy activism, investment, corporations, non-profits, entrepreneurship, and tech & science. Each group of 150 experts are gathered into themed cohorts through a competitive application process.
Company Mission: A Swiss based not-for-profit, GDFA enables and co-creates transformative digital and financial innovation for climate, nature and biodiversity challenges with a global ecosystem.
GET ACCESS TO THE FULL RUNNING LIST DATABASE OF AMAZING WOMEN IN CLIMATE TECH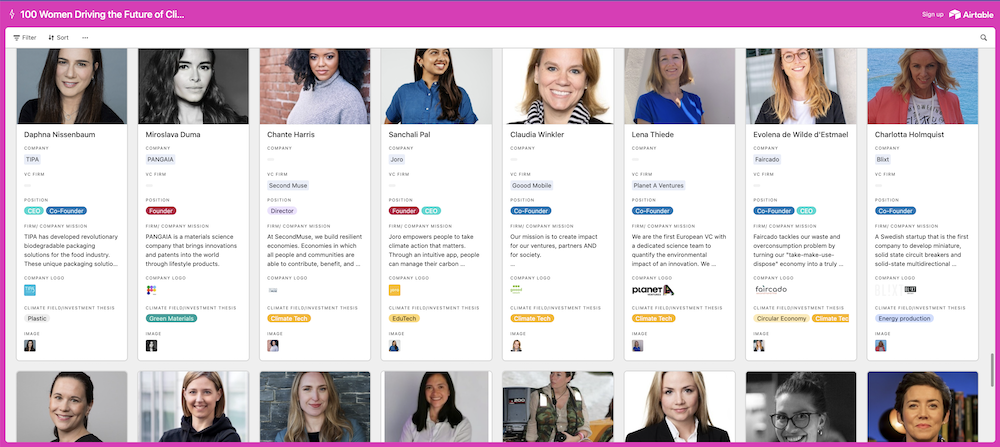 The database is accessible to the members of our community as part of other exclusive content we provide to them. We have also have databases of climate tech VCs, accelerators, startups and more. Learn more about the membership options here. 
Want to learn about more amazing women in Climate Tech?
Check out the previous posts in this series.
Contribute to the Women Driving Climate Tech Running List.
Have a suggestion for a person to add to our Women Driving Climate Tech running list? Please submit here and we will be in touch.