Every week for the last year we have featured 5 incredible climate tech Startups, companies, or projects that are leading the fight against the climate crisis. Now at the end of this month of July 2022, we provide a recap of the startups to watch in climate tech. 
These startups have covered a range of fast-growing industries such as AI, GHG Capture and monitoring, Energy production and storage, Fintech, Foodtech, Agtech, and much, much more.
The list below is a recap of all the startups we have featured over July with some insight into the innovative work they and their teams are doing. 
We hope you find this resource useful and that you can refer back to it anytime you are looking for companies to support, invest in, work for, or collaborate with.
These startups are all added to our running list, which we have categorized based on fuel emission sector data from the most detailed, recent data SBC could identify from the World Resource Institute in 2016. 
These sectors are as follows:
Energy use in Industry and Buildings
STABL Energy provides easy-to-integrate technology to improve battery storage systems in terms of design, safety, reliability, cost-effectiveness, and handling.
VOLTARO enables green commercial buildings via an integrated platform for onsite solar and smart sustainable energy.
H2Pro is a renewable energy company that is working on an efficient green hydrogen production method that splits water in a process that is over 95% efficient, safe and cost-competitive with fossil-fuel hydrogen.
Blue Heart Energy is currently developing the first heat pump for residential use based on a Thermo Acoustic (TA) heat engine, a toxic-free, flexible and highly efficient solution. Its technology has been designed to be easily integrated by OEMs and system integrators in existing heating/cooling heat pumps, enabling a smooth market adoption.
ChargeKart provides mobile charging units that exclusively provide onsite delivery of clean, fast and adoptive charging for EVs.
Agriculture, Forestry and Land Use
The world is in urgent need of resilient and sustainable crops to fight climate change. Phytoform has developed a technology to speed up the process of creating more diverse and future-proofed crops.
Mythronics is an Agritech startup that offers robotic service workers for the greenhouse. We offer end-to-end services to the growers in order to manage, monitor, and harvest their crops. 
Agreed Earth are building the data hub of regenerative agriculture to help farmers profit, naturally, by making their operations more resilient and productive through regenerative practices.
Takachar is on a mission to fight climate change by transforming massive amounts of waste biomass into marketable products around the world.
Bluegrove is an aquatech company, that helps feed our future population by offering tools and solutions to optimize seafood production in a sustainable way, while having a long-term focus.
Waste (water & landfills)
Orbisk helps professional kitchens to get a grip on their food waste. We measure and automatically recognize what kind of food is thrown away, in what quantity, and at what time of the day.
CEEZER is building a digital-first carbon bank to bring companies beyond net zero and allows businesses to seamlessly build a balanced portfolio of cost-for-impact optimized carbon removal and compensation by leveraging the full global supply.
GHG Capture, Use and Storage
With Seqana.Earth we offer a modest first contribution to make Earth Observation (EO) data more accessible to end-users, particularly for project developers of Nature-Climate Solutions (NCS).
Find out more about each of these startups by reading the full articles below:
This initiative from Startup Basecamp aims to support founders by giving them access to networking and exposure opportunities that help them to scale and finance their climate tech solutions together with you.
Do you know of other climate tech startups to watch we should include? Submit to our list!
How do these startups fit in with all the others we have looked at?
Check out our running list of the 250+ climate tech startups to watch we have featured. 
GET ACCESS TO THE FULL RUNNING LIST DATABASE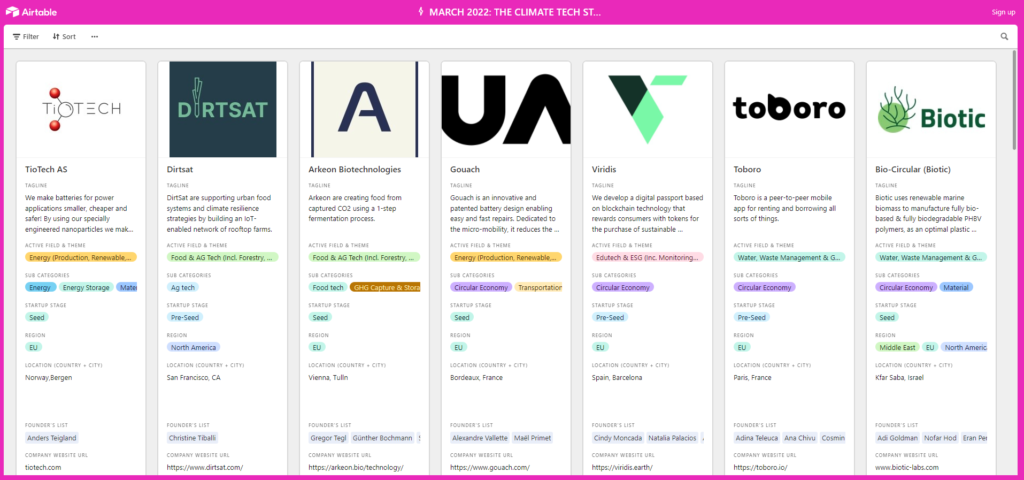 Do not hesitate to join our collective movement by requesting your membership. 
With care,
The Startup Basecamp Team