We are thrilled to unveil Part 9 of our ongoing series: "20 Women Leading the Charge in Climate Tech."
In this latest edition, we shine a light on the tireless efforts of women globally who are at the forefront of the fight against climate change. But our celebration goes beyond just applauding women founders and investors. We're acknowledging the significant strides women make in championing sustainability.
To play our part in promoting the climate tech ecosystem, we focus on women holding the reins, be it as founders, investors, in academia or as community builders. Through this series, we showcase the women not only developing transformative solutions for climate change but also those who power its adoption and financing. These trailblazers fuel our passion for pushing the boundaries of climate innovation, setting in motion a ripple effect that empowers more women in the climate tech arena!
For more useful resources on female founders and investors in climate tech, we recommend taking a look at our first editions of Women Driving the Future of Climate Tech: Part 1, Part 2, Part 3, Part 4, Part 5, Part 6, Part 7 and Part 8. As this is our 9th installment, we now have 180 women driving the future of climate change, so we invite you to check out our full running list of all 180 women.
If you know of any female-led teams doing or funding climate-positive work, we hope you share it with us in this form
Company Mission:We're using data science and machine learning to map and analyse the globalclimate policy landscape, supporting evidence-based decision-making. We are open data, open source, and not-for-profit.
Company Mission: Help commercial buildings affordably reach their renewable energy goals through edge of roof wind turbine which uses modern airfoil shapes to take advantage of the fact that wind speeds are naturally faster at the edges of the roof than other parts of the roof.
Company Mission: Live Green's mission is to ENABLE the industry overcome the current adversity and achieve 10 GT/Yr CO2e savings by 2050 ($200Bn Carbon Credit NPV).
Company Mission: Transforming mindsets for climate action, we help young people turn climate anxiety into action, and work with leaders to drive intergenerational solutions.
Company Mission: Bridge the gap between environment and health policies through gender-transformative solutions.
Fair gender relations can lead all of us to a cleaner environment, healthier lives, and peace.
Company Mission: Pivot Bio is the leading nitrogen innovator providing farmers and the world with a better nitrogen for improved productivity and sustainability.
Company Mission: Olio is free app that connects users with unwanted food (households or local businesses) with neighbours living nearby who would like it.
Company Mission: Colorchain is dedicated to creating a positive impact in  the fashion industry by decreasing the amount of stock produced and unused and reduce waste by accurately predicting demand and minimizing unnecessary production.
Company Mission: Building an innovative energy solutions company that exists to support a large-scale adoption of clean energy technologies by supplying high-quality battery energy storage units for stationary (solar PV, Wind) and e-mobility applications. 
Company Mission: We can give your business the right tools, information, and advice for each stage of the journey to net-zero. From calculating your carbon footprint, to reducing your emissions, to funding high-quality climate action, to sharing your impact.
Company Mission: Daily Dump is a leader in composting products that are designed to change mindsets around waste and the ease of doing composting in India.
Company Mission: Considered Capital is an organisation dedicated to helping climate tech and other impact founders raise alternative funding.
Company Mission: Photanol's mission is to create a biotech revolution by turning CO₂ into renewable chemicals.
Company Mission: The fund is focused on investments in technology companies within supply chain, manufacturing, commerce infrastructure & digital industrial sectors.
Company Mission: Greentown Labs is a community of climate action pioneers working to design a more sustainable world. As the largest climatetech startup incubator in North America, Greentown Labs brings together startups, corporates, investors, policymakers, and many others with a focus on scaling climate solutions.
Company Mission: Constructive Capital for tech entrepreneurs who make urban environments more efficient and sustainable.
Company Mission: We help to decarbonise the global economy. As a climate tech VC, we are driven by tackling the climate crisis and only invest in technologies with scalable businesses and significant emissions savings potential.
Company Mission: Elemental is a nonprofit investor in climate technology for social impact. We bring more than a decade of experience across the climate sector, with an active and maturing portfolio of more than 150+ companies
Company Mission: The worldwide network that helps entrepreneurs succeed. We provide access to capital, mentorship, talent, and infrastructure.
Research Focus: Pressing challenges at the energy-environment nexus by developing and understanding electrochemically mediated processes that leverage fundamental principles of electrochemistry, chemical engineering, materials science, and advanced characterization techniques.
GET ACCESS TO THE FULL RUNNING LIST DATABASE OF AMAZING WOMEN IN CLIMATE TECH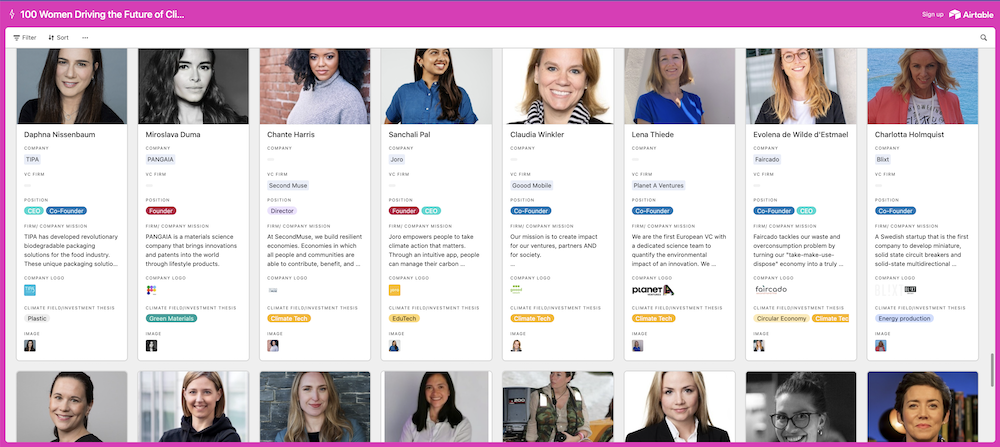 The database is accessible to the members of our community as part of other exclusive content we provide to them. We have also have databases of climate tech VCs, accelerators, startups and more. Learn more about the membership options here. 
Want to learn about more amazing women in Climate Tech?
Check out the previous posts in this series.
Contribute to the Women Driving Climate Tech Running List.
Have a suggestion for a person to add to our Women Driving Climate Tech running list? Please submit here and we will be in touch.