Every week for the last year we have featured 5 incredible climate tech Startups, companies, or projects that are leading the fight against the climate crisis. Now at the end of this month of October 2022, we provide a recap of the startups to watch in climate tech. 
These startups have covered a range of fast-growing industries such as AI, GHG Capture and monitoring, Energy production and storage, Fintech, Foodtech, Agtech, and much, much more.
The list below is a recap of all the startups we have featured over October with some insight into the innovative work they and their teams are doing. 
We hope you find this resource useful and that you can refer back to it anytime you are looking for companies to support, invest in, work for, or collaborate with.
These startups are all added to our running list, which we have categorized based off of fuel emission sector from the most detailed, recent data SBC could identify from the World Resource Institute in 2016. 
These sectors are as follows:
Energy use in Industry and Buildings
Drishya is a Calgary based AI solutions company. We make energy intelligent and clean by adding Brains to Data. Our mission is to digitally transform renewable energy, oil & gas sectors and help reduce GHG emissions.
Vertus Energy is accelerating the world's transition to green energy. Its BRIO™ technology turbocharges the production of green fuel from waste and generates a more powerful biofuel, producing 60% more energy from the same amount of waste while also processing three times the amount of waste than any other system on the market.
Geminus unleashes the power of predictive intelligence by intersecting AI and physics with multi-fidelity modeling.
At Krosslinker, we design and develop the world's most insulating nano-material – aerogel to tackle energy inefficiency.
Marine Digital delivers advanced energy efficiency analytics and optimisation tools for maritime supply chain and vessel operations.
BiB optimizes batteries' performances, expands their lifecycle and reduces their environmental footprint, based on data analysis.
Agriculture, Forestry and Land Use
We are reimagining farming by blending the natural process of fermentation with modern science and technology, in order to make everyday essentials. We just happen to make a great alternative to palm oil.
Waste (water & landfills)
Arda Biomaterials is transforming waste into smarter, circular biomaterials – beginning by turning brewers' waste into leather alternatives (drink your beer & wear it too).
Carbon Cleanup commits to the sustainable use of carbon fiber materials. Our newly developed recycling process enables valuable carbon fiber residues to be reused instead of being landfilled as done for >90% today.
Climate-exclusive lending platform providing entrepreneur-friendly capital using the latest automation technology.
GHG Capture, Use and Storage
MARVEL CARBON Technology Captures & Returns CO2 Underground and has a proven killer value proposition for Upstream Oil & Gas and Concrete Production Companies.
Find out more about each of these startups by reading the full articles below:
This initiative from Startup Basecamp aims to support founders by giving them access to networking and exposure opportunities that help them to scale and finance their climate tech solutions together with you.
How do these startups fit in with all the others we have looked at?
Check out our running list of the 350+ climate tech startups to watch we have featured. 
GET ACCESS TO THE FULL RUNNING LIST DATABASE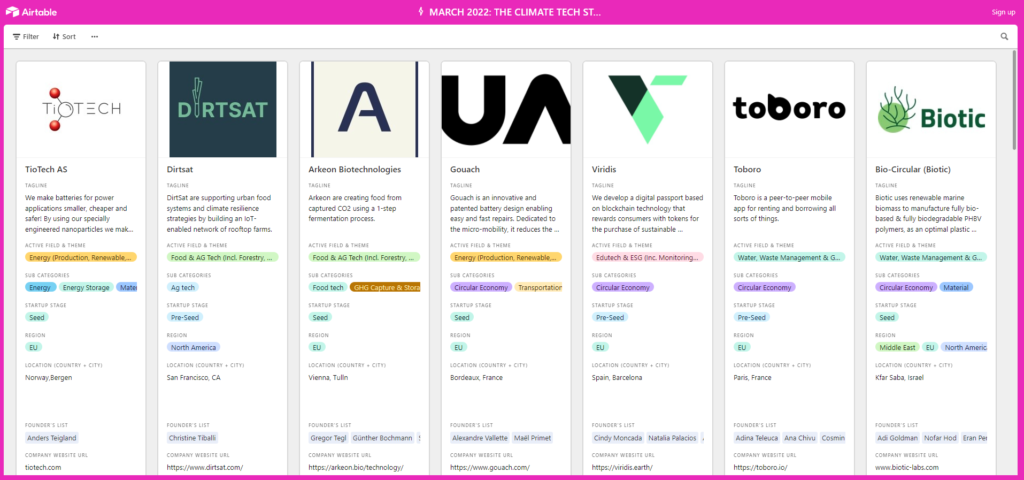 Do not hesitate to join our collective movement by requesting your membership. 
With care,
The Startup Basecamp Team