Over the last year, we have spoken to 30 different investors across climate tech about how they fund amazing and impactful startups. Every episode is full of insights into where the market is going, what the hottest new innovations are, what regulatory challenges remain, and what hope they have for the future. Now, we bring you a combined list of fundraising tips from climate tech investors on pitching and convincing. 
These tips come from Part 2: "My Secret Sauce" of each episode, just for members where we ask investors what they look for in the companies they fund and what tips they have for founders looking to fundraise. 
Over the course of the podcast, investors have had all sorts of amazing advice which was difficult to boil down to one terse bulleted list. Instead,  we have divided their tips into two parts:
We definitely recommend browsing all of the Secret Sauce episodes, but we have also linked to the relevant ones below. We hope these tips can be of use and good luck on your journeys!
#1. Communicate effectively
To really sell to investors, you, as a founder, need to have clarity of thought and be able to explain your complex business efficiently. The whole founder journey involves communicating ideas, whether it be to clients, future employees, or investors, so if you can't communicate in simple terms, then you will lose your audience (Heidi Lindvall, Alex Teng). If you are unsure how to do how to communicate effectively, go back to our fundraising tips in Part 1 on how to build your deck, and maybe run it by your non-technical friends, or your mom, to see if they understand what you're proposing.
What's important is not just telling your story, but how you will make money. Really focus on the business strategy and articulate a clear and differentiated vision of the future. You need to show that your business is winning (growth, customers that love you, and economics that work) (Christina O'Conor, Ben Kortlang). 
More than communicating effectively, it's about building a good story. You should always try to engineer interest by scaffolding your story and teasing someone into wanting to learn more and not giving all the information right away (Alex Teng).
You need to be able to tell a broader narrative. This statement is especially true for deeptech founders – bring in the science to tell a story. Once you put science into the story, then you have a good pitch (Christian Hernandez). 
However, you need to be careful not to focus too much on the founder's story. A lot of founders spend too much time talking about the idea behind their business. You also need to present a full picture of what the company is, your team, the economics, and the strategy (Mike Winterfield), not just the idea that got you there. 
Several investors we spoke to focused on the importance of being able to quantify your impact. You need to have real evidence that helps you sell your story and that shows how you captured your numbers. If your company is still early stage, know the regulatory context behind the market that can help you sell your story and build the context for investors, especially more generalist ones (Fridtjof Detzner & Nick de la Forge, Nadav Steinmetz). It is very important that you show investors that you are thinking about your impact and that you understand your potential and what you hope to achieve. 
Knowing your numbers will help you know what your needs are and what stage you are at. Some startups don't want to ask for too much and then underrate their impact. You need to make sure your business is scaleable and can be big enough (Heidi Lindvall, Phil Morle). If you're not trying to go for a billion-dollar outcome, it's not worth your while (Sophie Purdom). 
Present your company's slam dunk financing. Slam dunk financing helps you think about the financing that comes after this one, and what your company would look like after investment. For example, when asked what you are going to spend $5 million on, investors don't want to know how many new staff you will hire and that you'll do more marketing, they want to know that you will get x more number of customers (Phil Morle).
The biggest red flag or pet peeve we heard from investors was being taken for fools. Investors like it when people are honest (within reason) about what is and isn't working. Be honest and transparent (Derek Handley, Björn Witte), especially if you don't know an answer. It's better to say that you don't know but you know where you can find out, than just to obviously make up an answer (Alex Teng).
If investors feel that you aren't being transparent and open, or that you are trying to hide something, then that won't make them trust you with their money. It's okay if your tech is not perfect, but be open about it (36). Investors want to see that you can maintain the humility that you don't know everything and are willing to call your investors for help if need be to course correct (Caitlin Wale, Paul Straub).
A few particular red flags investors mentioned:
If your numbers don't add up and you've inflated what you can achieve (Pippa Gawley)
If you say you have had better job titles or more experience than you have (Caitlin Wale)
If there are people on your deck who aren't really involved in your company (Derek Handley).
If you say your last company had an exit, but it wasn't really (24).
If you've named the company after yourself. This shows it's a one-man show about your ego, not about your mission (Caitlin Wale.
If you talk about I, instead of we, it reflects again that it's more about you than your team, and you may not have the humility (Caitlin Wale).
Knowing who you're pitching to is paramount. Once you know that and what their interests are, you can align your message to those interests (Fridtjof Detzner $ Nick de la Forge, Kimberly Baker). Obviously, you don't want to bulls**t the investor, but tailoring your pitch to their interests can always help.
You need to know what the investor is looking for in a pitch and what they are going to ask you. We recommend looking at our list of top 25 hard questions VCs will ask you. However, there were a few main things many of the investors said they wanted to hear, if not directly, at least, they wanted to explore with you: 
What is it that you do that has an impact and why? (Dr. David Miller)
How much do you need, and when and how is it going to be profitable? (Dr. David Miller)
What's your differentiation? (Dr. David Miller).
What is your theory of change? (Mehrad Yaghmai)
Do you come from that background and do you have the skills? (Ibrahim AlHusseini)
Are you looking to scale? (Ibrahim AlHusseini)
Are you going to bring in advisors? (Ibrahim AlHusseini)
What are the market opportunities (Ibrahim AlHusseini)
Is it too futuristic, too small, or something that is a fundamental shift? (Ibrahim AlHusseini)
Are there multiple enablers or regulations moving in that direction? (Ibrahim AlHusseini)
Above all, VCs want to see a clear pathway to profitability, with a well-buttoned-up business strategy (Andreea Constantinescu). They need to feel that you are mission-aligned and intentional, that you believe in your company so much you are able to see the joy through the hardships of being a founder (Kimberly Baker, Wes Selke). 
Want to hear more climate tech founder and investor tips?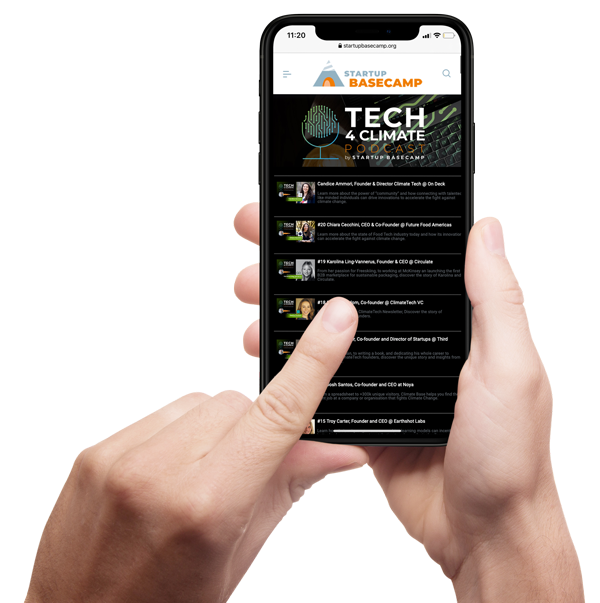 Make sure to subscribe to the Tech4Climate Podcast for more investor stories and insights