Getting your climate tech startup ready to go can be daunting. If you are just starting out, we recommend checking out all the resources we have on how to get started in climate tech. But once you have your idea, it's really time to roll up your sleeves and dig in. But where to start? We spoke with over 30 climate tech founders to get their 6 tips on building your startup. 
Over the course of the last year on the Tech4Climate Podcast, Guillaume, our CEO, has been talking to climate tech founders across the sector to hear their stories, understand their perspectives, and get their insights into the climate crisis. Each episode culminates with a "My Secret Sauce" section where founders give their tips for raising capital and growing their business. 
Over the course of over 30 episodes, founders have had all sorts of amazing advice that was difficult to boil down to one terse bulleted list. Instead,  we have divided their tips into two parts:
Part 1: Building your startup
We definitely recommend browsing all of the Secret Sauce episodes, but we have also linked to the relevant ones below with a reference to who said which point in parentheses. We hope these tips can be of use and good luck on your journeys.
#1 - Refine and test your idea
To first set off on your climate tech journey, you need a billion-dollar idea, something that will make you money but also contribute to the fight against climate change. As you refine your idea, try to steer away from things that are just creating a new brand and aim toward where there is some solid science (Ryan Bethencourt).
It's important, however, that you make sure you are pursuing something that you are passionate about. You will need to get people motivated by your idea, and that will be a lot easier if you truly demonstrate a passion for your product (Jeff Prosserman). If your idea is a good one, and you are solving a legitimate problem that has a big impact on people, people will already be motivated. There is a massive cultural desire to solve climate change, so if you choose an idea with potential, people will already be motivated to try it out (Troy Carter).
At the same time, you should not let your passion for your product blind you. Some founders fall in love with their tech and are unwilling to accept advice to refine and ameliorate their idea (Ryan Bettencourt).
But remember, above all, to believe in yourself. You have a unique skill set, and that is what makes you and your company stand out. If your idea is good, nobody else is doing exactly what you're doing, so let that bring you confidence. Broadcasting that confidence can go a long way in the fundraising process (Alex Wright-Gladstein).
#2 - Really understand your business
Before you can go out and fundraise, you need to know your company inside and out. It might be tempting to rush and raise capital, but raising the wrong capital can actually be detrimental to your business (Ryan Shearman). Moreover, investors will want to see your numbers. You need to really understand your market fit before you go out and raise money. To do that, ask yourself a few questions (Noah McQueen):
How is what you're proposing fundamentally different?
How much CO2 will you remove?
In what ways is it going to make the market shift?
What shifts do you see in the marketplace?
What are the indicators you have that show the value of your product?
What scrappy product do you have at the moment and how can you scale it?
For technical founders, put together a detailed techno-economic analysis. Investors are going to ask you where your process is going to fail and will want to see how you can get beyond that. The Global CO2 Initiative has a good template, or you can build your own by examining the following questions (Noah McQueen): 
Where do you expect your major cost drivers to be and where can you play around with them?
How much flexibility do you have in the cost of your process?
What are the key sensitivities?
For non-technical founders, go out and test your product and speak with customers or do a pilot with them. You'll need some sort of letter of intent that they want to buy your product so you can de-risk your product (Benjamin Ng).
#34 – Benjamin Ng
Co-Founder,
AromatEco

Once you've really gotten to grips with your business, you'll have a better understanding of what kind of capital you need. There is so much hype around getting venture capital, but if you're going to be raising from VCs, you'll need to be able to show a path to a billion-dollar exit or more. If you don't plan on doing that, there are other ways of financing (Alex Wright-Gladstein), such as:
Try angel investing. Angels are more likely to do smaller one-time investments, and more likely to invest in the founder(s), not the product (Lisa Gautier, Alex Wright-Gladstein).
Go for non-dilutive funding (grants). These can be particularly good for deeptech startups and cost you nothing but time. However, a word of caution. It's tempting to go from grant to grant and fund yourself that way. It means, however, that you work according to the grant's goals and can easily lose sight of your original business plan and idea (Alex Wright-Gladstein).
Another great opportunity is to look for family offices as they are often looking for long-term investments and improving their family brand by way of investing in sustainability (Federico Garcea). 
If you are further along and have a B to C product, you can get a lot of syndicates and SPVs, but it might be a much longer process (Zach Stein).
Bootstrapping your product can get it to a point where you have something valuable to present to investors and should be a route to consider (see tip #4).
None of these are mutually exclusive. Especially if you are a deep-tech founder, it's a good idea to use a combination of non-dilutive and VC funding so you get the benefits of both (Alex Wright-Gladstein).
#4 - Build your product first
It's tempting to go out and raise money armed with your foolproof idea, but you will seldom find investors that will invest in just the idea. You will first need to demonstrate that you have something valuable with clear traction (Robert Luo). You'll need to get to the point where you can start flowing cash as quickly as possible, and so it's better to put off fundraising and bootstrap until you get to a point where you are in a better position (William Loopesko). But even once you think you're ready, don't stop reinventing the process. Never say, this is good enough; it takes a lot of iteration to find the right solution (Cody Finke).
Consider Brittany Salas' experience:
"You can't really fundraise pre-product and pre-traction – that doesn't work. So, we decided to bootstrap, and it has far exceeded our expectations. We tried to fundraise too soon, but the nos that we got just allowed us to build more value into our company to make a better product that is more valuable for the next time we go to investors. We knew we needed to hit KPIs by a specific date and we knew that was the time to approach investors about what we had achieved. When we saw visible excitement and validation, then we knew it was the right time to fundraise (Brittany Salas)."
#5 - Get everything ready ahead of the fundraise
Before you set out to fundraise, you also need to prepare yourself and your team for a long, drawn-out process, and that's exactly what it is, a process. Think of fundraising like any other process you try and build in your company (Mihir Pershad). You need to have a long-term funding strategy that considers (Jon Salazar):
What type of capital do you want?
What kind of exit and by when?
How many funding rounds and by when?
It's very important to have all your documentation ready ahead of time, as it can really help close deals faster. Things you'll want to make sure you have (Lubomila Jordanova):
Financial model
Team members prepared to speak in front of investors
Detailed pitch deck (see below)
For more guidance, talk to some trusted advisors or founders that are a couple of rounds ahead of you who can give you support so you go in with eyes wide open that it's going to be a long process (Mihir Pershad).
It's super important that you get your story right. There is a tendency among climate tech founders to talk about the ecological side of the story. The story is not "oh the world is on fire and I have a solution to that fire, and people should be paying for it because the planet is in trouble;" VCs don't care. They want to know that you have something that someone is willing to pay for, and that person is part of a community who are all willing to pay for it and make investors some money. Talk about what you are solving for the stakeholder (Grant Canary, Dimitry Gershenson, Alex Blum).
In refining your story, you should very much focus on the market and the impact, and provide both top-down and bottom-up data (letters of intent) (Grant Canary). Investors want to know what is next for your product. They want to know what it can be and how you are going to get it there. Don't get stuck in the details of where you are now (Sheetal Bahirat).
Once you think you have your pitch, run it by anyone, even someone on the bus, to make sure that your story is efficient and makes sense. It's a continuous process of listening, refining, and getting it tighter (Jeff Prosserman). On the other hand, you need to know when you're ready. For example: "we spent two months refining the pitch and talking to advisors. After that people just gave advice to give advice" (Lizzie Horvitz).
If you can afford it, it's a good idea to hire a designer for your pitch deck. Your pitch deck is your primary source of collateral. If you send investors something that looks like crap, they won't take your meeting (Dimitry Gershenson). Make sure you use lots of visuals and sources in it to make it more compelling (Grant Canary).
Want to hear more tips from climate tech investors and founders?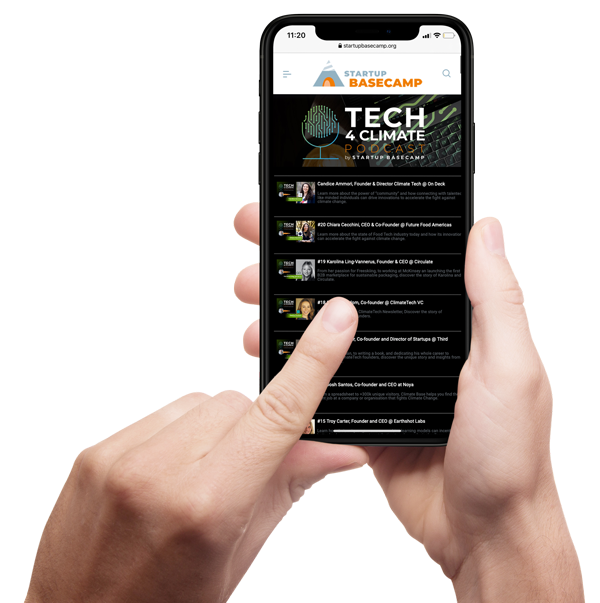 Make sure to subscribe to the Tech4Climate Podcast for more investor stories and insights